OP30 Serum proteomic profiling predicts and diagnoses pouchitis in ulcerative colitis patients undergoing ileal pouch-anal anastomosis
K. Machiels*1, M. Ferrante1,2, N. Davani1, A. Wolthuis3, A. D'Hoore3, S. Vermeire1,2
1KU Leuven, Translational Research Center for Gastrointestinal Disorders (TARGID), Leuven, Belgium, 2University Hospitals Leuven, Department of gastroenterology and hepatology, Leuven, Belgium, 3University Hospitals Leuven, Abdominal surgery, Leuven, Belgium
Background
Pouchitis is the most common complication in patients with ulcerative colitis (UC) requiring ileal pouch anal anastomosis (IPAA). Pouchoscopy remains the gold standard to diagnose pouchitis in the absence of other surrogate biomarkers. We performed serum proteomic profiling to identify biomarkers that could be predictive and discriminative for development of pouchitis following IPAA.
Methods
This was a prospective cohort study in 51 patients undergoing IPAA at our centre (46 UC and 5 familial adenomatous polyposis patients). Serum was collected before colectomy and at predefined clinical visits at month 1, 3, 6, and 12 after IPAA. At every clinical visit, patients had endoscopic evaluation of the pouch. Pouchitis was defined by the presence of endoscopic inflammation. Serum samples from 62 age- and sex-matched healthy subjects (HS) served as controls. A panel of 91 inflammation-related proteins was measured using Proximity Extension Assay (Olink). Logistic regression and receiver-operating characteristic curve analysis were used to evaluate the predictive and discriminative power of significant biomarkers and clinical variables (cut-off p < 0.1). Pathway analyses was conducted using STRING database.
Results
A total of 17 (37%) UC patients were diagnosed with pouchitis during the first year after IPAA. Younger age at colectomy (OR = 1.11, 95% CI = 1.03–1.21; p = 0.008) and backwash ileitis (OR = 8.37, 95% CI = 1.06–65.9; p = 0.04) were associated with pouchitis. When comparing the protein profiles prior to colectomy in UC patients developing pouchitis (UC-P) and UC patients with normal pouches (UC-NP), we observed respectively 42 and 45 proteins significant from the profiles in HS (FDR < 0.05) (Figure 1).
Abstract OP030 – Figure 1. Venn diagram of significantly dysregulated proteins (FDR < 0.05) and corresponding pathways prior to colectomy, when comparing UC-NP and UC-P with HS.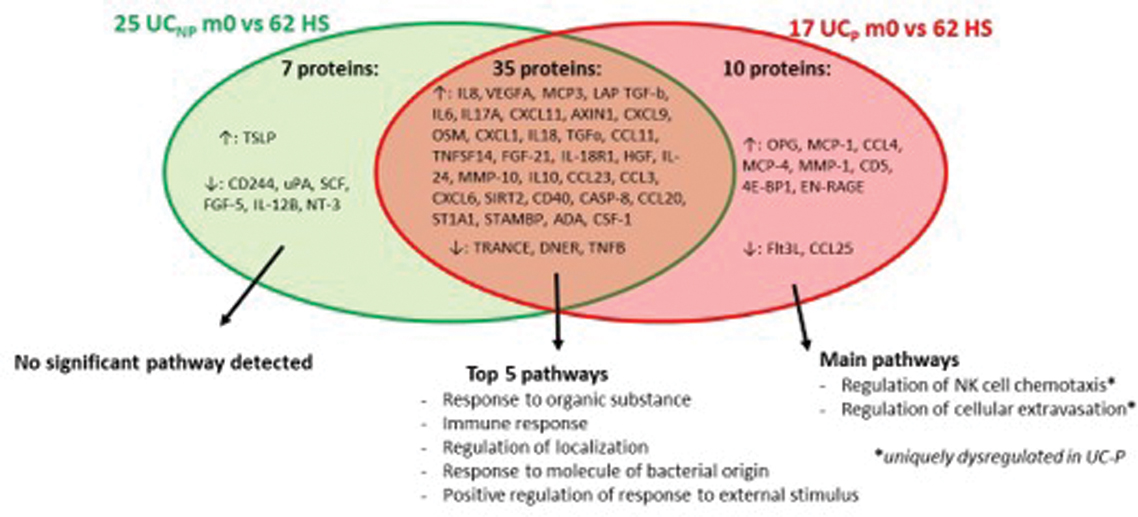 Combination of HGF, TNFRSF9, and age at colectomy was the most accurate to predict development of pouchitis within 1 year (AUC = 0.875). A panel of four proteins (IL17A, CXCL1, CCL25, and TRAIL) showed a good discriminative power (AUC = 0.984) to diagnose pouchitis at month 12 post-IPAA.
Conclusion
Before colectomy, there is a great overlap in serum protein profiles between patients who do or do not develop pouchitis. We found that proteins involved in NK cell chemotaxis and cellular extravasation were dysregulated solely in patients developing pouchitis. HGF and TNFRSF9 in combination with age at colectomy were predictive for pouchitis, and we identified a combination of four biomarkers with diagnostic potential. Further validation in a larger cohort is required.