P005 Persistent transcriptional reprogramming in the choroid plexus during chronic colitis: towards understanding persistent fatigue in patients with quiescent inflammatory bowel disease?
A. Bruggeman1,2, C. Vandendriessche1,2, M. De Vos3,4, R. Vandenbroucke1,2, D. Laukens*3,4
1Vlaams Instituut voor Biotechnologie, Center for Inflammation Research, Zwijnaarde, Belgium, 2Department of Biomedical Molecular Biology, Ghent University, Gent, Belgium, 3Department of Gastroenterology, Ghent University Hospital, Gent, Belgium, 4Ghent Gut Inflammation Group (GGIG), Ghent University, Gent, Belgium
Background
Neurobehavioural comorbidities such as depression, anxiety, and fatigue are correlated with disease activity in patients with inflammatory bowel diseases (IBD). The persistence of fatigue during disease remission, however, remains a clinical challenge, and lacks any scientific basis. In the present study, we described behavioural changes in mice with extinguished chronic colitis, and mapped the transcriptional profiles at the blood–cerebrospinal fluid barrier, constituted by the choroid plexus.
Methods
Chronic gut inflammation was induced in C57BL/6J mice by repeated administration of dextran sodium sulphate (DSS). Following a recovery period of 3 weeks, mice were subjected to behavioural tests, and the choroid plexus tissue was analysed by RNA sequencing.
Results
The DSS treatment resulted in chronic colitis, characterised by clinical recovery but persistent structural damage in the colon, mimicking IBD in remission. Colitic mice exhibited reduced movements in the open field test, and performed worse on the inverted grid test, whereas anxiety behaviour was not observed. In forced behavioural tests, including the forced swim test and rotarod performance test, colitic mice performed similar as healthy mice. Chronic gut inflammation was associated with major transcriptional alterations in choroid plexus tissue, converging to an enrichment of genes associated with behaviour, mainly those involved in excitatory glutamate receptor activation.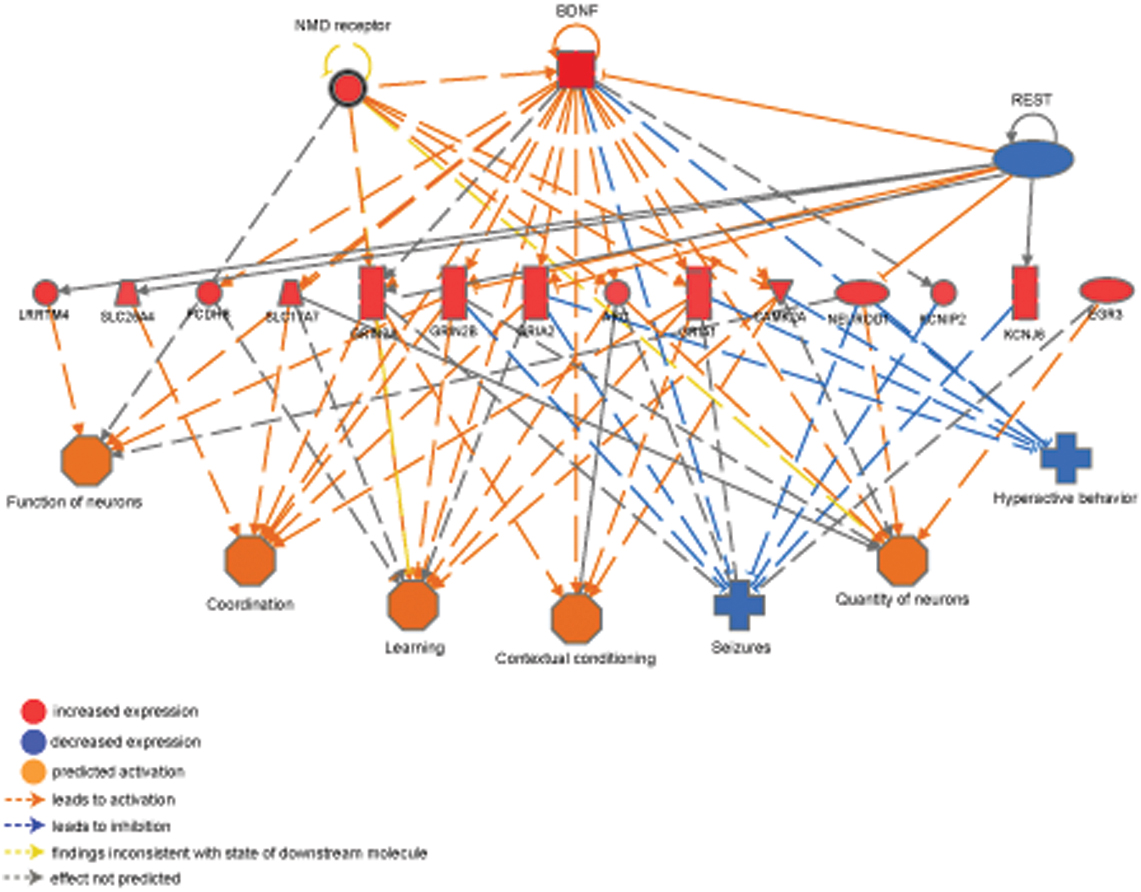 IPA analysis of the RNA sequencing dataset of the choroid plexus demonstrated changes in top regulator effect networks linked with cognition and behaviour, inducing genes coding for subunits of ionotropic glutamate receptors.
Conclusion
Chronic gut inflammation in the absence of active disease was associated with locomotor dysfunction and muscle fatigue in mice, which fits with self-reported fatigue parameters in IBD patients. Transcriptional adaptations in the choroid plexus indicate increased glutamate signalling. These data provide a scientific basis towards understanding persistent fatigue in quiescent IBD patients.