P017 Transcriptional reprogramming of the HIF pathway is associated with inflammation and mucosal hypoxia in ulcerative colitis patients
C. R. Rowan*1, E. Brown2,3, M. J. Strowitzki2,3, R. R. Fagundes2,3,4, A. Guntsch2,3, D. N. Halligan2,3, G. A. Doherty1,3, C. T. Taylor2,3
1St.Vincent's University Hospital, Center for Colorectal Disease, Dublin, Ireland, 2University College Dublin, Conway Institute, Dublin, Ireland, 3University College Dublin, School of Medicine and Medical Science, Dublin, Ireland, 4University of Groningen, Graduate School of Medical Sciences, Groningen, The Netherlands
Background
Hypoxia is a feature of inflammation. Recent research into the protective role of prolyl-hydroxylase inhibitors in animal models of ulcerative colitis has suggested hypoxia and the HIF pathway may be involved in UC. In hypoxic conditions, HIF is stabilised and initiates the transcription of genes critical to the adaptation to hypoxia. In this study, we investigate the role of tissue hypoxia and the transcriptional activity of the HIF pathway in ulcerative colitis.
Methods
Healthy control (n = 7) and ulcerative colitis patients (n = 41) were prospectively recruited. Tissue oximetry was used during endoscopy procedures to assess the extent of mucosal hypoxia in ulcerative colitis patients. Transcriptional activity of HIF pathway components was investigated in biopsies taken from these same patients and in vitro using Caco-2 cells.
Results
48 patients were included in the study.
| | Control (n = 7) | ulcerative colitis (n = 41) | |
| --- | --- | --- | --- |
| Age (median; IQR) | 45.43(40.45–69.44) | 39.86(31.4–56.56) | p = 0.314 |
| Gender (male; n (%)) | 5(71.4) | 26 (63.4) | |
| Haemoglobin (g/l) (median; IQR) | 14.6 (14.2–14.9) | 14.1(13.2–15.3) | p = 0.417 |
| Albumin (g/l) (median; IQR) | 40 (37–45) | 38 (34–40) | p = 0.042* |
| C-reactive protein (median; IQR) | 2 (1–3) | 6 (1–19) | p = 0.071 |
| Faecal calprotectin (μg/g) (median; IQR) | 15 (15–15) | 448 (118–1921) | p = 0.032* |
Patient demographics and biochemical data.
Mucosal tissue hypoxia was found to correlate with the extent of inflammation in ulcerative colitis patients. Mucosal saturations recorded in the sigmoid in Mayo 3 disease (63% (49.4–67.5); median; IQR) were significantly lower compared with Mayo 0-2 (eg, Mayo 2:74.8% (71.7–78.4): median; IQR)(p = 0.001).

(A) Endoscopic oxygen sensor during measurement. (B) Mucosal oxygen saturation in UC patients. (C) Pearson correlation of NIH histological score with oxygen saturation.
A transcriptional reprogramming of the HIF pathway to promote an HIF-1α response was found to occur in inflamed ulcerative colitis patient tissue and this response correlated with the extent of mucosal inflammation.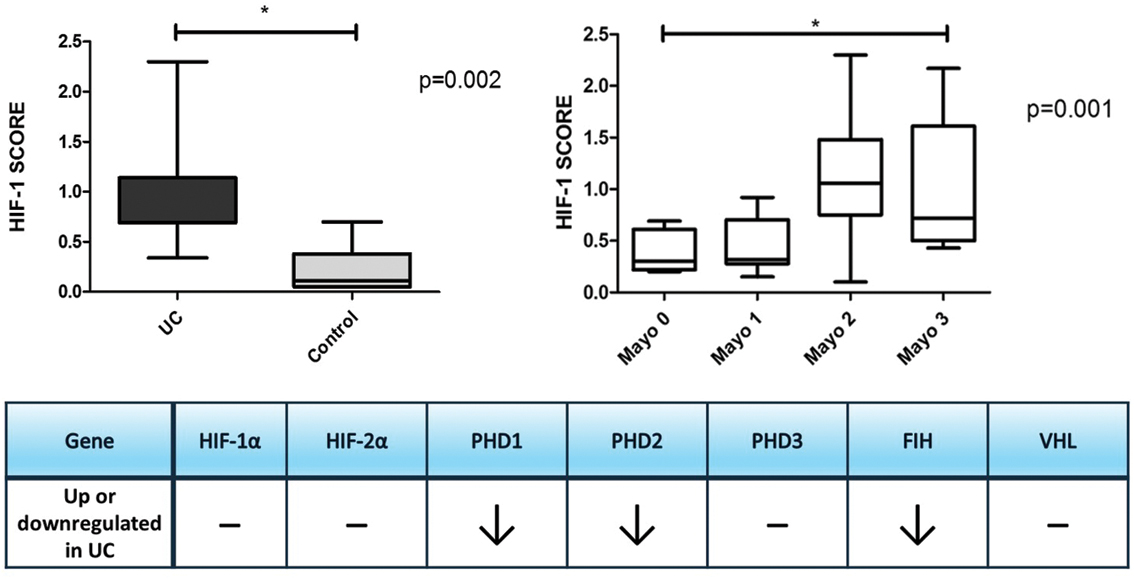 (A) HIF-1 scores in UC and control groups. (B) HIF-1 scores in Mayo 0–3. (C) Gene expression of HIF pathway components in UC rectal biopsies
Part of this transcriptional regulation of the HIF pathway was found to be due to down-regulation of both PHD1 and C/EBPα which was found to be an inflammation sensitive transcriptional regulator of PHD1.

Expression of C/EBPα mRNA in inflamed and adjacent non-inflamed biopsies from UC patients. (b) Representative images of C/EBPα IHC staining of UC patient biopsy sections. (c) Analysis of C/EBPα-positive cells in biopsies
Conclusion
Mucosal hypoxia is a feature of active inflammation in UC and correlated with disease severity. Part of the inflammatory response includes a transcriptional reprogramming of the HIF pathway to promote a protective HIF-1α response which is due, in part, to down-regulation of the inflammation sensitive PHD1 regulator, C/EBPα.