P057 Gut microbiome diversity in acute severe colitis is distinct from mild-to-moderate ulcerative colitis
S. Kedia*1, T. S. Ghosh2, B. Das2, S. Jain1, S. Bopanna1, G. Makharia1, S. Travis3, V. Ahuja1
1All India Institute of Medical Sciences, New Delhi, India, 2Translational Health Science and Technology Institute, Faridabad, India, 3John Radcliffe Hospital, Translational Gastroenterology Unit, Oxford, UK
Background
Although the gut microbiome of patients with ulcerative colitis (UC) has been characterised, there has been no study of gut microbial diversity in patients with acute severe colitis (ASC). The present study compared the gut microbiome of patients with UC, ASC, and healthy controls (HC).
Methods
Patients with mild-to-moderate UC (n = 23), ASC (n = 21), and healthy controls (n = 24) were recruited prospectively. A metagenomics approach was used to explore gut microbial diversity and genetic repertoires. Ulcerative colitis was diagnosed using ECCO guidelines and ASC was diagnosed using Truelove and Witts' criteria.
Results
Genus level diversity (Simpson diversity measure) was significantly lower in ASC than in mild–moderately active UC (p < 0.05), or HC (p < 0.001).
Figure 1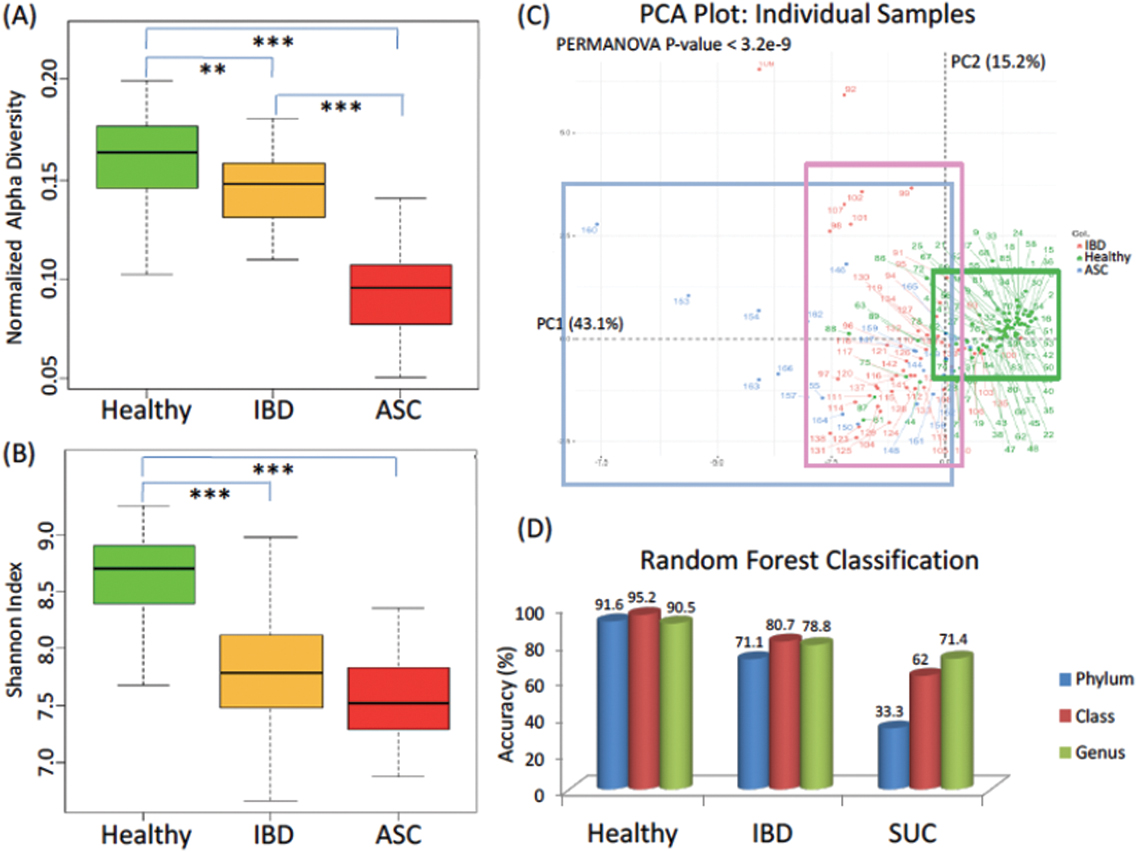 The gut microbiome in ASC was highly unstable, as characterised by high intra-cohort variation (analysed using J-divergence measure) which was significantly greater than in UC or HC. On principal coordinate analysis, the microbiome of HC and UC were similar, with the ASC cohort being distinct from both.
On quantitative evaluation of these differences (random forest classifiers), both ASC vs. HC and UC comparisons revealed excellent classification accuracy, with >90% patients being correctly classified.
Statistical comparison of the ranked abundances identified four distinct clusters of genera (G1A, G1B, G2A, G2B), with specific trends in their abundance patterns across the three groups: the G1A/G1B clusters had the least, whereas G2A/G2B had the highest abundance in the ASC cohort. Interestingly, several known health-associated bacteria (Faecalibacterium, Prevotella, and Roseburia) exhibited different oligotypes, with distinct oligotypes segregating into health and disease states (ASC).
Conclusion
Gut microbial diversity is lower in ASC than in mild–moderate UC or healthy controls. Gut microbiome composition is increasingly unstable in ASC, with a distinct abundance of specific genera varying between healthy controls and ASC. Mild–moderate UC lies within the spectrum.