P123 The fully-automated LIAISON Calprotectin immunoassay from DiaSorin can distinguish between IBD and IBS patients
R. Vicente Steijn*1, J. M. Jansen2, R. Bisheshar1, M. Romeijn1, I-A. Haagen1
1OLVG Lab BV, Laboratory of Hematology and Clinical Chemistry, Amsterdam, The Netherlands, 2OLVG Oost, Department of Gastroenterology and Hepatology, Amsterdam, The Netherlands
Background
inflammatory bowel disease (IBD) comprises two major disorders: ulcerative colitis (UC) and Crohn's disease (CD). These two disorders can be distinguished from irritable bowel syndrome (IBS). In this study, we assessed the performance of the quicker, fully automated calprotectin immunoassay from DiaSorin in IBD diagnosis and follow-up.
Methods
The LIAISON Calprotectin assay from DiaSorin run on the LIAISON XL was analytically and clinically validated and compared with the EliA Calprotectin immunoassay from Thermo Fisher Scientific run on the ImmunoCAP250. The immunoassay from DiaSorin uses recombinant human antigen standards. For the clinical validation, 303 samples were measured from 5 patient groups: UC, CD, IBS, other gastrointestinal diseases (GI) and controls, which consisted of healthy patients with no intestinal disease.
Results
The calprotectin immunoassay of DiaSorin showed good analytical performance. Regarding diagnostic accuracy, patients suffering from an active disease state of IBD showed significant higher concentrations of faecal calprotectin compared with controls as shown in Figure 1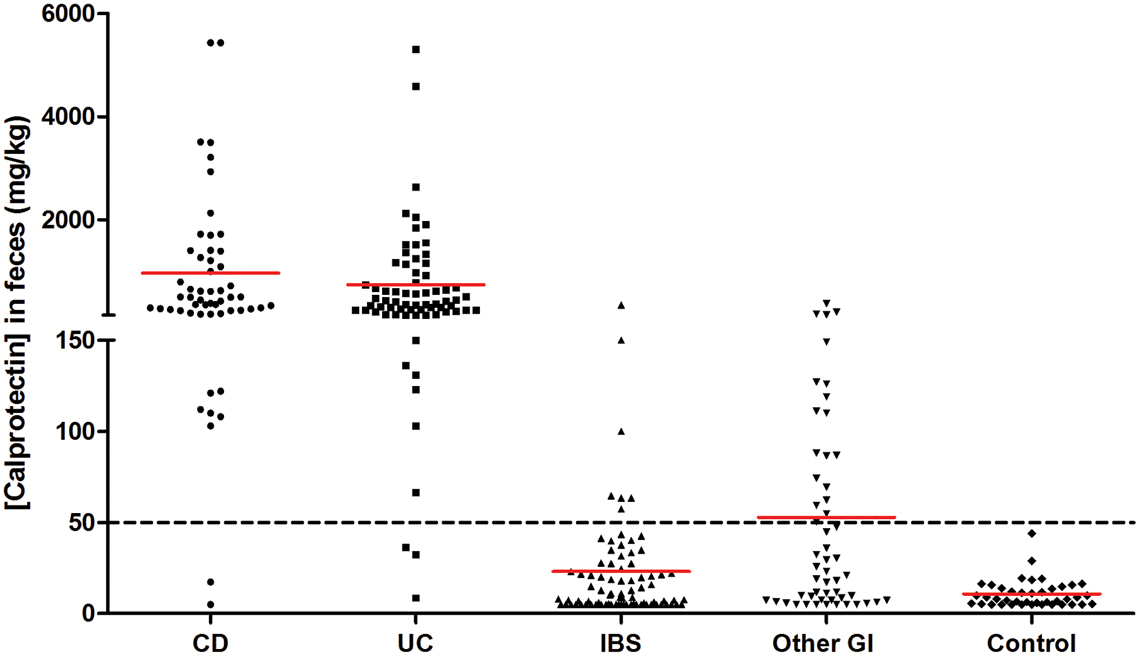 Clinical validation of the DiaSorin LIAISON® Calprotectin assay on the LIAISON®XL.
(UC: 710 ± 921 mg/kg; CD: 967 ± 1243 mg/kg; controls: 11 ± 8 mg/kg). The remaining non-IBD groups showed no significant difference compared with controls (IBS: 23 ± 43 mg/kg; 53 ± 68 mg/kg). Follow-up patients (n = 9) showed a significant decrease in faecal calprotectin after treatment (Figure 2).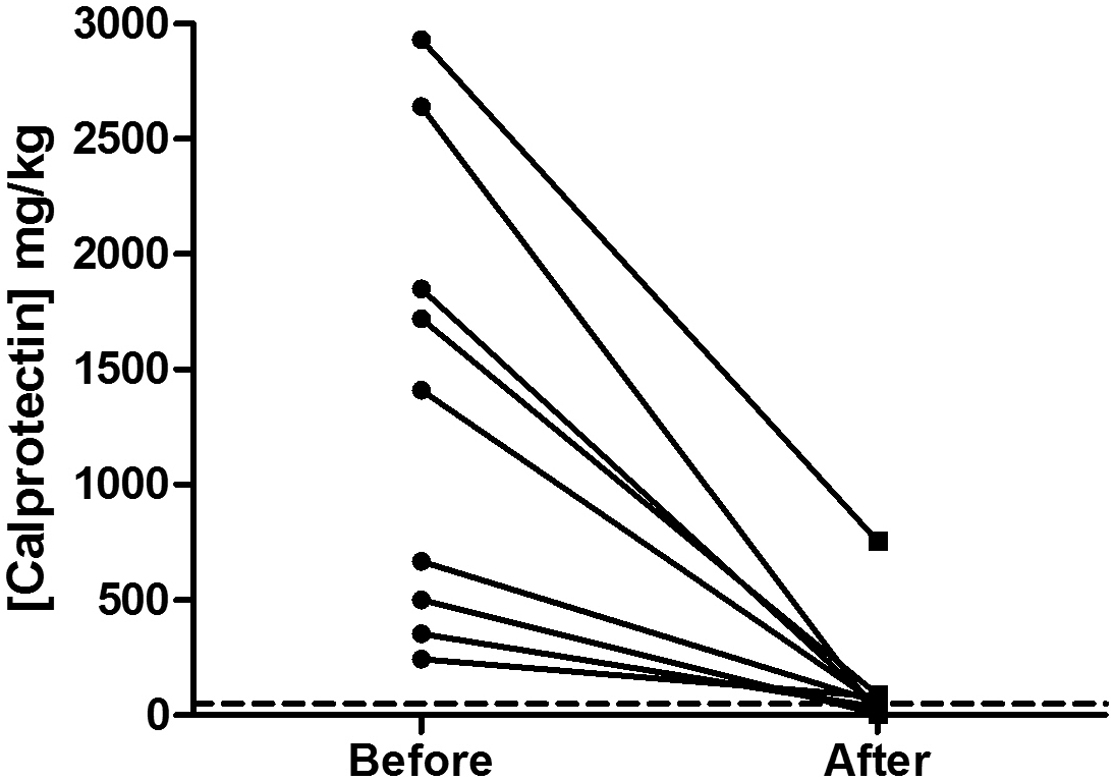 Follow-up results before and after treatment.
At the 50 mg/kg cut-off value, the negative predictive value (NPV) for the LIAISON Calprotectin for detecting IBD was 95% and, respectively, the positive predictive value (PPV) 96% (sensitivity and specificity of 96%) with an area under the curve was 0.97 (p < 0.001).
Conclusion
The LIAISON Calprotectin immunoassay can be used both to distinguish between IBD and non-IBD patients as well as for follow-up of IBD patients.