P133 Comparison of accuracy between faecal immunochemical test and faecal calprotectin for predicting mucosal healing in quiescent ulcerative colitis patients: a prospective multi-centre study
E. S. Kim*1, S. K. Kim1, H. S. Lee1, Y. J. Lee2, E. Y. Kim3, B. I. Jang4, K. O. Kim4, C. H. Yang5, Y-J. Lee1, E. Y. Lee1, Crohn's and Colitis Association in Daegu-Gyeongbuk (CCAiD)1
1Kyungpook National University, School of Medicine, Internal Medicine, Daegu, South Korea, 2Keimyung University, School of Medicine, Internal Medicine, Daegu, South Korea, 3Catholic University of Daegu, School of Medicine, Internal Medicine, Daegu, South Korea, 4Yeungnam University College of Medicine, Internal Medicine, Daegu, South Korea, 5Dongguk University School of Medicine, Internal Medicine, Gyeongju, South Korea
Background
Non-invasive stool tests including faecal immunochemical test (FIT) and faecal calprotectin (FC) are known to be a reliable biomarker for mucosal healing (MH) in UC. However, direct comparison of these faecal tests for predicting mucosal healing in inactive UC patients has yet to be evaluated. We aimed to compare accuracy of FIT and FC for predicting MH in UC patients in clinical remission.
Methods
This was a prospective, multi-centre study conducted in 3 tertiary hospitals between February 2016 and January 2018. UC patients in clinical remission for at least 3 months underwent colonoscopy and MH was evaluated using Mayo endoscopic subscore (MES). Faecal samples were collected for FIT and FC 24 h before colonoscopy. Receiver-operating characteristic (ROC) curve and cut-off value of the best accuracy for predicting MH was assessed in each test. Independent predictive factors for MH were identified by logistic regression analysis.
Results
Of all 127 patients (male 86, median age of diagnosis 44 (range 14–77)), 65 (51.2%) showed complete MH (MES = 0). Area under curve (AUC) of FC was significantly higher than FIT (AUC 0.858 vs. 0.707, p < 0.001) (Figure 1) whereas this difference disappeared when MH was defined as MES 0 or 1 (AUC 0.820 vs. 0.813, p = 0.891). When cut-off value was set as 70 μg/g for FC and 10 mg/ml for FIT, sensitivity, specificity, positive predictive value and negative predictive value were 89.2, 71, 76.3, and 86.3 and 92.3, 50, 65.9, and 86.1, respectively. Multi-variate logistic regression analysis showed that age of diagnosis >45, haematocrit >44, FC <70 μg/g, and FIT <10 mg/ml were identified as independent predictive factors for MH (MES = 0).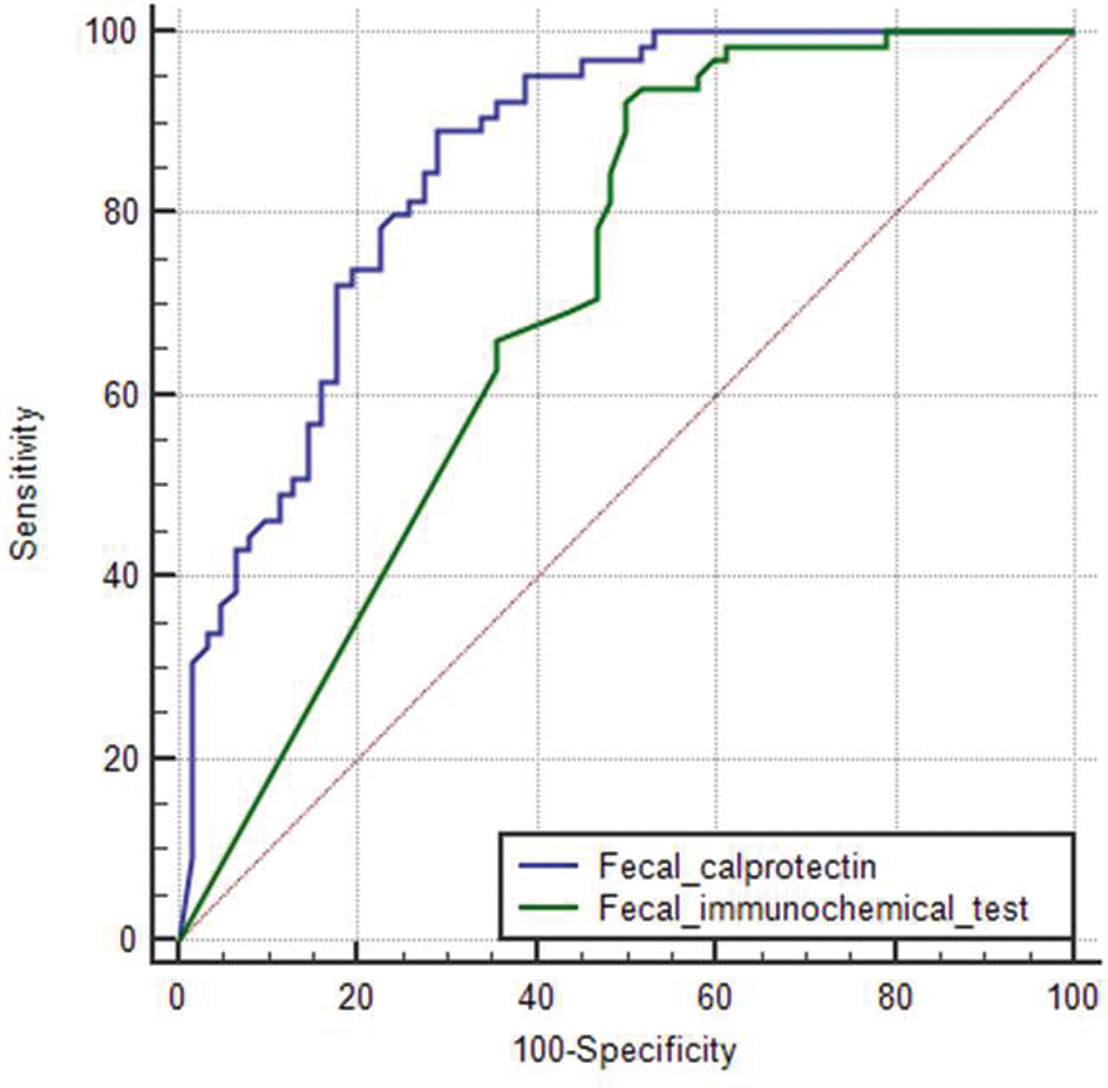 Comparison of ROC curves for predicting MH (MES = 0).
Conclusion
Our study demonstrated that FC is more sensitive than FIT for predicting complete MH in quiescent UC patients. The best cut-off value of FC and FIT for MH in these patients is found as 70 μg/g and 10 mg/ml, respectively. Age of diagnosis and haematocrit are additional predictors for MH.