P145 Telephone straight-to-test (tSTT) improves early diagnosis of inflammatory bowel disease (IBD)
H. Htet*1, T. Mudege1, S. Hoque1
1Whipps Cross Hospital, Barts Health NHS Trust, London, UK
Background
ISBEN study showed that the average time to reach a diagnosis in IBD is 8.3 months in Crohn's disease (CD) and 4.5 months in ulcerative colitis (UC), highlighting a challenge in establishing an early diagnosis. In IBD, early diagnosis and treatment has a positive impact on the disease outcome. Barts health NHS trust is one of the hospitals pioneered in tSTT service aiming to reduce the waiting time in patients referred by primary care GPs with lower GI symptoms. Our study aims to assess whether tSTT pathway reduces the delay in diagnosing IBD.
Methods
In tSTT pathway, specialist colorectal nurses scrutinise routine (18-week wait) and urgent (2-week wait) referrals. The priorities of the investigations are based on the information on referral letters and patient history during telephone assessment. The endoscopic assessment can be expedited in patients with features suggestive of IBD such as family history, raised faecal calprotectin and weight loss.
Results
During a 4-year period from 1 July 2013 to 1 July 2018, a total of 1757 referrals were received. Seventy-eight (4.4%) patients were identified to have findings such as inflammation or ulcers suspicious of inflammatory bowel disease on flexible sigmoidoscopy or colonoscopy. Of them, 47/78 patients were found to have a new diagnosis of IBD. The remaining patients were eventually diagnosed as drug induced, infective, bowel prep-related or diverticular-related colitis.
Of 47 new diagnosis of IBD, 24 (51%) were UC, 12 (25.5%) Crohn's disease (CD) and 11 (23.5%) indeterminate colitis. There is an equal male to female ratio (25:22). Mean age of diagnosis is 39 (range 18–70).
Boxplot of age of diagnosis.
Average time from GP referral to diagnosis is 37 days (32.4days in CD and 41.5 days in UC)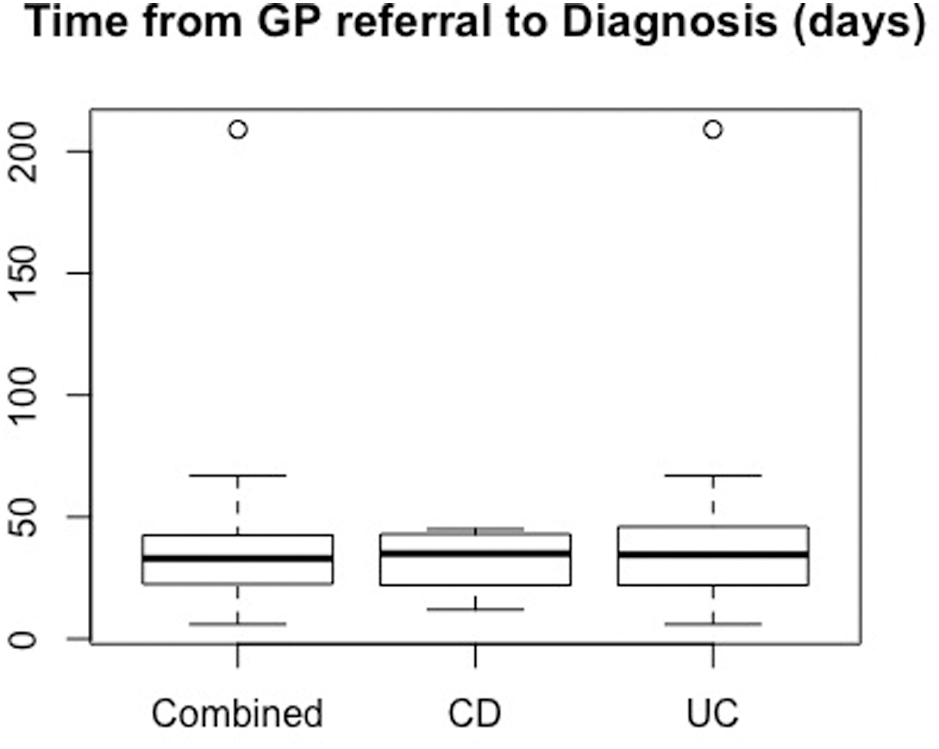 Boxplot of time to diagnosis.
There is a significant difference in time to diagnosis between 2 week wait and 18 week wait referral (25.2 days vs. 45.7 days, p = 0.004).
Conclusion
Our tSTT data shows a significant improvement in diagnosing inflammatory bowel disease in patients presenting to GP with lower GI symptoms compared with ISBEN study. When triaged with tSTT, even routine 18 week referral reaches much earlier diagnosis of IBD. Even though, there is a statistically significant difference between 2 week and 18 week referral, since 2 week wait is resource intensive, its clinical significance in earlier detection is debatable.