P166 A combined set of four serum inflammatory biomarkers reliably predicts endoscopic disease activity in inflammatory bowel disease
A. R. Bourgonje*1, J. Z. H. von Martels1, R. Y. Gabriëls1, T. Blokzijl2, M. Buist-Homan2, J. Heegsma2, B. H. Jansen2, H. M. van Dullemen1, E. A. M. Festen1, M. C. Visschedijk1, R. K. Weersma1, P. de Vos3, K. N. Faber1, G. Dijkstra1
1University Medical Center Groningen, Gastroenterology and Hepatology, Groningen, The Netherlands, 2University Medical Center Groningen, Laboratory Medicine, Groningen, The Netherlands, 3University Medical Center Groningen, Pathology and Medical Biology, Groningen, The Netherlands
Background
Mucosal healing is the ultimate treatment goal in inflammatory bowel disease (IBD). Endoscopic examination is the gold standard to determine disease activity in IBD, as routine activity measures, such as C-reactive protein (CRP), faecal calprotectin and clinical disease indices are inconsistent in representing luminal disease activity. Therefore, there is a great need for non-invasive biomarkers to assess mucosal inflammation. The aim of this study was to build an accurate prediction model of endoscopic disease activity in patients with quiescent and active IBD, based on a combination of serum inflammatory biomarkers.
Methods
Serum concentrations of 10 inflammatory biomarkers were analysed in 118 IBD patients (64 Crohn's disease (CD), 54 ulcerative colitis (UC)) prior to biological treatment and 20 healthy controls. In 71 IBD patients, endoscopic disease activity was assessed by the Simple Endoscopic Score for CD (SES-CD) and Mayo endoscopic subscore for UC. Nonparametric ROC estimation with bootstrap inference was used to establish the best combination of inflammatory biomarkers predicting endoscopic disease activity.
Results
Six (6) inflammatory biomarkers (serum amyloid A (SAA), Eotaxin-1, IL-6, IL-8, IL-17A and TNF-α) all individually showed better prediction of IBD disease activity compared with routine measures (CRP, faecal calprotectin and HBI/SCCAI scores). The best combination of predictive inflammatory biomarkers consisted of serum SAA, IL-6, IL-8 and Eotaxin-1, showing an optimism-adjusted area under the ROC curve of 0.84 (95% CI: 0.73–0.94, p < 0.0001), which predicted significantly better (p = 0.002) than serum CRP levels with an AuROC of 0.57 (95% CI: 0.43–0.72, p = 0.32).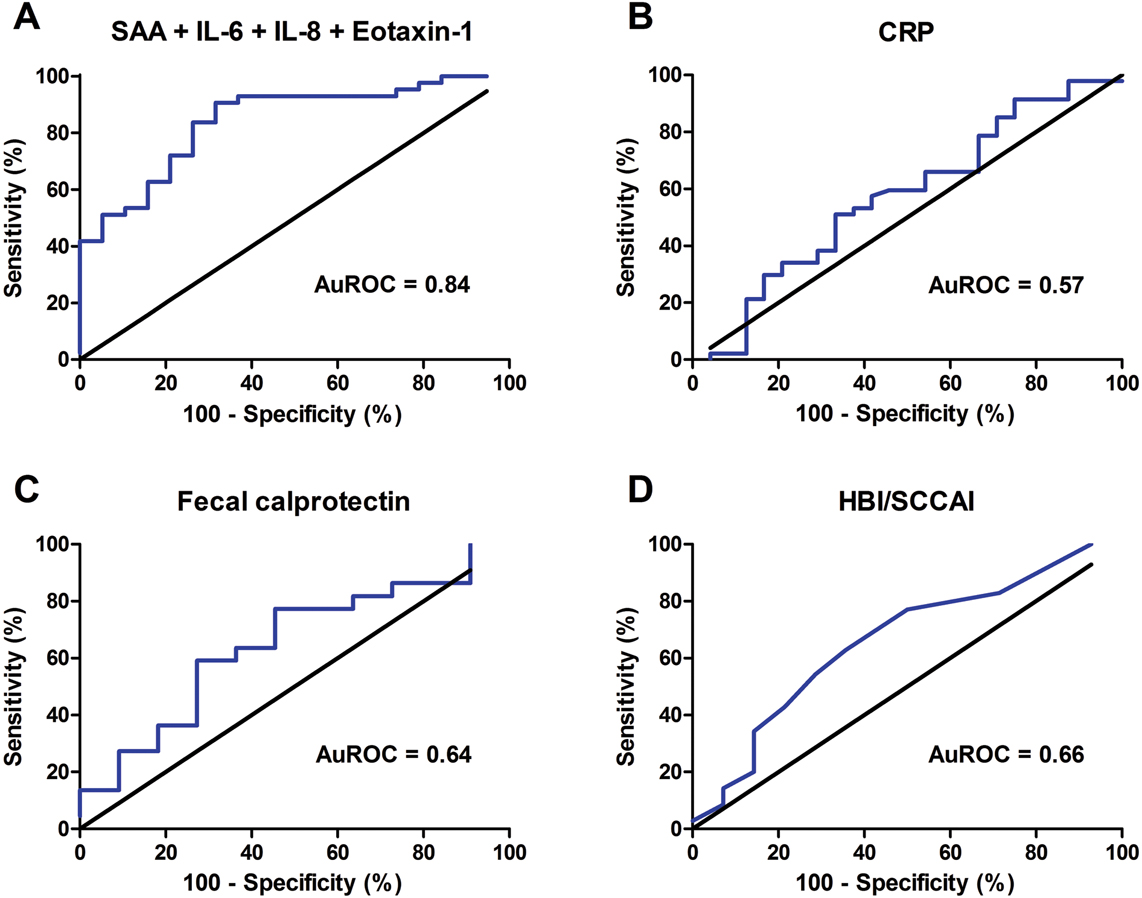 Receiver-operating characteristics (ROC) curves for (A) the best predictive combination of biomarkers (SAA, IL-6, IL-8 and Eotaxin-1), (B) serum CRP levels, (C) faecal calprotectin (FC) levels and (D) HBI or SCCAI.
The resulting combined calculated probability had a maximum sensitivity of 90.7% and specificity of 68.4% in correctly classifying IBD patients into the low and high endoscopic disease activity category (Youden's J statistic = 0.58).
Conclusion
The combination of SAA, IL-6, IL-8 and Eotaxin-1 is superior over routine measures in predicting endoscopic disease activity in IBD. Serum inflammatory biomarkers are valuable tools for monitoring intestinal inflammation and guiding therapeutic decisions.