P183 Colombian real-world experience of vedolizumab use in patients with inflammatory bowel disease—EXVEDOCOL
V. Parra Izquierdo1, S. Cifuentes Amortegui2, S. Avendaño R.3, E. Ponce de Léon4, C. Flórez1, G. Reyes Medina5, F. E. Puentes M6,7, M. Ballesteros B.8, E. E. Nuñez9, M. Hernández10, J. Kock10, J. R. Márquez11
1Gastroadvanced, Gastroenterology, Bogota, Colombia, 2Hospital San Pedro, Gastroenterology, Pasto, Colombia, 3Centro Médico Imbanaco, Gastroenterology, Cali, Colombia, 4Fundación Cardioinfantil, Gastroenterology, Bogota, Colombia, 5Clínica Universitaria Colombia, Gastroenterology, Bogota, Colombia, 6Universidad de Caldas, Gastroenterology, Manizales, Colombia, 7Unión de Cirujanos SAS, Gastroenterology, Manizales, Colombia, 8Intergastro, Gastroenterology, Medellin, Colombia, 9Gastroadvanced, Gastroenterology, Medellin, Colombia, 10Takeda Colombia, Medical, Bogota, Colombia, 11Clínica Las Americas, Coloproctology, Medellin, Colombia
Background
EXVEDOCOL (EXperience of VEDOlizumab in COLombia) is a consortium of 9 inflammatory bowel disease (IBD) centres investigating the real-world (RW) clinical outcomes of vedolizumab (VDZ) in ulcerative colitis (UC) and Crohn's disease (CD) patients. RW outcomes on VDZ in Latin America are scarce. Our study aimed to assess the RW patient characteristics, effectiveness and safety of VDZ in this cohort.
Methods
A chart review was conducted in adult patients (≥18 years) with moderate to severe active IBD receiving VDZ therapy between July 2016 and October 2018. Clinical response was defined as a reduction of ≥3 points and ≥30% from baseline partial Mayo (pMayo) score in UC and a reduction of ≥3 points in the Harvey–Bradshaw index (HBI) in CD. Clinical remission was defined as Mayo score ≤2 in UC and HBI <5 in CD. Endoscopic remission was defined as a Mayo endoscopic score ≤1 in UC and Simple Endoscopic Score-CD ≤2 in CD. Deep remission was defined as achieving clinical and endoscopic remission. Descriptive statistics are reported.
Results
In total, 38 patients (31 UC, 7 CD) were included; baseline characteristics are shown in Table 1.
Abstract PO183 – Table 1. Baseline characteristics of real-world vedolizumab patients from the EXVEDCOL consortium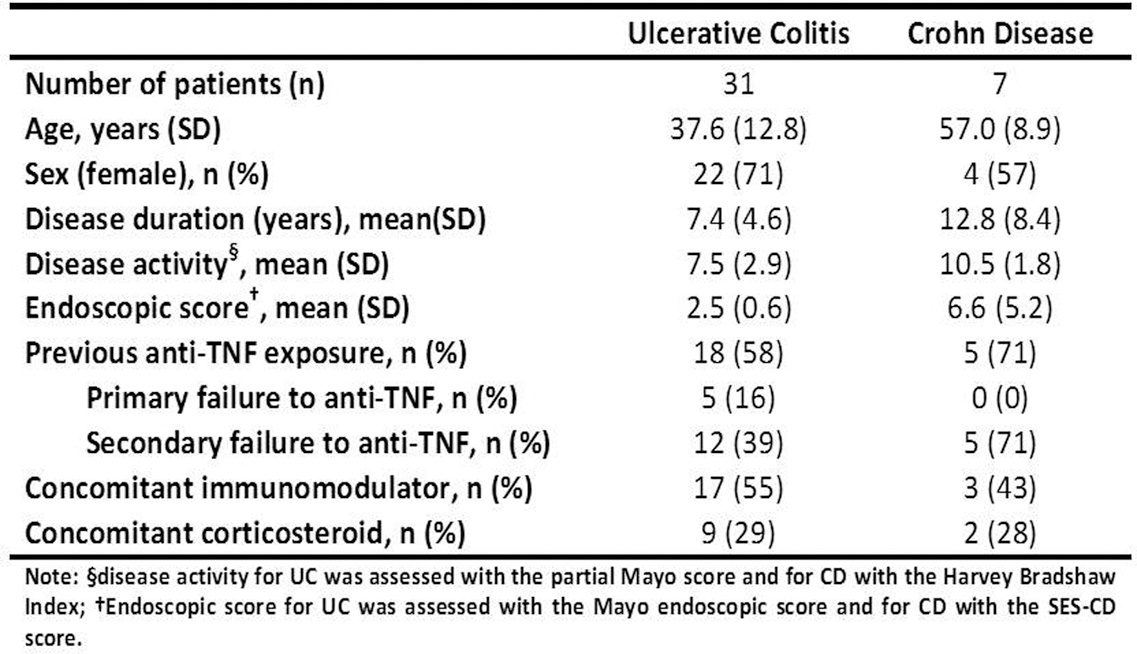 Thirty-one patients (25 UC, 6 CD) completed induction (doses 0, 2, and 6 week). Overall, 90% of 31 patients on VDZ achieved clinical response at Week 14 (92% [n = 23/25] UC, 83% [n = 5/6] CD); response rates in anti-tumour necrosis factor (TNF)-naïve patients was 92% (n = 13/14) vs. 88% (n = 15/17) in anti-TNF-experienced patients. Clinical response at last follow-up (median [min–max], months: 9.3 [2.1–28.2]) was seen in 81% (84% [n = 21/25] UC, 67% [n = 4/6] CD) of the 31 completers of induction (anti-TNF naïve 92% [n = 13/14] vs. 67% [n = 4/6] anti-TNF experienced). Baseline and follow-up endoscopy scores were available for 74% (n = 23) of patients; the endoscopic remission rate was 85% and 67% for UC and CD patients, respectively. Deep remission was achieved in 46% (n = 11) of patients. All patients receiving an immunomodulator (n = 11) were able to discontinue this therapy and only two UC patients continued corticosteroid therapy during VDZ treatment. Five adverse events (AE) were reported; one was considered severe (infusion reaction) in patients with history of allergic reaction to anti-TNF. Four patients discontinued VDZ, 2 due to an AE and 2 for unknown reasons.
Conclusion
This is the first study to show RW outcomes of VDZ in Colombian patients with IBD; high clinical and endoscopic remission rates with VDZ in IBD were observed with a favourable safety profile. Outcomes may be better in anti-TNF naïve patients. Further studies in Latin America patients are warranted.