P283 Bowel urgency in patients with moderate to severe ulcerative colitis: prevalence and correlation with clinical outcomes, biomarker levels, and health-related quality of life from U-ACHIEVE, a Phase 2b study of upadacitinib
S. Ghosh*1, E. Louis2, E. V. Loftus Jr3, W. Reinisch4, F. Cataldi5, W. Zhou5, W-J. Lee5, J. Panes6
1University of Birmingham, Institute of Immunology and Immunotherapy, NIHR Biomedical Research Centre, Institute of Translational Medicine, Birmingham, UK, 2University Hospital CHU of Liège, Liège, Belgium, 3Mayo Clinic College of Medicine, Rochester, USA, 4Medical University of Vienna, Vienna, Austria, 5AbbVie Inc., North Chicago, USA, 6University of Barcelona, Hospital Clinic Barcelona, Barcelona, Spain
Background
Frequent bowel movement is a common symptom in ulcerative colitis (UC), and is usually accompanied by urgency. However, bowel urgency (BU) is not a component of UC activity indices commonly used. We assessed the prevalence of BU and its associated burden and impact in patients with UC using the 8-week (week) induction period of the upadacitinib trial U-ACHIEVE (NCT02819635).
Methods
This post hoc analysis evaluated data from adults with moderate to severe UC (adapted Mayo score [Mayo score without Physician Global Assessment] of 5–9 points and endoscopy subscore of 2–3) who randomly received upadacitinib or placebo for 8 weeks. BU (yes/no) was collected in the patient daily diary. Number of days with BU over the most recent 3 days before study visits were calculated (BU days range: 0–3). Prevalence of BU and its impact on health-related quality of life (HRQOL) were assessed; inflammatory bowel disease Questionnaire (IBDQ) and Short Form 36 Health Survey (SF-36) scores were compared in patients with vs. without BU. At Week 8, number of BU days was compared between patients who achieved clinical response and remission based on adapted Mayo score and those who did not. Correlations between BU and clinical outcomes, HRQOL measures, and biomarker levels were evaluated using Spearman's correlation coefficients at Week 8.
Results
Among 250 patients, 83% reported experiencing BU over 3 days at baseline (71% for 3 days, 8% for 2 days, 4% for 1 day); 7% had no BU; and 10% had missing data. Pts with any BU days at baseline reported significantly impaired HRQOL in IBDQ and SF-36 Physical Component Summary (PCS) vs. no BU (Table 1). By Week 8, 28% reported no BU. Fewer BU days were observed in patients with vs. without clinical remission (0.52 vs. 1.80, p < 0.001); change in BU days from baseline to Week 8 was significantly greater in patients with vs. without a clinical response (−1.62 vs. –0.26; p < 0.001). BU days had a strong correlation with Mayo stool frequency subscore and IBDQ, and moderate correlation with Mayo endoscopic subscore, rectal bleeding subscore, faecal calprotectin levels, and high-sensitivity C-reactive protein levels (Table 2).
Table 1. Burden associated with bowel urgency on quality of life measures at baseline and Week 8 (as observed data).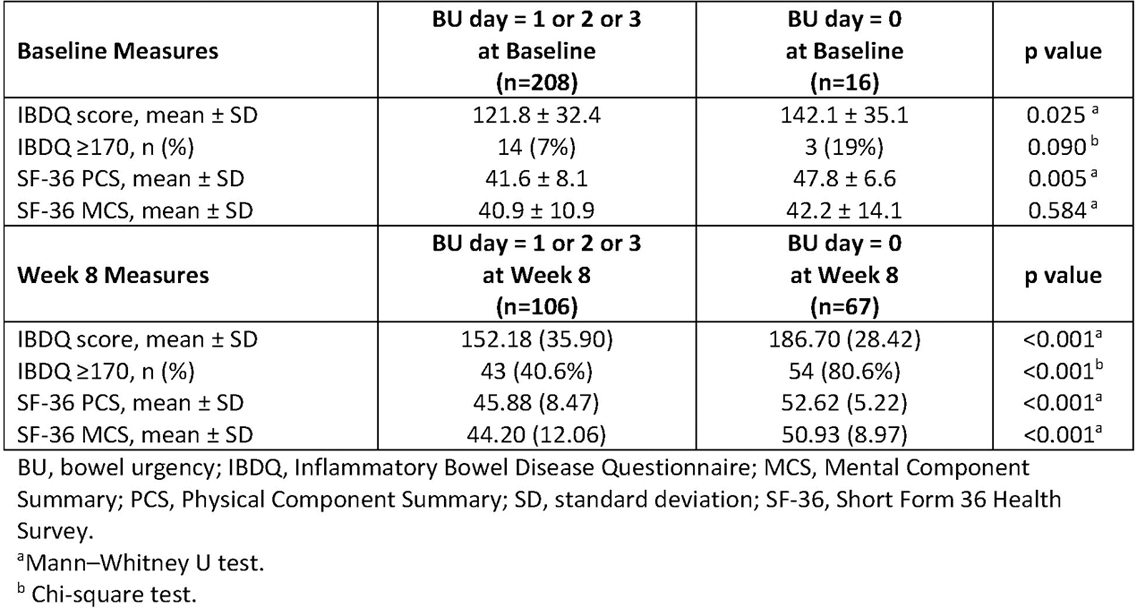 Table 2. Correlation of bowel urgency days and clinical outcomes, biomarker levels, and HRQOL at Week 8 (as observed data).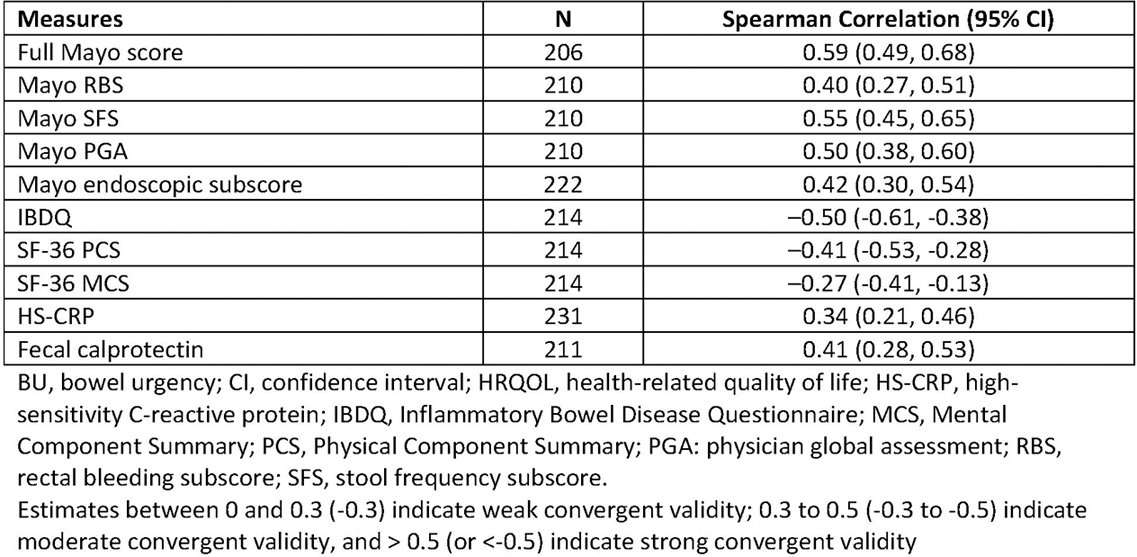 Conclusion
A high prevalence of BU (>80%) was observed in patients with moderate to severe UC. BU was correlated with UC disease activity and biomarker levels and had a high impact on patients' HRQOL. Improvements in BU paralleled clinical response and remission.