P287 The clinical utility of low radiation dose computed tomography as a first-line investigation for evaluation of small bowel pathology
A. Patel*1, N. Gouvas1, S. Wadhwani2, R. Lovegrove1
1Worcestershire Acute Hospitals NHS Trust, Department of Colorectal Surgery, Worcester, UK, 2Worcestershire Acute Hospitals NHS Trust, Department of Radiology, Worcester, UK
Background
Small bowel cross-sectional imaging is usually performed with either magnetic resonance (MRE) or computed tomography enterography (CTE). Whilst MRE avoids exposure to radiation, CTE is faster, cheaper and employs a shorter image acquisition time that results in less motion artefact and better resolution. However, concern regarding radiation exposure has resulted in clinicians preferring MRE. The aim of this study was to determine whether a low radiation dose CTE was effective at identifying small bowel pathology.
Methods
Retrospective review of all patients undergoing CTE at our institution from November 2015 to June 2018. A low radiation dose CTE protocol was devised which involves a portal venous phase CT scan with oral contrast (gastrograffin). Data on CTE outcomes and subsequent need for further imaging were obtained from electronic case records.
Results
114 patients were included (M:F 44:70, median age 48 years). Forty-one had known inflammatory bowel disease (34 Crohn's disease, 2 ulcerative colitis, 5 indeterminate colitis). CTE was performed successfully in 100/114 (88%) patients. In 14, there was poor small bowel opacification with limitations on image quality. All patients tolerated the procedure well. In comparison, there were 4/114 patients who could not tolerate MRE. Mean radiation exposure was 281 mGy/cm compared with 523 mGy/cm for conventional CT abdomen and pelvis.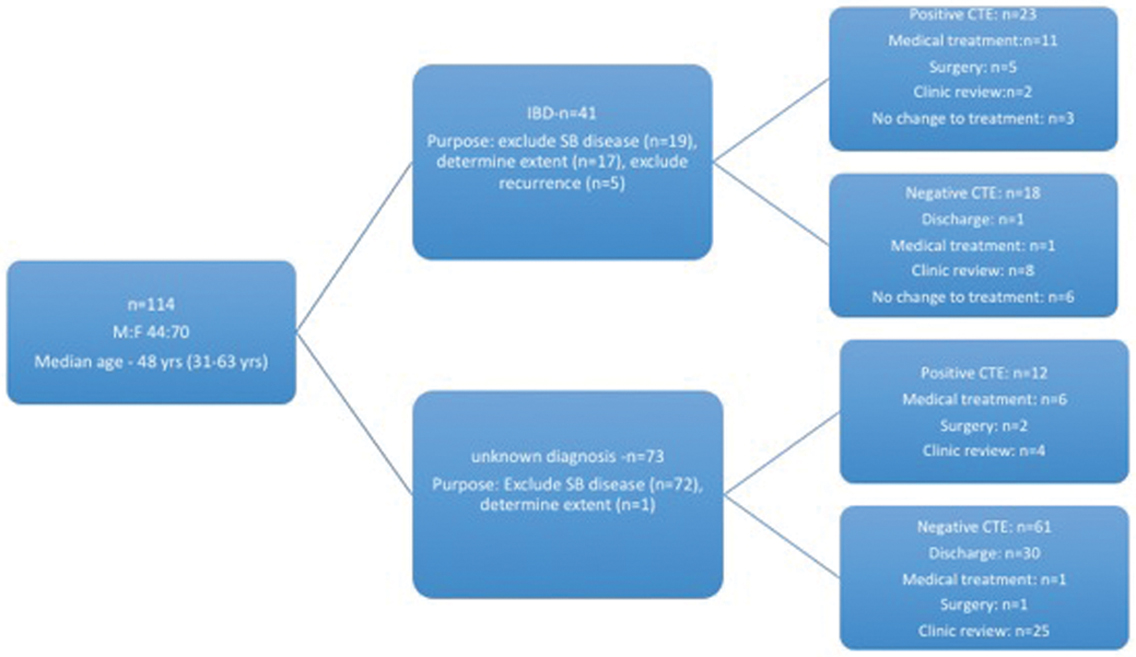 Outcomes of patients undergoing CTE.
The sensitivity, specificity, positive predictive value, and negative predictive value of CTE was 93.5%, 92.8%, 82.9%, and 97.5%, respectively. Overall, 19/114 (17%) patients underwent further imaging within 12 months of CTE, which included MRE (n = 7), CT abdomen/pelvis (n = 4) and capsule endoscopy (n = 8). In total, 8 patients underwent surgical resection, with operative findings matching imaging in 7 (88%). In patients not known to have small bowel disease, CTE was diagnostic in 12/73 (16%) patients. In those with negative findings, 30/61 (49%) were discharged from further follow-up; 25/61 (41%) remain under clinical review; and 1 (1.6%) patient has been started on treatment for inflammatory bowel disease based on colonoscopy findings prior to CTE.
Conclusion
Our results suggest CTE is a valuable imaging modality, particularly as a first-line investigation to exclude small bowel pathology. It is well tolerated and has a low failure rate. Subsequent small bowel imaging in those patients diagnosed with Crohn's disease can be with MRE to decrease cumulative radiation exposure.