P296 Effect of upadacitinib on patient-reported symptoms by the new Ulcerative Colitis Symptoms Questionnaire (UC-SQ) in patients with moderate to severe ulcerative colitis: data from the Phase 2b study U-ACHIEVE
S. Ghosh*1, F. Aberra2, R. Cross3, W. Zhou4, N. Chen4, W-J. Lee4, R. Panaccione5
1University of Birmingham, Institute of Immunology and Immunotherapy, NIHR Biomedical Research Centre, Institute of Translational Medicine, Birmingham, UK, 2Perelman School of Medicine, University of Pennsylvania, Philadelphia, USA, 3University of Maryland School of Medicine, Baltimore, USA, 4AbbVie Inc., North Chicago, USA, 5University of Calgary, Calgary, Canada
Background
The Ulcerative Colitis Symptoms Questionnaire (UC-SQ) is a new disease-specific instrument developed to assess patient-reported outcomes in UC. We examined the impact of upadacitinib (UPA) on patient-reported outcomes utilising the UC-SQ in an 8-week (week) Phase 2b induction study (U-ACHIEVE, NCT02819635).
Methods
Adults with moderate-to-severe UC (defined by adapted Mayo score [Mayo score without Physician Global Assessment] 5–9 points and Mayo endoscopy subscore 2–3) were randomised to receive extended-release UPA 7.5, 15, 30, 45 mg once daily (QD) or placebo (PBO) for 8 weeks. The UC-SQ contains a 17-item assessment of intestinal and extra-intestinal symptoms such as bowel movements, abdominal pain, blood/mucus in stool, fatigue, and difficulty sleeping. Items are rated on a five-point Likert scale to assess the frequency/intensity of individual symptoms. Overall scores of UC-SQ range from 17 to 85; higher scores indicate greater symptom burden. Patients at selected study sites completed the UC-SQ at baseline (BL) and Week 2, 4, and 8. Mean change from BL was calculated for UC-SQ total score and individual items at Week 2, 4, and 8; comparisons between UPA dosage groups and PBO were based on analysis of covariance, and missing data were imputed with the last observed value.
Results
A total of 110 patients completed the UC-SQ questionnaire. At BL, >50% of patients reported often or always having a sudden/intense need to have a bowel movement (73%), blood in stool (62%), diarrhoea (59%), difficulty sleeping (55%), mucus in stool (54%), or felt tired/lack of energy (53%). At Week 2, 4, and 8, respectively, significant improvement (decrease in mean score from BL, p < 0.05) was observed in UC-SQ total score in patients receiving UPA 15, 30, and 45 mg QD vs. PBO (table). Significant improvements were seen as early as Week 2 in the majority of the individual items of the UC-SQ in patients receiving UPA 30 and/or 45 mg QD vs. PBO, including intestinal symptoms of blood in stool, mucus in stool, bowel movement frequency, urgency for bowel movement, need for bowel movement even if bowel is empty, abdominal pain, and rectal pain. A positive impact on fatigue and sleep quality was also observed in patients receiving UPA vs. PBO.
Table. Mean change from baseline in UC-SQ total score and individual items at Week 8 (LOCH).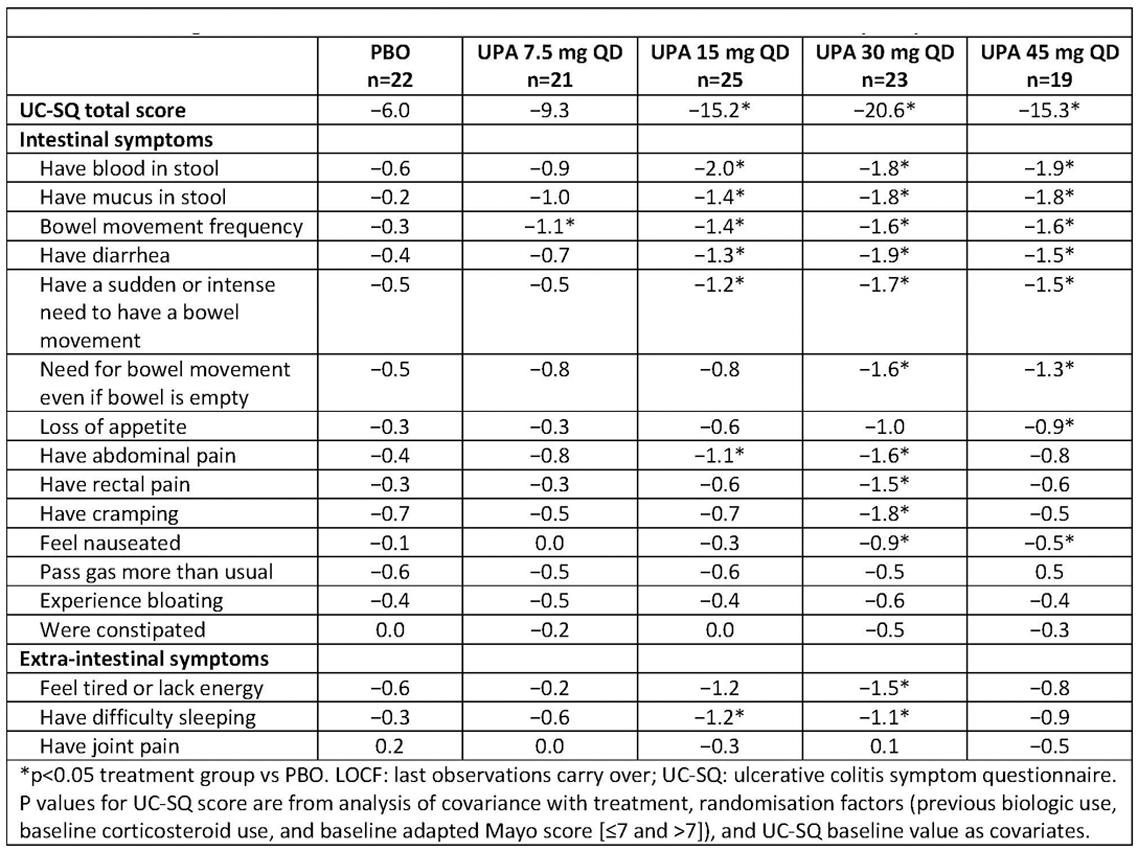 Conclusion
More than half of UC patients suffered in both intestinal and extraintestinal symptoms. Patients with moderate-to-severe UC treated with 8-week induction UPA therapy vs. PBO reported a reduction in UC-related symptoms and in the impact of these symptoms on their lives.