P303 Hyperbilirubinemia can be induced with azathioprin treatment in patients with inflammatory bowel disease: a hospital-based cohort study
W. Moon*1, K. I. Seo1, S. J. Park1, M. I. Park1, S. U. Lee1, B. C. Yun1, B. H. Han1, E. T. Park1, J. H. Kim1, S. E. Kim1, K. Jung1
1Department of Internal Medicine, Kosin University College of Medicine, Busan, South Korea
Background
Intestinal mucosal injury is supposed to cause liver disease and abnormal liver function tests are frequently observed in inflammatory bowel disease (IBD) patients. We investigated the hepatic biochemistry abnormality and change during the treatment in IBD patients.
Methods
IBD patients who were newly diagnosed and followed up in our hospital up to 2017 with the results of hepatic biochemistries at the both time points of diagnosis (before IBD treatment) and then at 2 years later (after IBD treatment) were enrolled. The biochemical profiles including aspartate aminotransferase (AST), alanine aminotransferase (ALT), total bilirubin (TB), direct bilirubin (DB), alkaline phosphatase (ALP), Γ-glutamyltransferase (GGT) and the risk factors for the abnormal results were multi-variably analysed.
Results
One hundred forty-six (77 patients of Crohn's disease and 69 ulcerative colitis) patients were enrolled. HBs Ag positivity was found in 9 (6.2%) patients and anti-HCV antibody in 1 (0.7%). Radiologic diagnosis of fatty liver was found in 15 (10.2%) patients and gallbladder stone in 10 (6.8%). Within first year, 85 (58.2%) patients started and maintained azathioprine (AZA) therapy. At diagnosis, 45 (30.8%) patient revealed at least one abnormal hepatic biochemistry. AST was elevated than upper limit of normal (ULN) in 9 (6.2%) patients, ALT in 11 (7.5%), TB in 14 (9.5%), DB in 16 (11%), ALP in 21 (14.6%) and GGT in 15 (10.3%). At 2 years later, 59 (40.4%) patients showed at least one abnormal hepatic biochemistry. TB was elevated compared with baseline (p < 0.001) and absolute abnormal elevation of TB ( >0.5 mg/dl) was significantly related with AZA (p = 0.006). In the AZA therapy group, hyperbilirubinemia (>1.2 mg/dl) was found in 6 (7.1%) patients at initial diagnosis, but 19 (22.4%) patients at 2 years later. In this group, absolute TB abnormal elevation was found in 63 (64.1%) patients. Eighteen (21.2%) patients were within normal TB level at diagnosis and experienced newly developed hyperbilirubinemia after AZA therapy.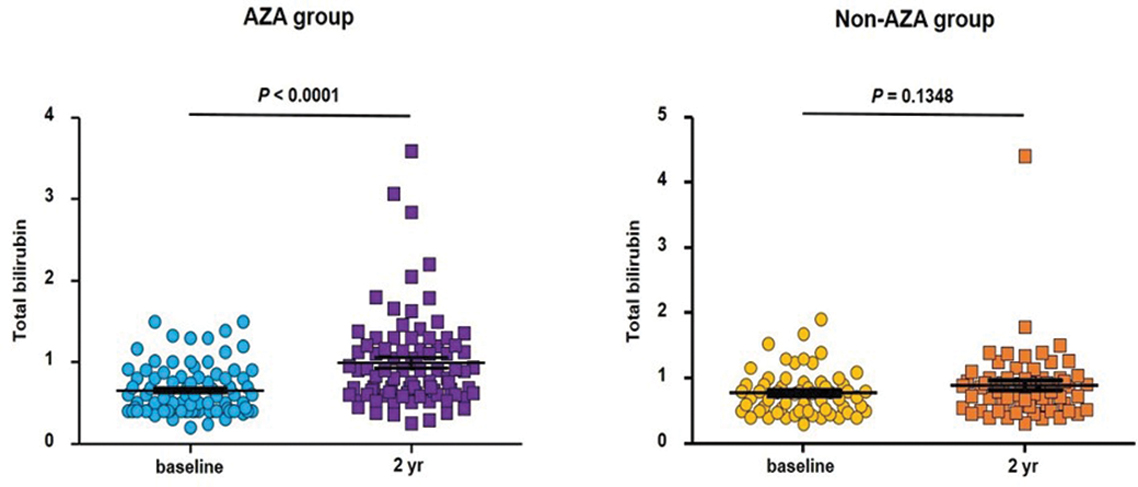 Levels of serum total bilirubin at the diagnosis and 2 years later in azathioprine-using group and non-azathioprine-using group.
Conclusion
Abnormal hepatic biochemistry profiles were observed in nearly one-third of IBD patients at diagnosis. AZA therapy is related with elevation change of TB during the treatment of inflammatory bowel disease.