P336 Behavioural treatment options for psychological comorbidities in patients with inflammatory bowel disease: a systematic literature review
L. Keefer1, R. Cheung*2, M. Bernauer3, D. Patel2, M. Dubinsky1
1Icahn School of Medicine at Mount Sinai, New York City, USA, 2Pfizer Inc., New York City, USA, 3Pharmerit International, Bethesda, USA
Background
Many patients with inflammatory bowel disease (IBD) have psychological comorbidities, such as anxiety and depression. We report results from a systematic literature review (SLR) conducted to explore the burden, behavioural treatment options, and unmet needs associated with psychological comorbidities in patients with IBD.
Methods
MEDLINE® and Embase® were searched (via ProQuest®) for articles and conference abstracts (published January 2003–August 2018) on psychological comorbidities in IBD (ie, anxiety and depression). Studies in adult and adolescent populations were included. Outcomes including epidemiology, behavioural treatments, and unmet needs were reviewed.
Results
Of 1,551 publications identified, 69 on clinical burden/unmet needs were included (31 articles; 38 conference abstracts). In patients with IBD, prevalence of depression ranged from 2.2%1 to 62.3%2 and anxiety ranged from 7.6%3 to 41.8%.4 Cognitive behavioural therapy (CBT), which is effective in the treatment of anxiety and depression,5 reduces the rate of comorbid anxiety and depression when present in adolescents and adults with IBD (Figure).6–9 Schedule for Affective Disorders and Schizophrenia for School-Age Children–Present and Lifetime Version scores significantly improved after CBT (baseline 5.64; endpoint assessment 1.09, p < 0.001).8 In adults, IBDQ total symptom score improved from 144.7 at baseline to 168.12 after CBT therapy; individual domains (systemic, emotional, and social) also improved.9 In a separate study, group therapy significantly decreased Beck Depression Inventory scores from 13.9 to 6.88 (p ≤ 0.05).10 However, up to half of depressed patients with IBD were not consulting a mental health professional.11 Screening for depression was inconsistent, with it not being documented or addressed in 67.6% of patients with IBD.12 Additionally, over the past 12 months, 41.1% of IBD patients with (vs. 22.4% of those without) depression felt that they did not receive health care when needed.11 One barrier to psychological care is reimbursement for mental health providers, for example, one study found that 52.5% of claims for psychiatric services for IBD patients were not reimbursed.13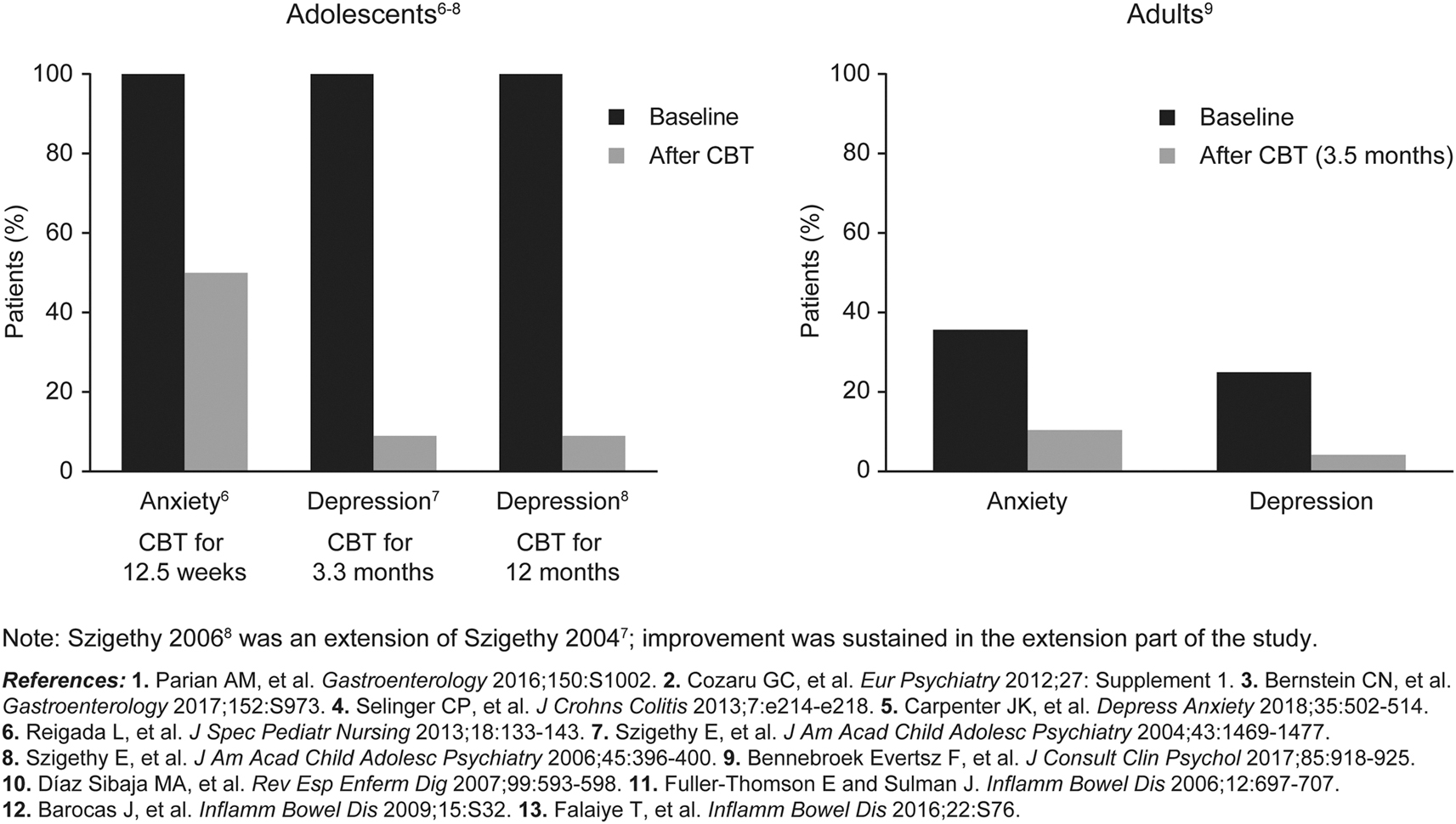 Conclusion
This SLR shows behavioural interventions, such as CBT and group therapy, were effective at reducing anxiety and depression in patients with IBD. However, there are gaps in patient care and access to these treatments where healthcare professionals could intervene to improve outcomes in this patient population.