P351 MRI outcomes in perianal fistulising Crohn's disease following anti-TNF-α therapy: a systematic review and meta-analysis
T. Lee*1, N. Ding2
1St Vincent's Hospital, Melbourne, Clinical School, Fitzroy, Australia, 2St Vincent's Hospital, Melbourne, Gastroenterology, Fitzroy, Australia
Background
Management of perianal fistulising Crohn's disease (pfCD) remains a significant challenge. Advent of biological agents has led to improved clinical outcomes. However, their effect on radiological findings is less well-established, despite MRI being a more accurate measure of disease activity, given the persistence of underlying tracts despite healing of the external opening.1
Methods
We performed a systematic review to assess disease activity on MRI pelvis following biological therapy, in adults. Online databases were searched in February 2018. Eight papers met this criterion, all of which administered an anti-TNF-α. All papers examined clinical outcomes, with 'remission' defined as closure of all baseline draining fistulas. Radiologically, 'healing' was defined as disappearance of tracts on T2-weighted sequences. Degree of radiological improvement was assessed in 4 papers, defined as decrease in T2-hyperintensity (2 papers), decrease in number of tracts/collections (1 paper), or decrease in number or volume (≥10%) of tracts/collections (1 paper). Endpoints ≤ 12 weeks post treatment commencement were considered short-term, and those >12 weeks long-term.
Results
Of 208 unique papers identified, 8 met inclusion criteria, with a total sample size of 233. Of 67 patients who received a post-treatment MRI at ≤12 weeks, 6/67 (9%) achieved radiological healing of the underlying fistula tract, 11/22 (50%) had improvement and 9/22 (41%) no improvement. Of 146 patients who underwent a post-treatment MRI at >12 weeks, 33/146 (23%) achieved healing, 20/45 (44%) had improvement and 15/45 (33%) no improvement. The odds ratios of MRI healing compared with clinical was 0.14 (95% CI, 0.03–0.54) in the short-term and 0.34 (95% CI, 0.21- 0.58) in the long-term, demonstrating a relative infrequency of radiological healing. Van Assche score findings varied, with some reporting significant differences between clinical responders and non-responders, and pre- and post-treatment,2 and others no significant difference.3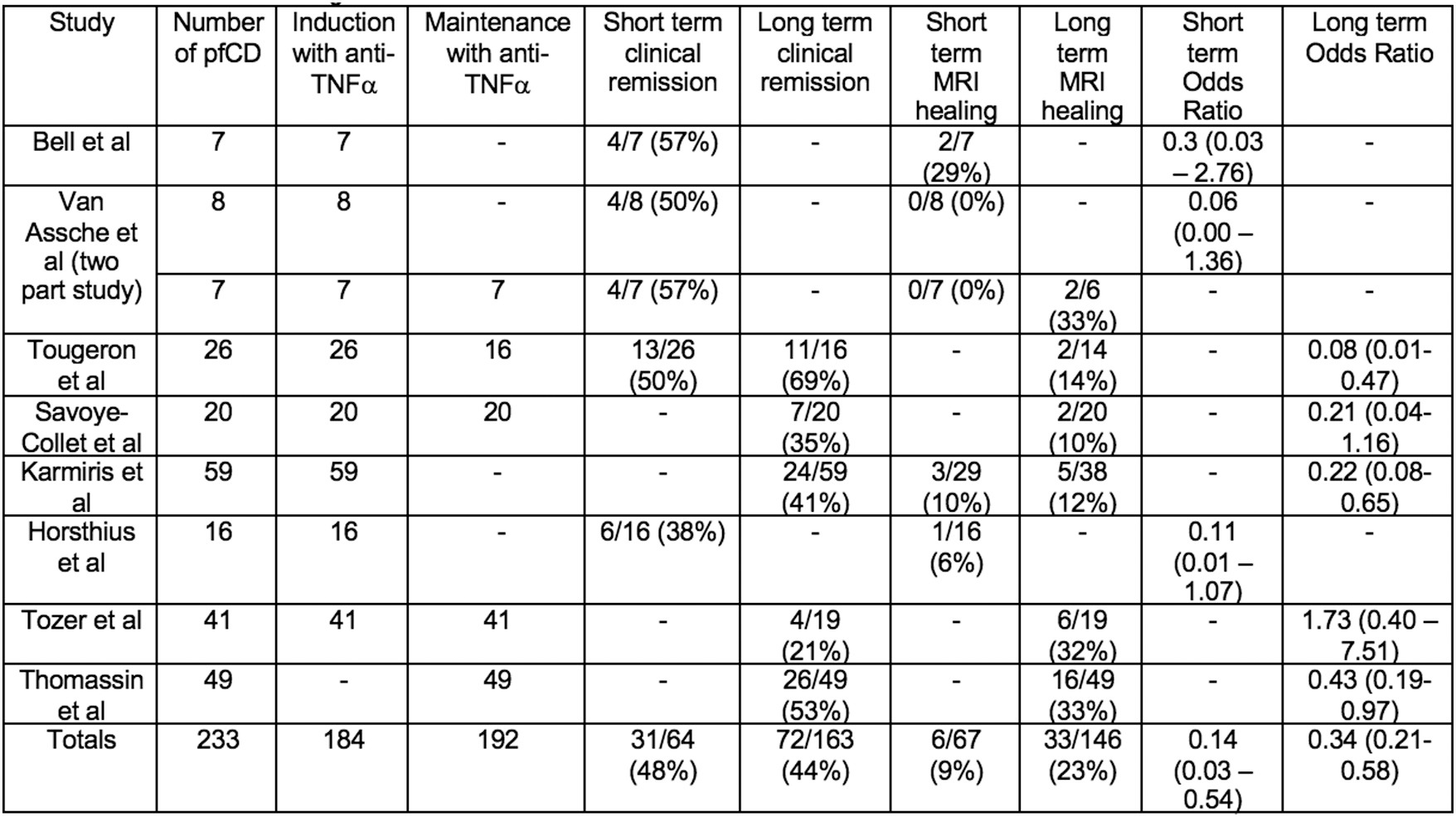 Clinical and radiological outcomes following biological therapy.
Conclusion
Discrepancies exist between clinical and MRI outcomes in pfCD following biological therapy. Lack of consensus on the definition of MRI improvement, or a universally accepted grading system, has led to variability of endpoints assessed and heterogeneity in reported improvement. Further studies assessing recurrence rates in patients who do achieve healing, and variables which prognosticate for radiological healing, will aid management of pfCD.
References
1. Bell SJ, Halligan S, Windsor ACJ, et al. Esponse of fistulating Crohn's disease to infliximab treatment assessed by magnetic resonance imaging. Aliment Pharmacol Ther 2003;17:387–93.
2. Van Assche G, Vanbeckevoort D, Bielen D, et al. Magnetic resonance imaging of the effects of infliximab on perianal fistulizing Crohn's disease. Am J Gastroenterol 2003;98:332–9.
3. Horsthuis K, Ziech MLW, Bipat S, et al. Evaluation of an MRI-based score of disease activity in perianal fistulizing Crohn's disease. Clin Imaging 2011;35:360–5.