P380 A prospective multi-centre observational cohort study assessing the effectiveness of Budesonide MMX® for mild-to-moderate ulcerative colitis
S. Danese*1, A. Hart2, A. Dignass3, G. Fiorino1, E. Louis4, G. D'Haens5, I. Dotan6,7, G. Rogler8, K. Paridaens9, L. Peyrin-Biroulet10
1IBD Center Humanitas Clinical and Research Centre, Rozzano, Milan, Italy, 2St Mark's Hospital, Harrow, UK, 3Department of Medicine I, Agaplesion Markus Hospital, Goethe-University, Frankfurt am Main, Germany, 4CHU de Liège, Liège, Belgium, 5Academic Medical Centre, Amsterdam, The Netherlands, 6Division of Gastroenterology, Rabin Medical Center, Petah Tikva, Israel, 7The Sackler Faculty of Medicine Tel Aviv University, Tel Aviv, Israel, 8Division of Gastroenterology and Hepatology, University Hospital Zurich, Zurich, Switzerland, 9Global Medical Affairs Gastroenterology, Ferring Pharmaceuticals Center S.A, Saint-Prex, Switzerland, 10Department of Gastroenterology and Inserm u954, Lorraine University, Nancy, France
Background
Budesonide MMX® is currently approved for the treatment of mild-to-moderate active ulcerative colitis (UC), where 5-ASA is not sufficient. Data on its effectiveness and safety in a real-life setting are lacking.
Methods
This was a multi-centre prospective observational cohort study. Effectiveness (clinical benefit, full symptom resolution, time to symptom resolution, change in quality of life, change in health economic parameters, treatment satisfaction, biomarker normalisation, endoscopic healing and endoscopic remission), safety, and tolerability of Budesonide MMX® in a real-life setting of patients treated for mild-to-moderate UC was investigated. Patients were prescribed Budesonide MMX® in accordance with the terms of the SmPC, within a 5 days' time window before the enrolment. The primary endpoint was the clinical benefit of Budesonide MMX® in routine practice, defined as the percentage of patients achieving ≥3-point decrease in the UCDAI score at the end of induction treatment).
Results
Real-world data from 349 patients with mild-to-moderate UC were analysed. Baseline characteristics are summarised in Table 1. Clinical improvement at the end of treatment induction was achieved in 196/326 patients (60.1%), with a median reduction of 3.0 UCDAI point (<0.0001). Symptom resolution (rectal bleeding of 0 and stool frequency of 1) at the end of the Budesonide MMX® treatment was achieved in 63.2% of patients. The median time to symptom resolution was 30 days (range 29.0–36.0 days). The overall median increase in the SIBD-Q was 10.0 points (p < 0.001) compared with baseline assessment. Treatment satisfaction was high (VAS scale from 7 to 10) in 61.3% of patients. Endoscopic improvement (Mayo endoscopic subscore ≤ 1) was achieved in 16/32 patients (50.0%). 24.1% (n = 84) of patients reported at least one adverse event. Fifty patients (14.3%) discontinued Budesonide MMX® for adverse events; 17.5% of patients (n = 61) reported at least one adverse event related to the study drug. Nine patients had worsening of the underlying colitis (3%). All the other adverse events were reported in <1% of patients.
Table 1. Baseline characteristics of the study population.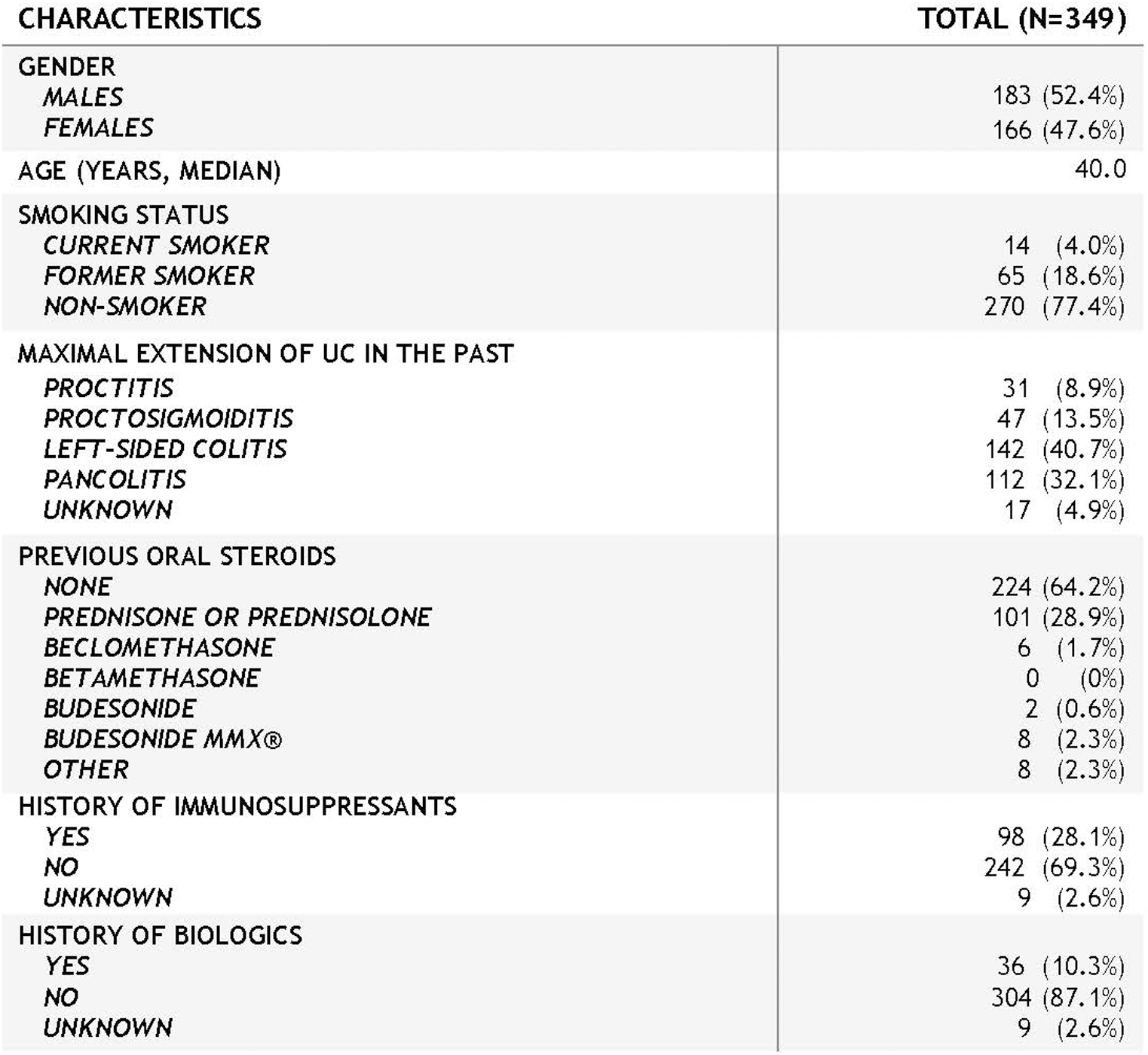 Conclusion
This large real-life cohort study demonstrates for the first time that Budesonide MMX® is effective in about two-thirds of UC patients, and that Budesonide MMX® was safe and well tolerated.