P408 Switching from infliximab originator to a biosimilar does not affect efficacy, pharmacokinetics and immunogenicity in paediatric patients with inflammatory bowel disease
K. van Hoeve*1,2, E. Dreesen3, I. Hoffman1, M. Ferrante2,4, A. Gils3, S. Vermeire2,4
1University Hospitals Leuven, Department of Paediatric gastroenterology and Hepatology and Nutrition, Leuven, Belgium, 2Catholic University of Leuven (KU Leuven), TARGID, Department of Chronic Diseases, Metabolism and Ageing (CHROMETA), Leuven, Belgium, 3Catholic University of Leuven (KU Leuven), Laboratory for Therapeutic and Diagnostic Antibodies, Department of Pharmaceutical and Pharmacological Sciences, Leuven, Belgium, 4University Hospitals Leuven, Department of Gastroenterology and Hepatology, Leuven, Belgium
Background
Rising evidence reveals no differences in efficacy and safety between infliximab (IFX) originator and IFX biosimilar CT-P13 in inflammatory bowel diseases (IBD). However, most data are derived from adult patients and data on pharmacokinetics are limited. We evaluated long-term IFX trough levels (TL), immunogenicity and remission rates in children with IBD who switched from IFX originator to biosimilar CT-P13.
Methods
In this single-centre study, all children with Crohn's disease (CD) and ulcerative colitis (UC) receiving maintenance IFX therapy between July 2017 and January 2018 were included. The switch to CT-P13 was imposed by the hospital for all patients regardless of the indication as from January 2018. Demographics, disease activity indices, IFX TL and antibodies to IFX (using Ridascreen IFX Monitoring ELISA) were collected from 6 months before (baseline) till 6 months after switch. Clinical remission was defined as PUCAI/PCDAI <10 and biological remission as CRP ≤5 mg/l and ESR ≤20 mm/h. For paired comparison of data obtained at the different time points, a Wilcoxon signed-rank-sum test and a McNemar test were used for continuous and dichotomous variables, respectively. All data are presented as median [interquartile range]. Alpha was set at 0.05.
Results
A total of 47 children received maintenance therapy with the IFX originator at our centre. Forty-two children (26 CD and 16 UC), were eligible for the study as 3 patients were transferred to the adult department and 2 patients stopped IFX just before the switch (due to loss of response or delayed infusion reaction). Included patients had a median duration on IFX originator of 13.5 [6.8–35.5] months prior to switch. No significant changes in IFX TL occurred after switch (Figure 1). The median baseline IFX TL was 5.7 [3.8–9.3] µg/ml vs. 6.5 [3.9–8.6] µg/ml at month 6 after switch (p = 0.90). The cumulative IFX dose administered over a 6 month period was not significantly different before switch (36.6 [24.0–53.3] mg/kg) compared with after switch (35.8 [26.7–55.6] mg/kg; p = 0.21). Antibodies to IFX appeared in 1 patient after switch. The proportion of patients in clinical and/or biological remission did not significantly change after switch (all p > 0.05). No significant changes were observed in CRP, ESR, albumin or weight and BMI (expressed as z-score) after switch. No new safety signals were observed.
Conclusion
Paediatric IBD patients on IFX originator can be successfully switched during maintenance to CT-P13 without affecting efficacy, pharmacokinetics, immunogenicity and safety.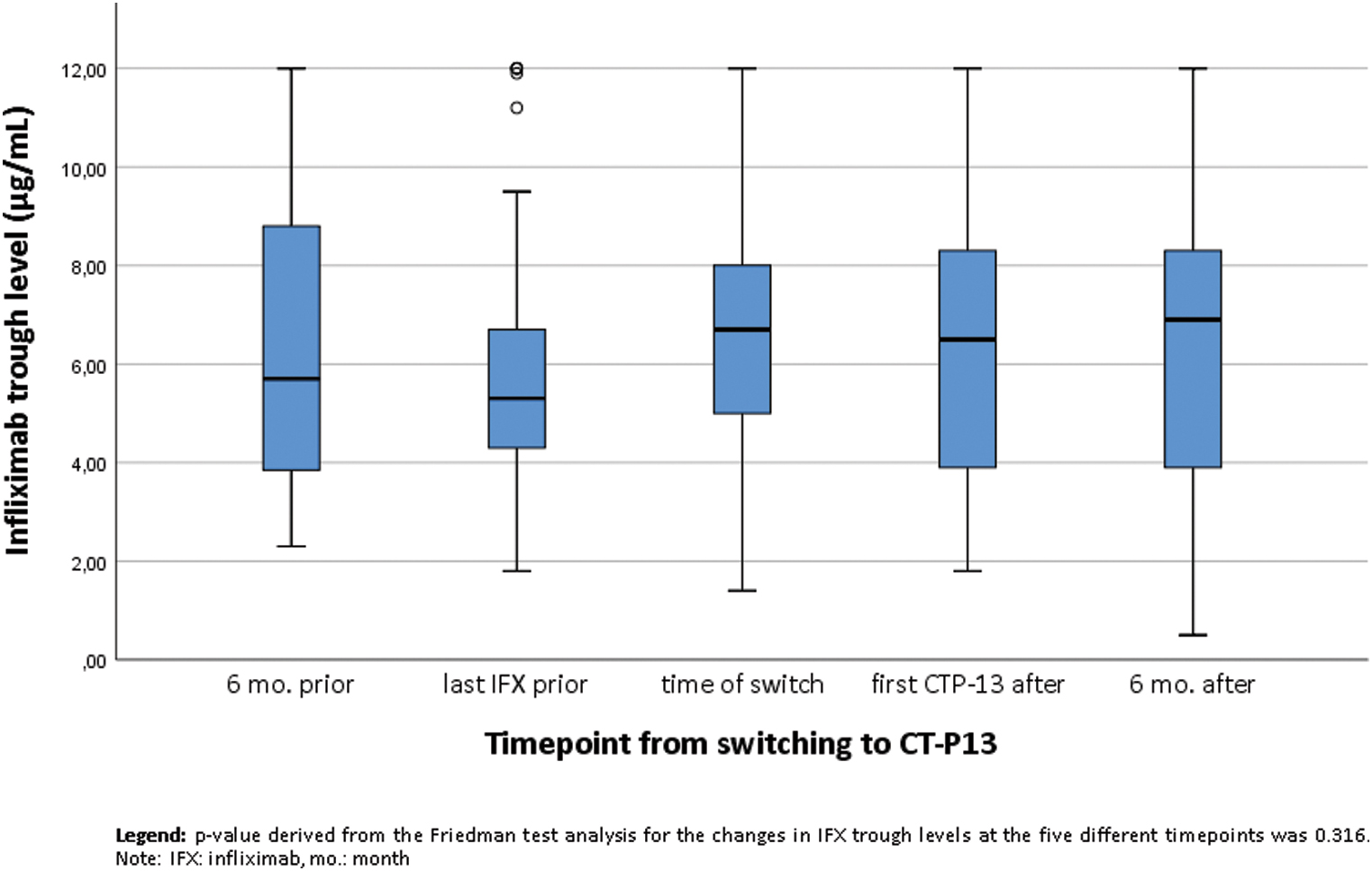 Boxplots showing the distribution of the maintenance IFX trough levels at the different time points before and after switching from the originator to the biosimilar CT-P13.