P444 Post-induction Infliximab trough levels in severe and moderate paediatric ulcerative colitis: preliminary data of a retrospective, population cohort-based study
M. Martinelli*1,2, H. Moore2, N. Devas2, A. Galgano2, R. N. Baldassano2
1University of Naples, Translational Medical Science, Section of Pediatrics, Naples, Italy, 2Children Hospital of Philadelphia, Gastroenterology, Hepatology and Nutrition Division, Philadelphia, USA
Background
Recent adult evidences suggest that Infliximab (IFX) trough levels (TL) in acute severe colitis (ASC) patients may be decreased due to a higher faecal loss and severe tissue damage. The aims of this study were to evaluate post-induction trough levels (TL) in severe and moderate UC children and to compare disease outcomes.
Methods
This was a single-centre, retrospective study involving the IBD unit of the Children Hospital of Philadelphia. Children aged from 6 to 21 years with a confirmed diagnosis of UC, starting IFX with a PUCAI ≥35 and with available post-induction TL between July 2012 and July 2018 were recruited. The following information were recorded: age at diagnosis; disease extent, and clinical activity index based on PUCAI before IFX starting; therapeutic history, IFX dosage, timing between infusions, primary non-response (PNR), loss of response (LOR), and surgery after IFX starting. Post induction TL and laboratory evaluations including complete blood count, C-reactive protein (CRP), erythrocyte sedimentation rate (ESR), and albumin at the moment of IFX starting were also collected.
Results
Fifty-two UC children were included in this preliminary analysis. Of these, twenty-one (38.5%) had a PUCAI ≥ 65, while 31 (61.5%) showed PUCAI values ≥35 < 65. When compared with moderate UC children, patients affected by ASC presented significant lower median values of haemoglobin (p = 0.05), while showing significant higher values of ESR (p = 0.04). The median IFX dosage at the induction was significantly higher in the ASC group when compared with the moderate UC (10 vs. 5 mg/kg; p = 0.03). Median post-induction TL were lower in patients with ASC when compared with moderately severe UC with a trend towards statistical significance [4.35 (0–40) vs. 11.5 (0–40); p = 0.07) (Figure 1).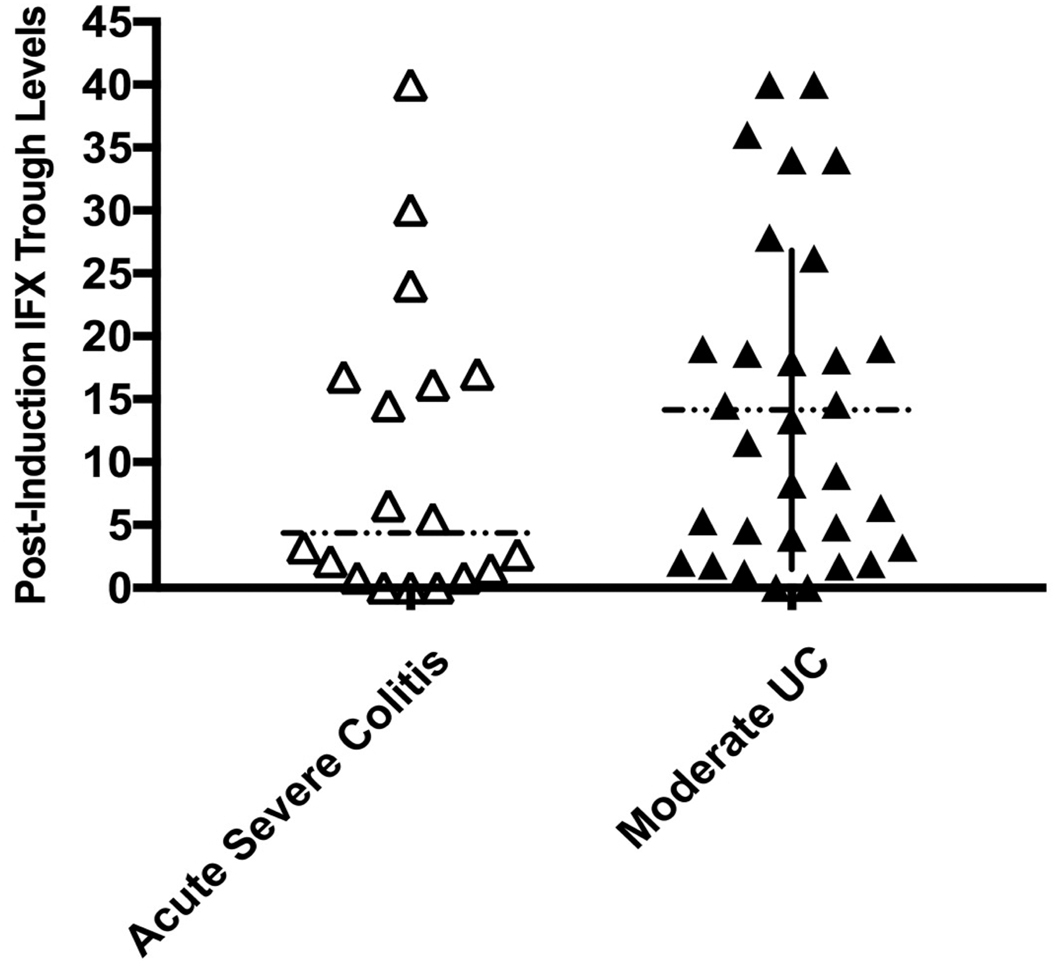 Antibody-to-IFX formation rate did not differ between the two groups after the induction. PNR was observed in 6 out of 21 (28.6%) children with ASC vs. 2/31 (6.5%) patients with moderate UC (p = 0.04). Overall, at 12 months of follow-up, 8 out of 21 (38.1%) ASC children interrupted IFX therapy for PNR or LOR vs. 5/32 (16.1%) children with moderate UC (p = 0.05). Three out of 21 (14.3%) children with ASC underwent surgery within 12 months from IFX starting, compared with 2/31 (6.5%) patients with a PUCAI ≥35<65 (p = 0.3).
Conclusion
ASC children at IFX starting showed lower post-induction trough levels and more severe disease outcomes at 12 months including PNR, LOR and a higher risk of surgery.