P474 Analysis of UC colectomy rates in pre- and post-biologic era in South-East Scotland
P. Jenkinson*1, G. R. Jones1, N. Plevris1, M. Lyons2, K. Kirkwood3, C. Lees1
1Western General Hospital, Gastroenterology, Edinburgh, UK, 2University of Edinburgh, Edinburgh, UK, 3Western General Hospital, Pathology, Edinburgh, UK
Background
Anti-TNF treatment reduces requirement for surgical resection in CD; but whether biologic agents reduce colectomy rates in UC is not clear. Between February 2015 and June 2015, NICE and the Scottish Medicines Consortium approved the use of infliximab, adalimumab, golimumab and vedolizumab for medically refractory UC. Prior to this date biologic use in UC across Scotland was restricted to infliximab rescue therapy. We therefore aimed to describe UC colectomy rates before and after the advent of biologic use for moderately to severely active UC.
Methods
We performed a retrospective analysis of UC colectomy rates in a single Scottish health board (NHS Lothian) from January 2009 to December 2017. Surgical resections for UC were identified from the Lothian Pathology database and/or theatre record. Electronic medical records were screened to describe UC phenotype and operation details. Colectomies were termed 'elective' if operative decision was made prior to admission, 'emergency' if colectomy occurred during admission and 'fulminant' if within 3 months of diagnosis. Biologic prescriptions details for all UC patients from January 2009 to June 2017 were retrieved from the Edinburgh Biologics Registry. Extent and severity of disease were defined using the Montreal classification at colectomy or at initiation of biologic for those who did not undergo colectomy. Linear regression was used to assess change in rates of colectomy and biologic use over the study period.
Results
There was a reduction in annual colectomy rate during the overall study period (p = 0.028) (Figure 1), with 39 (30–44) median (IQR) colectomies between 2009 and 14 and 25 (23–26) between 2014 and 17. This was driven by a reduction in non-fulminant colectomy rate (p = 0.028); there was no change in the rate of fulminant colectomies. Over the same time, in keeping with national guidelines in Feb 2015, there was a significant increase in biologic prescribing (p < 0.001). In total, 296 patients underwent colectomy consisting of 193 (65%) emergency and 97 (33%) elective operations (Table 1). The first age pouch operation has seen a significant decline over the study period.
Figure 1. Colectomy rate per year divided by 'fulminant' cases performed within 3 months of diagnosis vs. 'non-fulminant' cases performed after 3 months of diagnosis. p denotes significance for the trend during follow-up.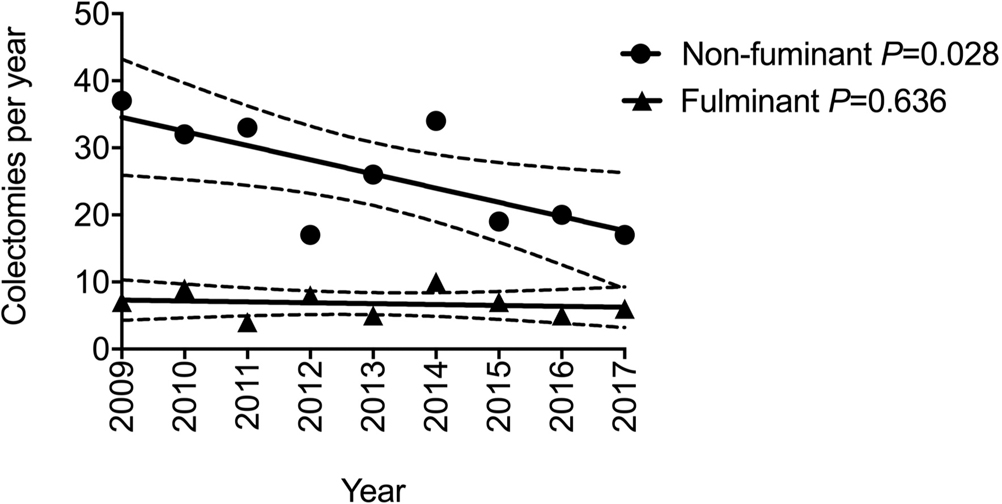 Table 1. Details of colectomy procedures performed for UC per year from 2009 to 2017.

Conclusion
Increased use of biologics has been matched by an overall reduction in colectomy rates. However, this has been driven by fewer operations in those who have established UC with fulminant colectomy rates unchanged over time.