P498 A nationwide quality improvement program in children with Crohn's disease improves outcomes within 12 months
D. Turner*1, C. Nehemia1, A. Yerushalmy-Feler2, A. Assa3, M. Slae4, M. Kori5, Y. Elenberg6, R. Shaoul7, E. Zifman8, H. Shamaly9, D. Berkowitz10, S. Peleg11, B. Yerushalmi12, E. Broide13, A. Aon14, O. Elkayam15, H. Bayan16, A. Gorodnichenko17, V. Pinsk18, D. Shouval19
1Shaare Zedek Medical Center, Jerusalem, Israel, 2Dana-Dwek Children's Hospital – Tel Aviv Sourasky Medical Center, Tel Aviv, Israel, 3Schneider Children's Medical Center, Petah Tikva, Israel, 4Hadassah Medical Center, Jerusalem, Israel, 5Kaplan Medical Center, Rehovot, Israel, 6Carmel Medical Center, Haifa, Israel, 7Rambam Medical Center, Haifa, Israel, 8Meir Medical Center, Kfar Saba, Israel, 9Saint Vincent's Catholic Medical Center, Nazareth, Israel, 10Bnai Zion Medical Center, Haifa, Israel, 11HaEmek Medical Center, Afula, Israel, 12Soroka Medical Center, Beer-Sheva, Israel, 13Assaf Harofeh Medical Center, Be'er Ya'akov, Israel, 14Poriya Medical Center, Tiberias, Israel, 15Galilee Medical Center, Nahariya, Israel, 16Ziv Medical Center, Tsfat, Israel, 17Barzilai Medical Center, Ashkelon, Israel, 18Assuta Ashdod Medical Center, Ashdod, Israel, 19Sheba Medical Center, Ramat Gan, Israel
Background
Standardised management protocols of paediatric Crohn's disease (CD) are lacking in Israel, leading to a wide heterogeneity of care across paediatric centres. In this quality improvement Programme, named QPID, we aimed to construct a population-based non-research platform that records clinically important quality indicators of CD in all paediatric IBD centres in Israel, to improve treatment outcomes across the country.
Methods
Representative of all 20 paediatric IBD centres in Israel formed part of a Delphi group to select quality indicators for the QPID (including process and outcome indicators). Eligibility criteria for this program were children with CD seen in clinic, age 2–18 years, not recorded in during the previous 2 months. Children with disease duration <3 months were excluded and a cap of 20 patients per month per site avoided dominance effect of large centres. The indicators were recorded on a REDCap eCRF platform, managed at a data coordinating centre (DCC). Global assessment of longitudinal disease activity and medications were captured to account for patient-mix at each centre. Centres were coded and their allocation was concealed from all involved parties. Monthly reports were distributed, comparing the performance of the specific centre with previous months and other blinded centres.
Results
The indicators of 1657 visits were recorded from 09/2017 to 08/2018 (mean children age 14.5 ± 2.9 years; median disease duration 1.92 years (IQR 0.92–3.42)). The majority of visits reported quiescent longitudinal global assessment (55%), 30% reported mild activity, and 15% reported moderate–severe activity. On average, 66% of children were treated with biologics with increasing rates over the year (65% to 70%; p = 0.047) (figure)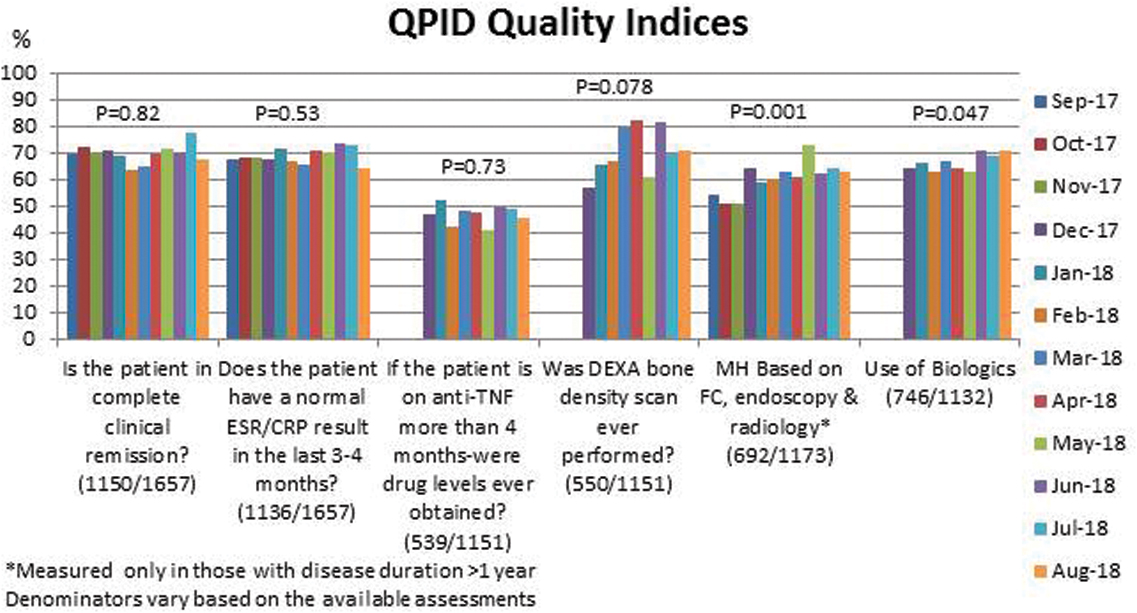 QPID Quality Indices
https://planner.smart-abstract.com/ecco2019/submission/en/abstract/12600/image/add.html . A slight increase in measures indicating mucosal healing was note, from 53% to 64% among those with disease duration of at least 1 year (p = 0.001; figure). Clinical remission rate was stable at 72%. Use of steroids was <5% of all reports reflecting the wide use of nutritional therapy in Israel.
Conclusion
Quality improvement programs at a country level may be implemented with limited resources while facilitating a national standardisation of care. No causal relationship can be elucidated between the program and the observed improved endpoints. Nonetheless, providing anonymous comparisons with other centres may increase awareness and motivation to improve quality indicators.