P500 Post-marketing safety experience of vedolizumab in patients receiving concomitant treatment with other biologics
R. D. Cohen1, F. Bhayat2, A. Blake2, S. Travis*3
1University of Chicago Medicine, Department of Medicine, Inflammatory Bowel Disease Center, Chicago, USA, 2Takeda Pharmaceuticals International Co., Cambridge, USA, 3Oxford University Hospitals NHS Foundation Trust, Translational Gastroenterology Unit, Oxford, UK
Background
Vedolizumab (VDZ) is a gut-selective antibody to α4β7 integrin approved to treat moderate to severe Crohn's disease (CD) and ulcerative colitis (UC) in adults. Concomitant treatment with VDZ and other biologics is not recommended in the VDZ prescribing information and has not been evaluated in clinical trials, meaning that safety data are limited on patients receiving this combination. We compared 4 years of post-marketing safety data reported to Takeda Pharmaceutical Company Ltd. (Takeda) on patients receiving VDZ and concomitant treatment including other biologics ('with CB') with patients receiving VDZ and concomitant therapy excluding other biologics ('without CB').
Methods
The VDZ Global Safety Database contains all adverse event (AE) reports received by Takeda, including concomitant medication data if available, since VDZ approval on 20 May 2014. Reports received between approval and 19 May 2018 with concomitant medication data were identified for review using MedDRA version 21.0. VDZ exposure was estimated using the number of vials shipped globally, assuming 8 week dosing intervals.
Results
In approximately 208 050 patient-years of VDZ exposure, 80 218 AEs were reported in 32 752 patients. Of these AEs, 2847 (4%) were in 1112 (3%) patients with CB and 54 855 (68%) were in 20 201 (62%) patients without CB (other AEs were in patients with no concomitant medication reported; Table 1). There were 1003 patients with CD or UC with CB and 18 974 without CB. Infections accounted for 202 AEs (7%) in patients with CB and 4414 (8%) without CB, of which 21% and 18% were serious, respectively. There were 7 post-operative complications and 16 infusion-site reactions in patients with CB compared with 186 and 453, respectively, in those without CB (< 1% and 1% of AEs in each group). A total of 2 malignancies and 7 fatal AEs (both < 1%) occurred in patients with CB, vs. 176 malignancies and 140 fatal AEs (both < 1%) in patients without CB.
Table 1. Patient characteristics, vedolizumab continuation and adverse events in patients receiving vedolizumab with and without concomitant treatment with other biologics.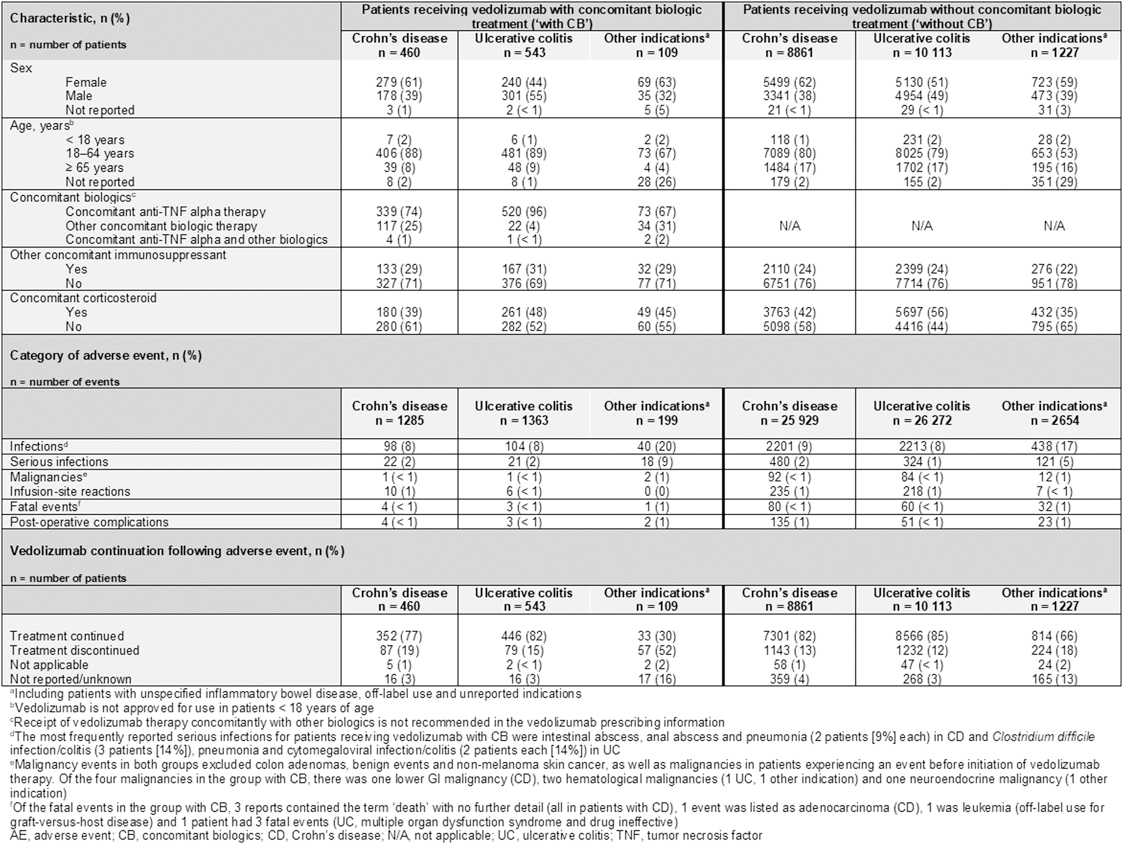 Conclusion
This analysis provides information on VDZ safety with and without CB in the real-world setting. Limitations of post-marketing safety reports should be considered when interpreting these results, including that duration of VDZ with CB was not included in reports. Additionally, the numbers of AEs reported in patients receiving VDZ with CB were small, and the number of patients receiving VDZ with CB was much lower than those without CB. These data do not suggest an increased risk of AEs in patients receiving VDZ with CB vs. VDZ without CB.