P506 Steroid treatment for longer than 2 weeks leading to admission predicts higher colectomy rates in children with acute severe ulcerative colitis
C. Tzivinikos*1, J. Jeng2, S. Nevitt2, C. Baillie1, S. Subramanian3, M. Auth1
1Alder Hey Children's Hospital, Liverpool, UK, 2University of Liverpool, School of Medicine, Liverpool, UK, 3Royal Liverpool and Broadgreen University Hospital NHS Trust, Liverpool, UK
Background
The value of second-line treatment and rescue therapy in acute severe colitis (ASC) has been established. There is lack of evidence to which factors determine adverse outcome in children with ulcerative colitis over time. Our aim was to identify risk factors for colectomy in children admitted for flare-up of ulcerative colitis.
Methods
We conducted a systematic retrospective case note review in our major tertiary GHN service and identified n = 32 patients admitted for medical treatment of active ulcerative colitis. We divided patients into 2 cohorts: Group A (n = 10); received steroids >2 weeks before admission, and Group B (n = 22); received steroids < 2 weeks before admission or did not receive steroids prior to admission. We compared both groups regarding PUCAI scores, proportion of clinical remission, flare-up, colectomy, and co-medication (azathioprine/6-mercaptopurine, infliximab) after 1 , 3, and 5 years of admission. Data were analysed using Fisher's exact test.
Results
The colectomy rate was significantly higher in Group A (received steroids >2 weeks) after 1, 3, and 5 years (Table 1). Patients in Group B were significantly higher on azathioprine treatment. Group B had a higher proportion of initial flare-up as acute severe colitis. Notably, both groups did not differ between median PUCAI score on all admissions, IV-steroid dosage (high or low-dose protocol), infliximab treatment, or antibiotics given at first flare-up.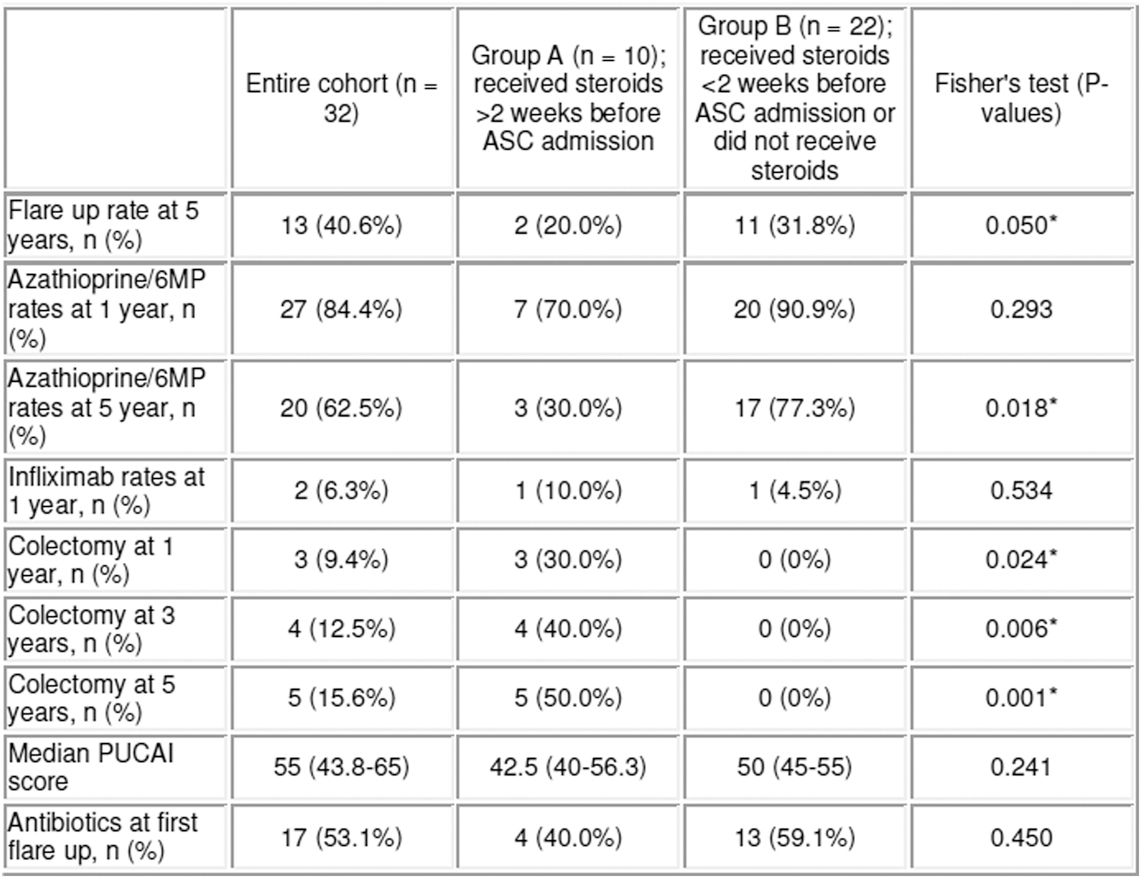 Long-term outcomes of children admitted with acute severe ulcerative colitis.
Conclusion
Patients receiving steroids for longer than 2 weeks are at greater risk to requiring colectomy after 1, 3, and 5 years than patients admitted earlier. This effect was irrespective to the cumulative IV-steroid dosage, use of infliximab, or IV antibiotics, or initial flare-up as acute severe colitis. Azathioprine may provide protection against colectomy. Our study indicates the need to consider earlier escalation treatment for children not responding within 2 weeks of oral corticosteroids.