P531 Efficacy of tofacitinib maintenance therapy for ulcerative colitis in remitting patients vs. patients with clinical response after 8 weeks of induction treatment
W. Reinisch*1, M. T. Osterman2, G. Doherty3, A. Marren4, D. A. Woodworth4, N. Lawendy4, K. Kwok5, E. Maller4, C. Su4
1Medical University of Vienna, Vienna, Austria, 2Perelman School of Medicine, University of Pennsylvania, Philadelphia, PA, USA, 3St Vincent's University Hospital, University College Dublin, Dublin, Ireland, 4Pfizer Inc., Collegeville, PA, USA, 5Pfizer Inc., New York, NY, USA
Background
Tofacitinib is an oral, small-molecule JAK inhibitor approved in several countries for the treatment of ulcerative colitis (UC). Here, we present data from the Phase 3 OCTAVE Sustain (NCT01458574) study,1 comparing the 52-week maintenance efficacy of tofacitinib in patients with UC who achieved baseline remission (ie, remitters), to that of those who achieved clinical response but not remission (ie, non-remitters) after 8 weeks of induction therapy.
Methods
Patients who had achieved clinical response (≥3-point and ≥30% decrease from induction study baseline total Mayo score, plus a ≥1-point decrease in rectal bleeding subscore or an absolute rectal bleeding subscore ≤1) after 8 weeks of therapy in OCTAVE Induction 1 or 2 (NCT01465763; NCT01458951) were re-randomised at baseline to receive placebo, tofacitinib 5 or 10 mg twice daily (BID) in the double-blind, parallel-group, multi-centre OCTAVE Sustain study. The proportion of patients in remission (total Mayo score ≤2 with no individual subscore >1, and a rectal bleeding subscore of 0), and the proportion of patients with mucosal healing (Mayo endoscopic subscore ≤1) at Week 52, were analysed in baseline remitters (n = 165) vs. non-remitters (n = 358), excluding patients treated with placebo who achieved clinical response at baseline. This analysis was also performed for prior tumour necrosis factor inhibitor (TNFi) failures (n = 234) and non-failures (n = 283), although the six patients who did not meet clinical response criteria at baseline of OCTAVE Sustain were also excluded.
Results
A numerically higher proportion of tofacitinib-treated patients who were baseline remitters achieved remission at Week 52 vs. non-remitters, regardless of tofacitinib dose received or TNFi failure status. Similar findings were also observed for mucosal healing at Week 52. The relative increase in the observed treatment effect of tofacitinib 10 over 5 mg BID was generally similar between baseline remitters and non-remitters. Furthermore, the greater dose-related relative increase in efficacy in the TNFi failure vs. the TNFi non-failure subpopulation was evident regardless of the maintenance baseline remission status (table).
Conclusion
A numerically higher proportion of baseline remitters vs. non-remitters treated with tofacitinib achieved remission or mucosal healing at Week 52 in OCTAVE Sustain, although a large proportion of non-remitters and prior TNFi failures still achieved remission or mucosal healing at Week 52.
Table. Week 52 efficacy of tofacitinib in baseline remitting responders and responders in OCTAVE Sustain (mFAS NRI)*.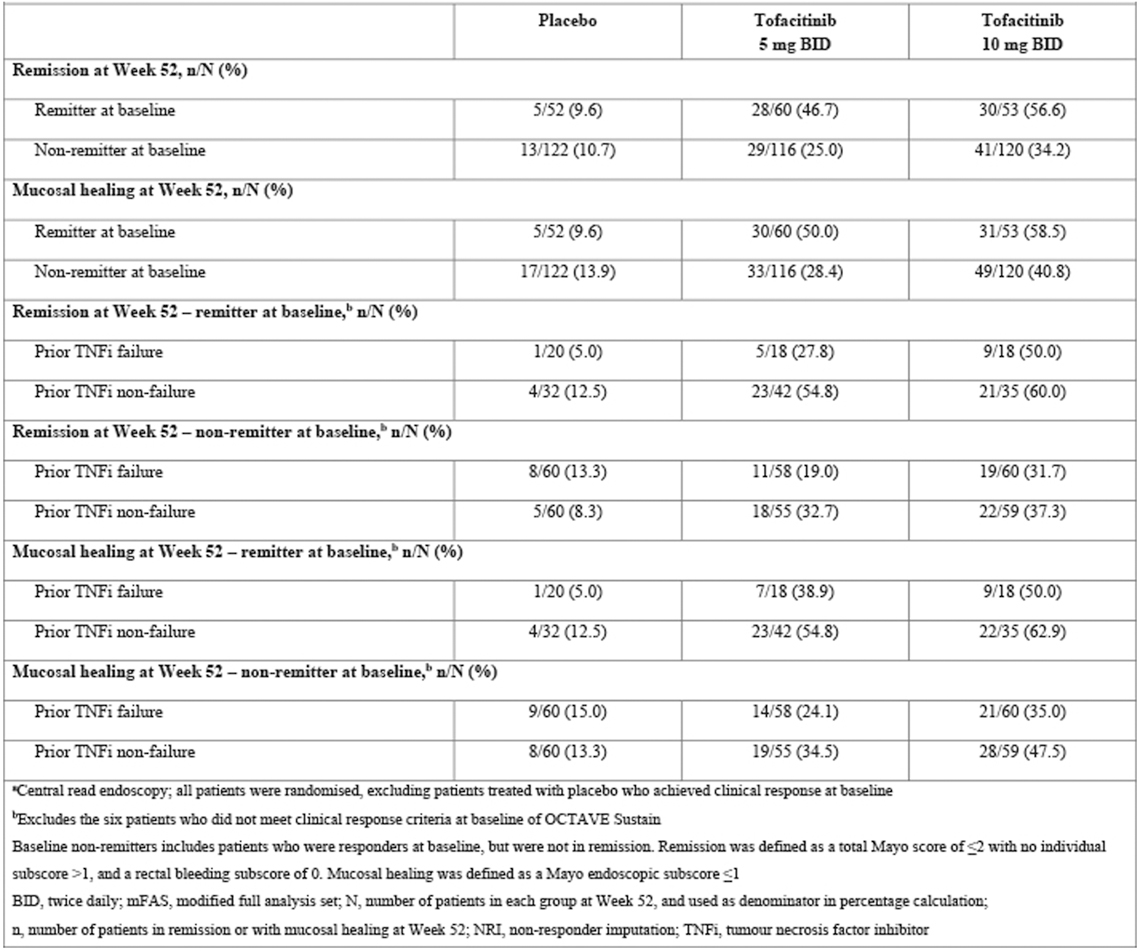 Reference
1. Sandborn WJ, Su C, Sands BE, et al. Tofacitinib as induction and maintenance therapy for ulcerative colitis. N Engl J Med 2017;376:1723–36