P535 Azathioprine vs. mesalamine for prevention of post-operative clinical relapse in Crohn's disease patients with severe endoscopic recurrence: data on efficacy and safety from an IG-IBD multi-centre randomised double-blind double-dummy trial
A. Orlando*1, F. Mocciaro2, M. Ventimiglia1, S. Renna1, D. Scimeca2, A. Rispo3, M. L. Scribano4, A. Testa3, A. Aratari5, F. Bossa6, E. Angelucci7, S. Onali8, M. Cappello9, M. Giunta10, F. Castiglione3, C. Papi5, V. Annese6, L. Biancone8, A. Kohn4, R. Di Mitri2, M. Cottone11
1IBD Unit, Villa Sofia-Cervello Hospital, Palermo, Italy, 2Gastroenterology and Endoscopy Unit, ARNAS Civico-Di Cristina-Benfratelli Hospital, Palermo, Italy, 3Department of Gastroenterology, Federico II University, Naples, Italy, 4Gastroenterology Unit, San Camillo Forlanini, Rome, Italy, 5Department of Gastroenterology, San Filippo Neri Hospital, Rome, Italy, 6Department of Gastroenterology, IRCCS, Casa Sollievo della Sofferenza Hospital, San Giovanni Rotondo (FG), Italy, 7Department of Gastroenterology, Sapienza University, Rome, Italy, 8Department of Gastroenterology, Tor Vergata University, Rome, Italy, 9Department of Gastroenterology, Palermo University, Palermo, Italy, 10Gastroenterology Unit, Villa Sofia-Cervello Hospital, Palermo, Italy, 11Internal Medicine, Villa Sofia-Cervello Hospital, Palermo, Italy
Background
More than 70% of patients with Crohn's disease (CD) require surgery at least once during the course of their disease. Unfortunately endoscopic recurrence (ER) is up to 100% at 5 years with a risk of six-month severe ER (≥ i2) around 50% as showed in a previous Italian study. As well know symptomatic recurrence is strongly related to the severity of ER and ECCO guideline recommended prophylactic treatment after ileocolonic resection despite effectiveness of immunosuppressants remain debated.
Methods
We performed a multi-centre randomised double-blind double-dummy trial to assess the role of azathioprine (AZA) vs. high dose of mesalamine (5-ASA) as treatment of early severe POR (Rutgeerts' score ≥ i2) and as prophylaxis for clinical relapse (eligible patients and treatment allocation are showed in Table 1).
Table 1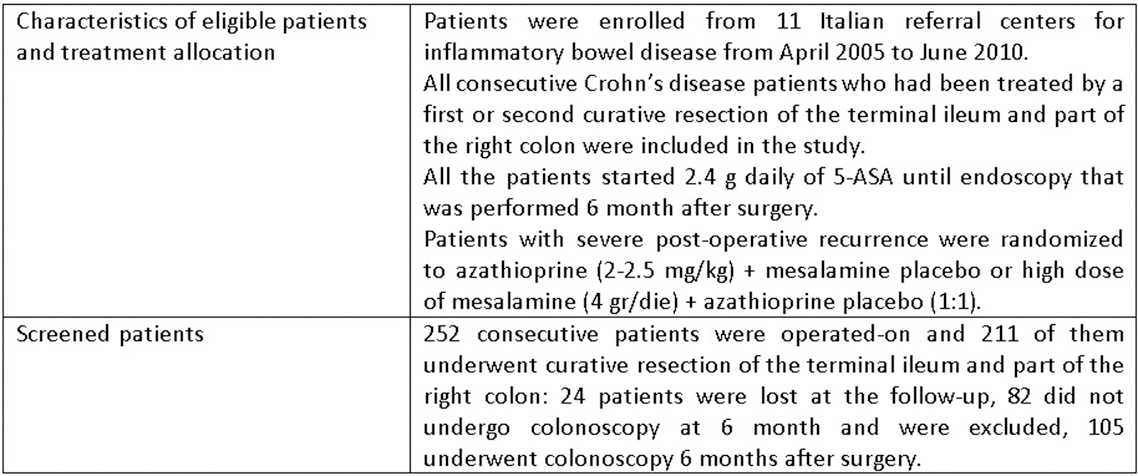 Primary outcomes: endoscopic improvement and clinical relapse after 12 months from randomisation. Post-trial analysis: data on clinical and endoscopic outcomes up to 10 years from T0.
Results
According to inclusion/exclusion criteria 46 patients were randomised (characteristics of screened patients are showed in Table 1): 65% males, overall median age at diagnosis and at surgery of 29.5 and 36.5 years, respectively. At the final analysis 17% of patients experienced a clinical relapse within 12 months from randomisation without differences between AZA and 5-ASA groups. Considering POR after 12 months of treatment no significant improvement were observed from T0 in both groups (p = ns). At the post-trial analysis, 53% of patients experienced a clinical relapse without differences between those previously treated with AZA or 5-ASA (p = ns). Smoking and previous surgery at T0 were risk factors for clinical relapse (p = 0.031 and 0.003). No significant AE were recorded.
Conclusion
This multi-centre RCT does not show efficacy of AZA or 5-ASA in the treatment of severe POR or as prophylaxis for clinical relapse. In the post-trial analysis, in those with POR at 6-month from surgery, risk factors for severe CD (smoking and multiple surgery) could help to identify patients with worse prognosis to start biological therapy.