P542 Efficacy and safety of biological therapies in chronic antibiotic-refractory pouchitis: a retrospective single-centre experience
B. Verstockt*1,2, C. Claeys1, G. Van Assche1,2, A. D'Hoore3, A. Wolthuis3, S. Vermeire1,2, M. Ferrante1,2
1University Hospitals Leuven, Department of Gastroenterology and Hepatology, Leuven, Belgium, 2KU Leuven, Department of Chronic Diseases, Metabolism and Ageing, Translational Research Center for Gastrointestinal Disorders (TARGID), Leuven, Belgium, 3University Hospitals Leuven, Department of Abdominal surgery, Leuven, Belgium
Background
Chronic antibiotic-refractory pouchitis affects up to 15% of patients with ulcerative colitis (UC) following colectomy with ileal pouch-anal anastomosis (IPAA). In retrospective series, infliximab (IFX), adalimumab (ADM) and vedolizumab (VDZ) have demonstrated efficacy, but data are limited. We here report single-centre data of biological therapy in refractory pouchitis.
Methods
We retrospectively assessed all records from UC patients who underwent IPAA and were exposed to IFX, ADM or VDZ thereafter at our centre. Patients with a baseline modified pouchitis disease activity index (mPDAI)< 5 or with Crohn's disease-related complications of the pouch were excluded. Clinically relevant remission, defined as a mPDAI <5 and a reduction of mPDAI 2 points from baseline, was assessed at Week 14. Non-responder imputation was applied in case of discontinuation prior to Week 14.
Results
Thirty-three unique patients were included (69.7% male, median [IQR] age 39.6 [33.7–52.8]). Three (9.1%) underwent colectomy because of high-grade dysplasia, whereas 90.9% had surgery due to refractory UC. Prior to surgery, patients had been exposed to cyclosporine (n = 14), IFX (n = 12), ADM (n = 3), and/or VDZ (n = 3). J-pouches were constructed mainly in (modified) 2-stage (n = 25) procedures. All developed chronic antibiotic-refractory pouchitis after a median of 3.1 years, for which they received IFX (n = 23), ADM (n = 13) or VDZ (n = 15). Clinically relevant remission at Week 14 was observed in 43.5% of IFX group, and 38.5% and 60.0% in the ADM and VDZ group. With a median follow-up of 1.0 (0.3–3.1) years, significantly more patients continued VDZ compared with anti-TNF therapy (HR 2.9 [95% CI 1.1–8.5], p = 0.04) (figure).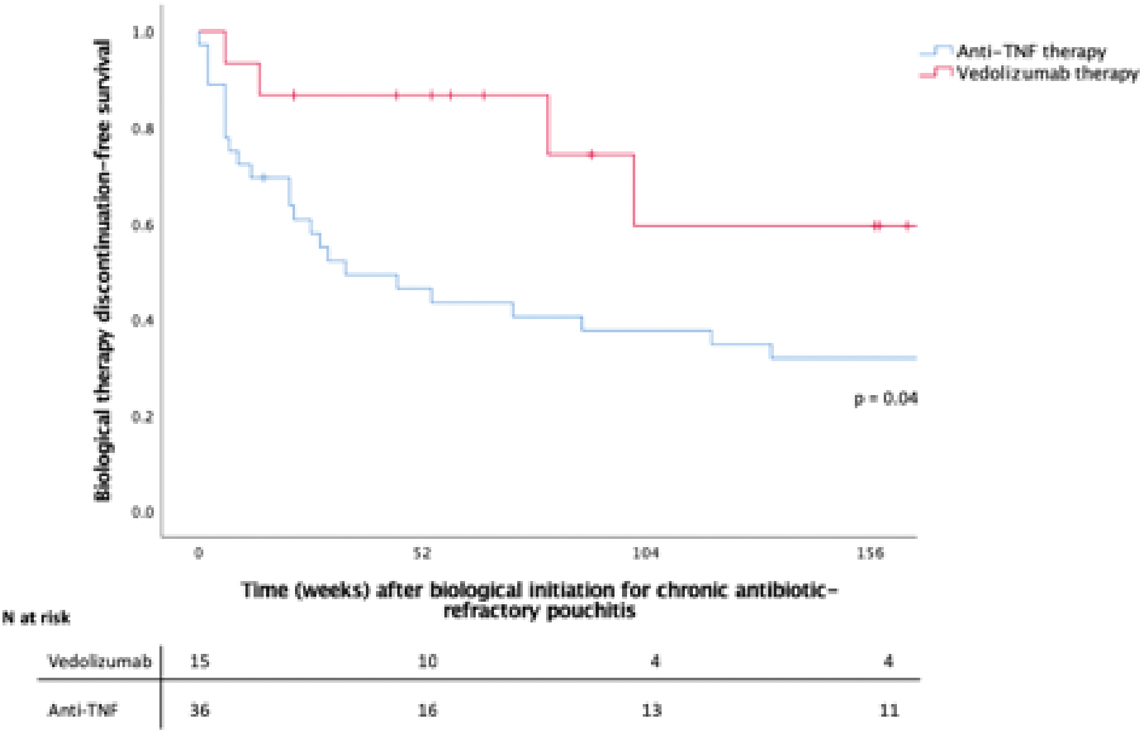 Kaplan–Meier curve representing the biological therapy discontinuation-free survival in chronic antibiotic-refractory pouchitis
Compared with baseline, VDZ resulted in a significant drop in endoscopic PDAI score at final follow-up (p = 0.004), whereas IFX and ADM led to a more modest drop (p = 0.03, p = 0.1, respectively). Adverse events (mainly infusion reactions) and undetectable serum levels explained 48.1% of the patients discontinuing anti-TNF therapy, whereas discontinuation of VDZ was only related to insufficient efficacy. Overall, 4 patients (12.1%) ended up with a permanent ileostomy.
Conclusion
In this case series, the use of anti-TNF agents for the treatment of chronic antibiotic-refractory pouchitis was hampered by the high rate of adverse events partly related by pre-colectomy exposure to the same drug. Therefore, VDZ might be an efficacious and safe alternative, which is currently being studied in a phase IV randomised trial.