P545 Elderly patients with inflammatory bowel disease (IBD) are less likely to persist on anti-TNF therapy compared with younger patients: data from the Sicilian Network for Inflammatory Bowel Diseases (SN-IBD)
S. Porcari1, O. Fidanza1, A. Alibrandi2, S. Renna3, M. Cappello4, S. Siringo5, A. Privitera6, G. Inserra7, F. Mocciaro8, G. Magri9, A. Carroccio10, N. Belluardo11, C. Bertolami12, S. Garufi13, M. Ventimiglia3, F. Macaluso3, A. Viola1, M. Cottone15, A. Orlando3, W. Fries*16
1Inflammatory Bowel Disease Unit, A.O.U. Policlinico 'G. Martino', Messina, Italy, 2University of Messina, Department of Economics, Unit of Statistical and Mathematical Sciences, messina, Italy, 3Inflammatory bowel disease Unit, A.O.O.R. 'Villa Sofia-Cervello', Palermo, Italy, 4Gastroenterology and Hepatology Unit, A.O.U. Policlinico 'G. Giaccone', Palermo, Italy, 5Gastroenterology Unit, A.R.N.A.S. 'Garibaldi', Catania, Italy, 6Inflammatory Bowel Disease Unit, A.O. 'Cannizzaro', Catania, Italy, 7Internal Medicine Unit, A.O.U. Policlinico 'Vittorio Emanuele', Catania, Italy, 8Gastroenterology and Endoscopy Unit, A.R.N.A.S. 'Civico Di Cristina Benfratelli', Palermo, Italy, 9Gastroenterology Unit, A.O. 'Santa Marta e S. Venera', Acireale (CT), Italy, 10Internal Medicine Unit, A.O. 'Giovanni Paolo II', Sciacca (AG), Italy, 11Gastroenterology Unit, A.O. 'Guzzardi', Vittoria (RG), Italy, 12Gastroenterology Unit, A.O.O.R. 'Papardo Piemonte', Messina, Italy, 13Gastroenterology Unit, A.O.O.R. 'S. Elia- M. Raimondi', Caltanissetta, Italy, 15Inflammatory Bowel Disease Unit, A.O.O.R. 'Villa Sofia-Cervello', Messina, Italy, 16University of Messina, Department of Clinical and Experimental Medicine, Messina, Italy
Background
Elderly patients with IBD are frequently difficult to treat because they are at increased risk for severe adverse events when treated with immunomodulators or anti-TNF therapies. Moreover, little is known about their response to biological treatments. The aim of this study was to compare persistence on therapy during the first course on anti-TNF treatments in IBD patients over 60 years of age with that of younger IBD patients.
Methods
Data of consecutive IBD patients > 60 years of age at their first course of anti-TNF treatment from January 2013 to June 2018 were extracted from the cohort of the SN-IBD and compared with patients ≤ 60 years of age. Information on gender, type, duration and extension of disease, and familiarity were analysed.
Results
Eighty-one patients with Crohn's disease (CD; M = 43) (median age 64 (range 61–80) years) and 43 patients with ulcerative colitis (UC; M = 29) (median age 65 (61–77) years) were included and compared with 204 patients (M = 119) with CD (median age 39 (18–59) years) and 143 with UC (M = 77) (median age 40 (18–59) years). Persistence on therapy was significantly higher (log-rank p < 0.0001) in younger CD patients for every kind of anti-TNF therapy (Figure 1)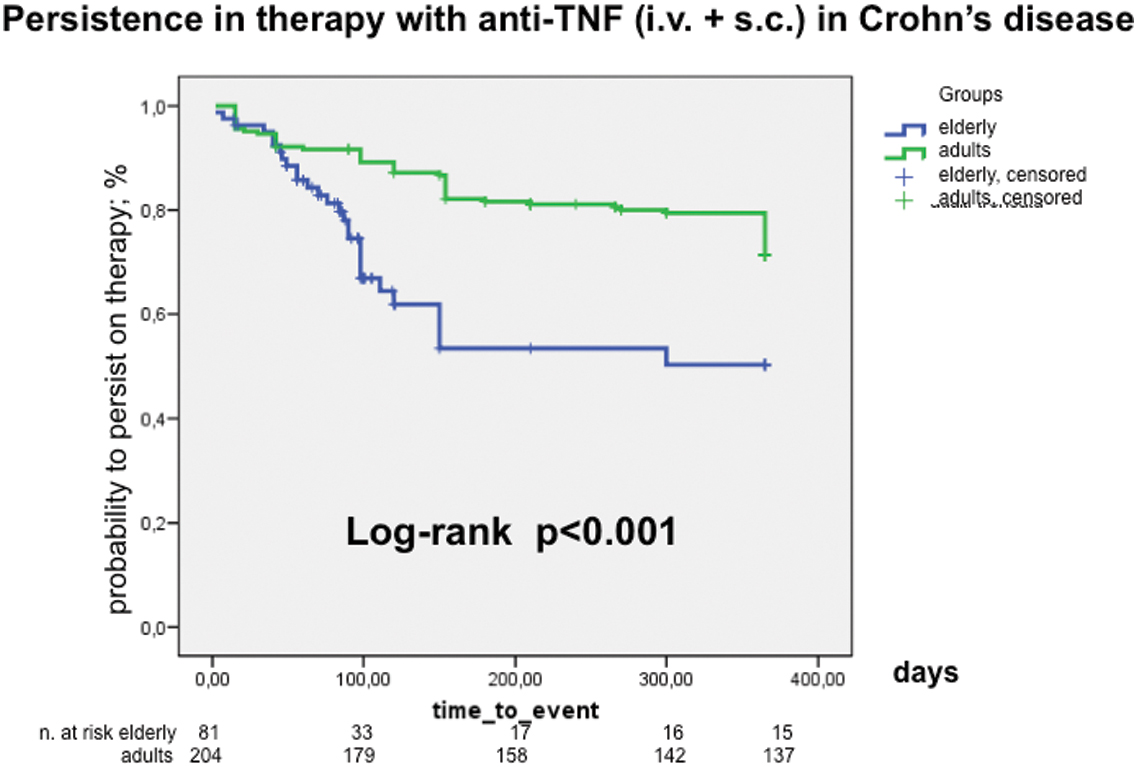 persistence on therapy with anti-TNF (i.v.+s.c.) in Crohn's disease.
as well as in younger UC patients on i.v. anti-TNF therapy (p = 0.002) (Figure 2).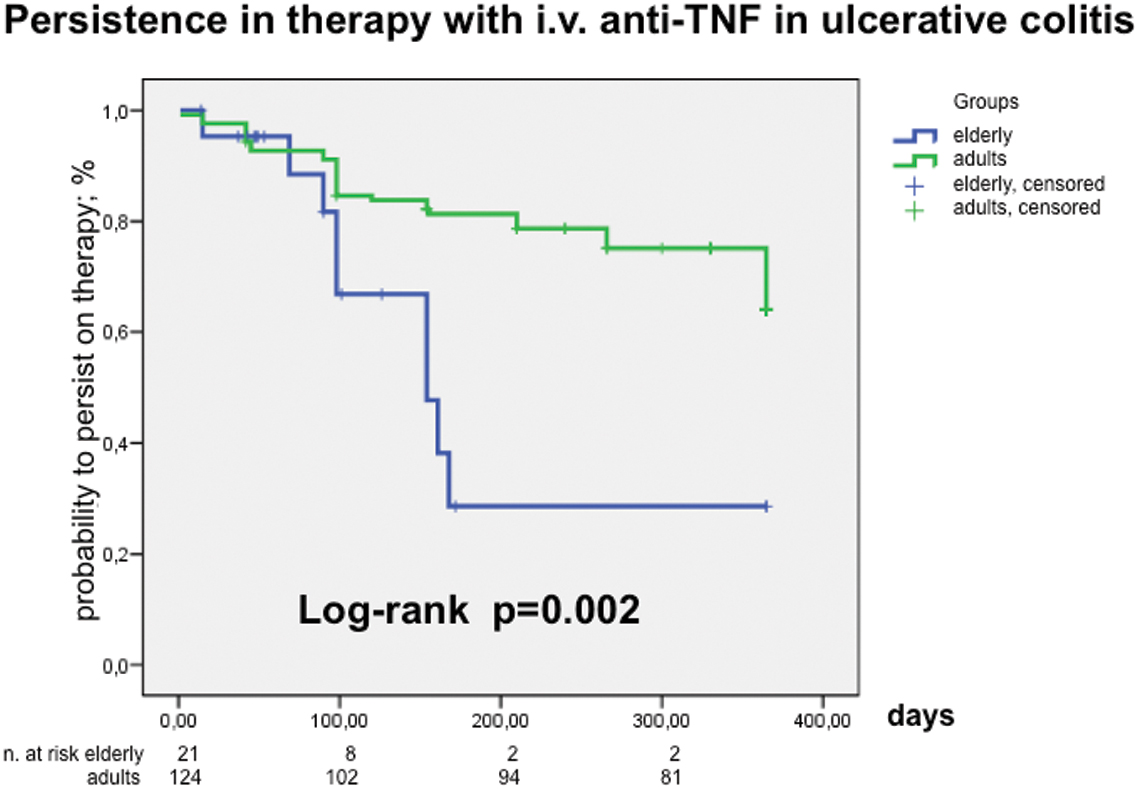 Persistence on therapy with i.v. anti-TNF in ulcerative colitis.
On univariate regression analysis, persistence was significantly associated with younger age (p < 0.0001) in CD and with younger age (p = 0.004) and with i.v. vs. s.c. administration (p = 0.02) in UC. Duration of disease, gender, or type of disease were not associated with persistence. While primary failure to therapy was not statistically significant (3.7 vs. 6.2%), loss of response (p < 0.001) and adverse events (p = 0.005) were more frequent in the elderly (LOR 21% vs. 7%, AE 27 vs. 14%; elderly vs. adults,, respectively)
Conclusion
in this large cohort of anti-TNF naïve elderly patients we showed for the first time that elderly patients with CD or UC were significantly less likely to persist on therapy within the first 12 months of treatment. The only predictor for treatment persistence was a younger age for CD and a younger age and the use of i.v. anti-TNF agents in UC.