P559 Real-life experience with long-term maintenance of golimumab in ulcerative colitis patients
M. Iborra*1, N. García-Morales1, S. Rubio2, O. Nantes Castillejo2, F. Bertoletti3, E. García-Planella3, M. Calvo4, I. Vera4, C. Taxonera5, C. Alba5, M. Boscá-Watts6, D. Martí-Aguado6, M. P. Ballester Ferrer6, M. Sierra7, N. Cano-Sanz7, N. Mancenido8, R. Pajares-Villarroya8, B. Beltrán1, A. Cañada9, P. Nos1
1Hospital Universitario y Politécnico La Fe, Gastroenterology, Valencia, Spain, 2Complejo Hospitalario de Navarra, Gastroenterology, Pamplona, Spain, 3Hospital de la Santa Creu i Sant Pau, Gastroenterology, Barcelona, Spain, 4Hospital Universitario Clínica Puerta de Hierro, Gastroenterology, Madrid, Spain, 5Hospital Clínico San Carlos, Gastroenterology, Madrid, Spain, 6Hospital Clínico Universitario, Gastroenterology, Valencia, Spain, 7Complejo Asistencial Universitario de León, Gastroenterology, León, Spain, 8Hospital Infanta Sofía, San Sebastián de los Reyes, Gastroenterology, Madrid, Spain, 9Hospital Universitario y Politécnico La Fe, Biostatistics and Bioinformatics, Valencia, Spain
Background
PURSUIT trial demonstrated the long-term efficacy of golimumab (GLM) in ulcerative colitis (UC). However, the long-term maintenance and safety of GLM in clinical practice has not been evaluated.
Methods
The aim is to assess the probability of maintenance of GLM in UC in real-life and the possible factors associated to long-term maintenance. This multi-centre cohort study included consecutive patients with moderate-to-severe UC treated with golimumab induction doses and who had at least 12 months of follow-up. We recorded baseline demographics including prior or concomitant use of inmunosupressors (IS) or steroids (CE), prior exposure to anti-TNF, and reason of withdrawal of last anti-TNF. During follow-up we evaluated the cumulative probability of maintaining GLM, and the rates of hospitalisations, surgeries and adverse events (AE). Cox regression models were used to identify predictors of GLM discontinuation.
Results
A total of 193 patients were analysed (102 male (53%), 8 proctitis (4%), 75 (39%) left-sided UC and 110 (57%) extensive UC). Of all, 101 (53%) were anti-TNF naïve and 51 (27%) and 38 (20%) had previously received 1 and ≥2 anti-TNFs, respectively. The preceding anti-TNF was discontinued due to primary failure, secondary failure, AE, or other causes in 29%, 53%, 13% and 5% of patients, respectively. At baseline 187 patients (98%) received GLM induction doses of 200–100–100/50 mg at weeks 0-2-6. Subsequently, 101 patients (53%) and 87 patients (46%) started maintenance with 50 or 100 mg golimumab doses every 4 weeks, respectively. After a median follow-up of 43 months (IQR 11–66), GLM was discontinued in 108 (56%) patients due to primary failure in 63 (58%), secondary failure in 34 (32%) and AE in 11 (10%) patients. Eighty-two (43%) patients needed dose escalation during follow-up (median 20 months, (IQR 6–25). During follow-up 31 patients (16%) referred AE, 32 (16.5%) needed hospitalisation and 11 (6%) surgery. The survival probability of maintenance of GLM during follow-up is shown in Figure 1.
Figure 1. Cumulative probability of avoiding golimumab discontinuation during follow-up.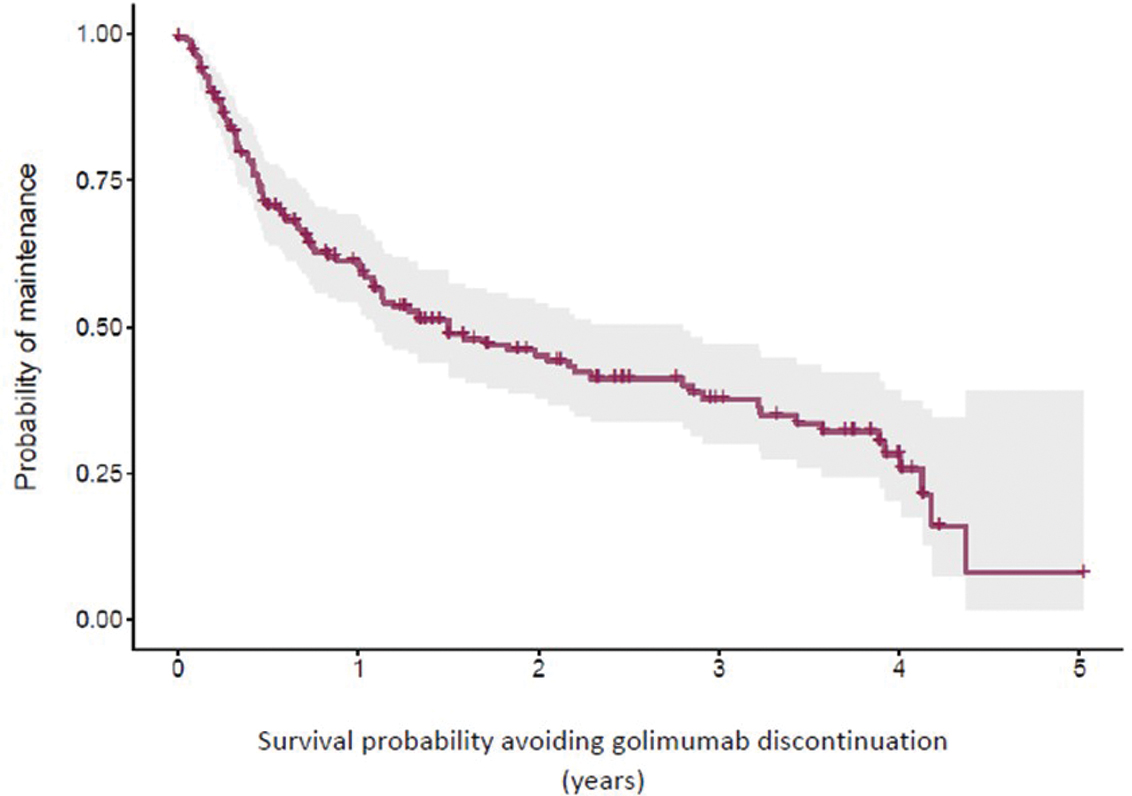 Multi-variate analysis retained shorter disease duration as a predictor of maintenance with GLM (p = 0.008). The number of previous anti-TNF drugs or the cause of withdrawal of these, the concomitant use of IS, and the disease extension were not associated with GLM maintenance.
Conclusion
After a median follow-up of 43 months 40% of patients with refractory UC patients maintained GLM. Shorter disease duration was predictive of persistence with GLM. Long-term GLM therapy was safe and achieved low rates of hospitalisations and surgeries.