P579 Wearable Devices Can Predict Disease Activity in inflammatory bowel disease Patients
P. H. Sossenheimer*1, O. V. Yvellez1, M. Andersen Jr1, T. Pearl1, K. El Jurdi1, D. B. Rubin1, A. Mayampurath2, D. T. Rubin1
1Inflammatory Bowel Disease Center, University of Chicago Medicine, Chicago, USA, 2Litmus Health, Inc., Austin, TX, USA
Background
Proactive disease monitoring in inflammatory bowel disease (IBD) represents an opportunity to improve care. Certain biomarkers, including C-reactive protein (CRP) and faecal calprotectin (FC), are sensitive biomarkers for active inflammation in IBD. As part of an ongoing prospective study on the use of biosensors in IBD, we aimed to determine the feasibility of predicting a patient's disease activity based on data collected by wearable devices.
Methods
As part of a yearlong prospective study on the use of biosensors in IBD, outpatients and inpatients with IBD were provided a Fitbit (San Francisco, CA) and a proprietary smartphone app (Litmus Health, Austin, TX) for data collection and completion of patient-reported outcomes. Daily steps, heart rate (HR), and sleep data were collected with the Fitbit device using their research API. Baseline disease activity status was recorded using the Simple Clinical Colitis Activity Index or the Harvey–Bradshaw Index as well as baseline CRP and FC values. We also collected subsequent clinic visit data and when ordered, subsequent CRP/FC values. The predictive ability of Fitbit data for the subsequent CRP/FC values was determined by calculating the AUC for each metric. Groups were compared using the Student's t-test for parametric data, and Wilcoxon rank sum for non-parametric data.
Results
Out of 194 IBD patients included in our biosensor study, 39 patients (13 CD, 26 UC; median age 44 years (range 22–67); Fitbit duration median 296 d (range 23–365)) had subsequently obtained CRP or FC values and were eligible for this analysis. The median number of subsequent biomarkers per patient was 1 (range 1–7).
Patients had lower daily steps (mean 6062 vs. 8541, p < 0.001) over the week before the elevated CRP or FC, but there was no difference in daily resting heart rate (mean 66.9 vs. 66.3, p = 0.42). Number of daily steps was predictive of having an elevated biomarker drawn within 7 days (AUC for steps = 0.70, 95% CI = 0.65–0.75) (Figure 1).
Conclusion
We demonstrate for the first time the use of passive biosensor data to predict elevated biomarkers of inflammation in IBD. Physical activity as measured by steps was decreased prior to a subsequent elevated CRP or FC, suggesting that this passively collected measure is predictive of disease activity in IBD. These results inform our ongoing prospective work to develop disease monitoring and management strategies.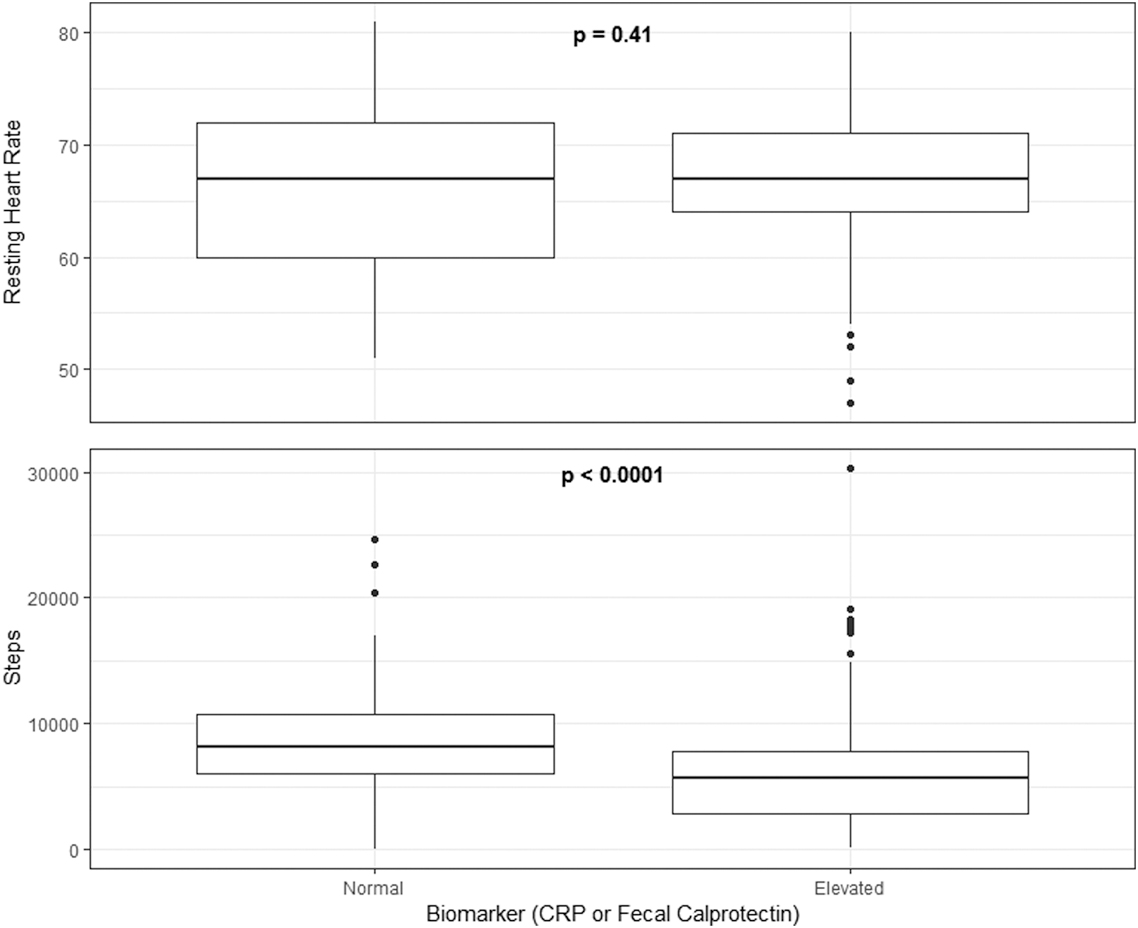 Steps and resting heart rate in IBD patients with elevated or normal biomarkers.