P592 Towards a Food Pharmacy: increased dietary quality reduces CRP and improves quality of life in IBD patients in remission
I. Molendijk*1, J. E. Martens1, E. van Lingen1, S. van der Marel1, M. E. van Veen-Lievaart2, A. E. van der Meulen1, M. C. Barnhoorn1, A. M. Ernst-Stegeman3, J. Maljaars1
1Leiden University Medical Center, Gastroenterology and Hepatology, Leiden, The Netherlands, 2Leiden University Medical Center, Dietetics, Leiden, The Netherlands, 3Voeding Leeft, Amsterdam, The Netherlands
Background
Evidence is emerging that a Mediterranean diet (MeD) can modulate the immune system and restore the gut epithelial barrier, thereby ameliorating inflammatory Bowel disease (IBD) -related complaints and quality of life (QOL). Therefore, we evaluated the effect of MeD during 6 months on QOL and inflammation. A MeD is characterised by use of olive oil as main culinary fat and a high intake of fruits, vegetables, legumes, nuts and fish, and a low intake of red meat.
Methods
A prospective case–control study evaluating the effect of a MeD on QOL and inflammation was performed. IBD patients with quiescent disease (defined as faecal calprotectin (FCP) < 150 mg/g and/or a SES-CD <5 (Crohn's disease (CD)) / MAYO <1 (ulcerative colitis (UC) / IBD-Unclassified (IBD-U)) were enrolled at the IBD unit of the Leiden University Medical Center. Patients with a healthy diet or eating disorder were excluded. Patients willing to change their lifestyle were included in the Voeding Leeft program, which is closely comparable to a MeD within the context of a healthy lifestyle. Support was provided during three instruction and feedback days and using an online platform. The following parameters were measured at baseline and 6 months: the short IBD questionnaire (sIBDQ), fatigue score (1–10), Harvey–Bradshaw index (HBI) for CD and partial mayo score (PMS) for UC and C-reactive protein (CRP). The MDSS (Mediterranean Diet Serving Score) was used to score how much the patients' diet resembled a MeD, on a scale from 0 to 24.
Results
In total, 94 patients were included in the study. Thirty-eight patients (intention to treat population, ITT) were included in the intervention group. Of these, 27 patients (per protocol population, PP) completed the 6 months period. In both the ITT and in the PP, the MDSS was increased at the end of the study period. In both the ITT and PP population, the intervention increased the sIBDQ and reduced the CRP. In the ITT group, the changes in sIBDQ (r = 0.39, p = 0.035) and CRP (r = −0.65, p = 0.001) were correlated to the improvement in the MDSS. In the control group, no changes in MDSS, sIBDQ or CRP were observed.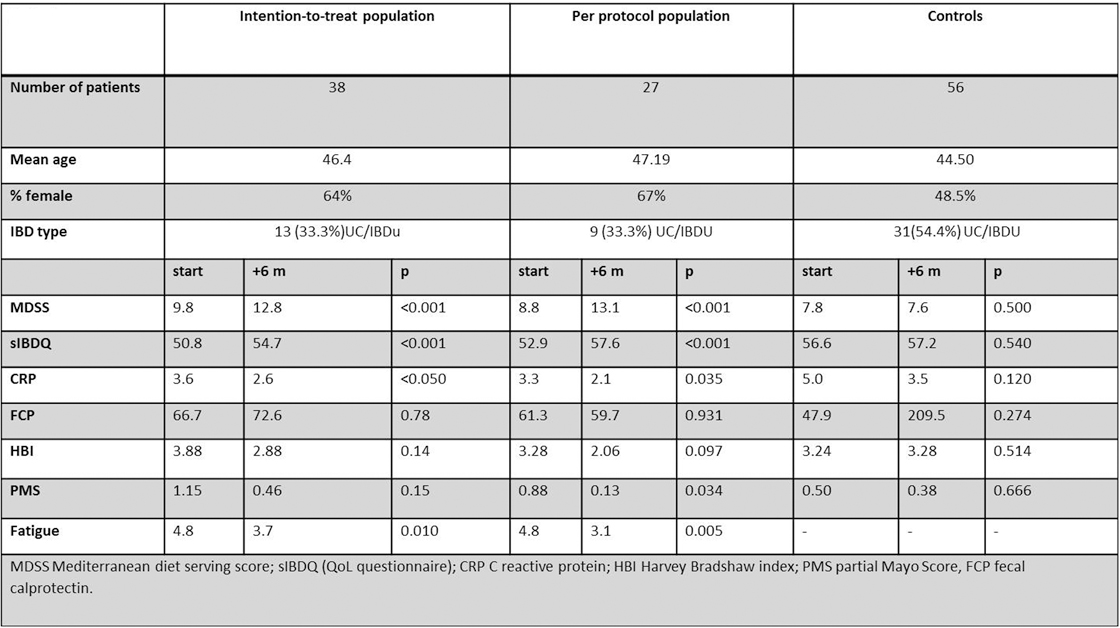 Conclusion
In quiescent IBD patients, over 70% of patients was able to adhere to the Voeding Leeft lifestyle program containing a MeD-like diet, for 6 months. The MeD improved QOL and reduced CRP. In the diet group, improvements in sIBDQ and reduction in CRP were related to the improvement in diet quality. These results demonstrate the value of lifestyle medicine in IBD patients.