P596 An ongoing safety registry to identify rare and severe complications in children with paediatric-onset IBD
M. A. Aardoom*1, P. Kemos2, F. Ruemmele3, N. Croft2, L. de Ridder1, PIBD SETQuality consortium and PIBDnet1
1Erasmus Medical Center - Sophia Children's Hospital, Paediatric gastroenterology, Rotterdam, The Netherlands, 2Centre for Immunobiology, Blizard Institute, Barts and the London School of Medicine, Queen Mary University of London, Paediatric gastroenterology, London, UK, 3Université Paris Descartes, Sorbonne Paris Cité, APHP, Hôpital Necker Enfants Malades, Paediatric gastroenterology, Paris, France
Background
Paediatric-onset IBD (PIBD) patients often present with more serious disease than adults and are exposed to intensive treatment, which may cause rare but very severe complications. Due to the rarity of these events available data are limited, resulting in prevention and treatment recommendations based on very low evidence or even absence of any recommendations. Therefore, an international study is essential to obtain data on incidence and to characterise these complications. With the setup of a safety registry for rare and severe complications in PIBD we aim to improve knowledge on incidence and risk factors of rare and severe complications.
Methods
Paediatric gastroenterologists in 26 different countries reply monthly to an electronic survey to indicate whether they have seen one of 10 predetermined complications in an IBD patient <19 years of age. It also enables the physician to report another, in their opinion rare and severe, complication. Information about disease, previous therapies and specific complications is collected for each registered complication. Additionally, participating physicians annually report the number of new and current PIBD patients under their care. The calculation of the incidence per country and region uses validated population statistics from Eurostat and the Poisson distribution for rare events.
Results
In this ongoing registry 1952 responses were received from October 2016 – October 2018 based on responses of 128 paediatric gastroenterologists (response rate 80%). A total of 88 categorised complications were reported.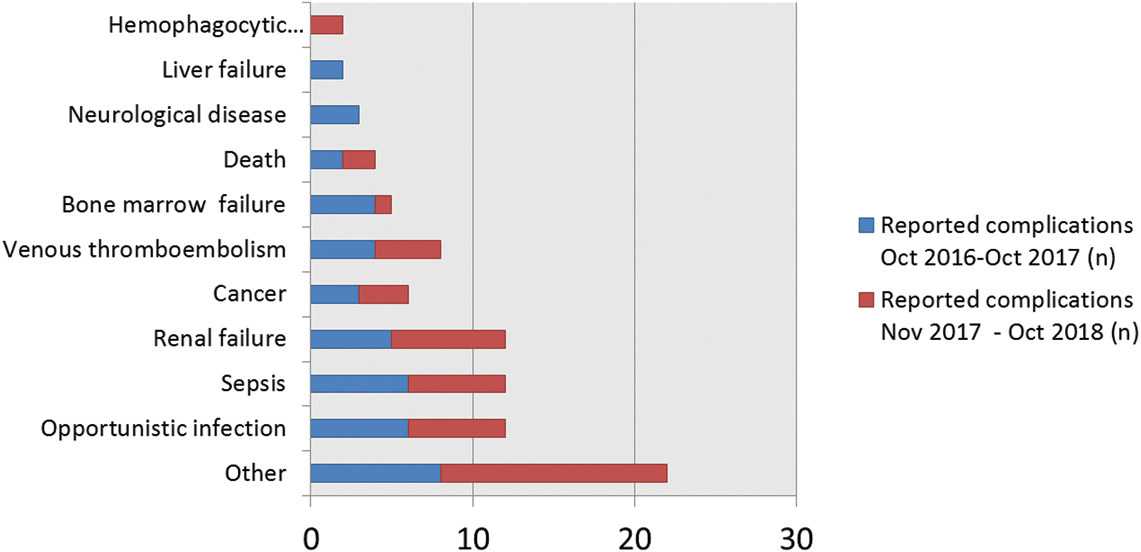 Among the 7 reported cases of a venous thromboembolism were 2 cases of a venous sinus thrombosis. All were having an exacerbation of IBD and in only two patients another risk factor was present. The two reported cases of hemophagocytic lymphohistiocytosis were both using azathioprine and mesalazine, had a primary EBV infection and fully recovered. Other reported complications vary from acute psychosis to an air embolism during colonoscopy.
Conclusion
Since the start of this registry 88 rare and severe complications in PIBD patients were prospectively identified. Besides the identification of a variety of severe adverse events, this enables understanding possible causes, management and outcomes of rare but severe events in PIBD. Moreover, this may enable prevention of these events. Combined with the denominator data that are being collected this will provide data on the incidence of these severe outcomes.