P634 Real-world data on the efficacy and safety of vedolizumab therapy in patients with inflammatory bowel disease: a retrospective nation-wide cohort study in Singapore
A. T-M. Gan*1, W. P-W. Chan1, K. L. Ling1,2, L. J. Hartono3, D. E. Ong3, M. Gowans3, H. Lin4, W. C. Lim4, M. T-K. Tan5, J. P-L. Ong5, B. J. Schwender1, S. C. Kong1, W. C. Ong1, T. G. Lim1, S. W. Chuah6, C. J. Ooi6, H. H. Shim1
1Singapore General Hospital, Department of Gastroenterology and Hepatology, Singapore, Singapore, 2Mount Elizabeth Hospital, Singapore, Singapore, 3National University Hospital, Division of Gastroenterology and Hepatology, Singapore, Singapore, 4Tan Tock Seng Hospital, Department of Gastroenterology and Hepatology, Singapore, Singapore, 5Changi General Hospital, Department of Gastroenterology and Hepatology, Singapore, Singapore, 6Gleneagles Hospital, Singapore, Singapore
Background
Real-world clinical data on the use of vedolizumab in patients with inflammatory bowel disease (IBD) is lacking in Asian populations. We aim to report the efficacy and safety outcomes of vedolizumab in a nation-wide cohort in Singapore.
Methods
A retrospective nation-wide cohort study of adult IBD patients from the 6 largest local hospitals who completed vedolizumab induction between 2015 and 2018 was conducted. The primary outcome measure was steroid-free clinical remission (SFCR) at 14, 24 and 54 weeks after initiation of vedolizumab therapy. SFCR was defined as complete tapering of steroids with a complete absence of symptoms in Crohn's disease (CD), and a partial Mayo Clinic score <2 in ulcerative colitis (UC). Secondary outcome measures included endoscopic remission as defined by complete absence of ulceration in CD and Mayo endoscopic subscore ≤1 in UC; and normalisation of radiological appearance on CT/MR enterography.
Results
Fifty-three patients (28 CD, 25 UC) were included in this study, with 64.2% (34/53) anti-TNF-experienced.
Table 1. Baseline characteristics.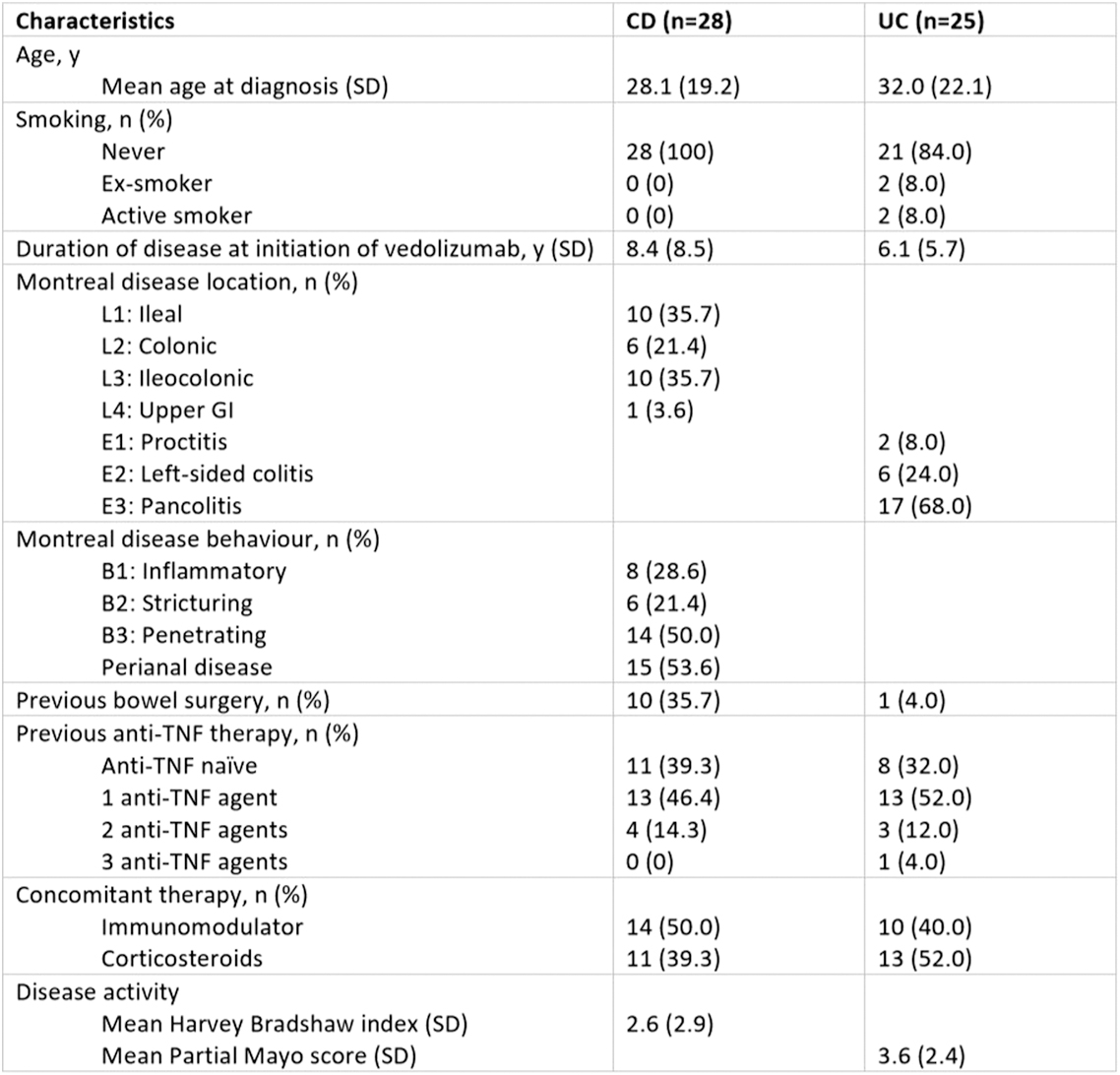 In CD, SFCR at Weeks 14, 24 and 54 was 39.3% (11/28), 30.0% (6/20), and 42.9% (6/14), respectively. Endoscopic remission was achieved in 30.8% (4/13) of patients at a median treatment duration of 37 weeks, and radiological remission in 22.2% (2/9) at a median treatment duration of 48 weeks. In UC, SFCR at Weeks 14, 24, and 54 was 68.0% (17/25), 66.7% (14/21), and 80.0% (8/10), respectively. Endoscopic remission was achieved in 35.3% (6/17) of UC patients at a median treatment duration of 31 weeks. Thirteen patients (6 UC, 7 CD) discontinued treatment, as depicted in the Kaplan–Meier survival analysis (Figure 1).
Figure 1. Kaplan–Meier survival curve of vedolizumab discontinuation.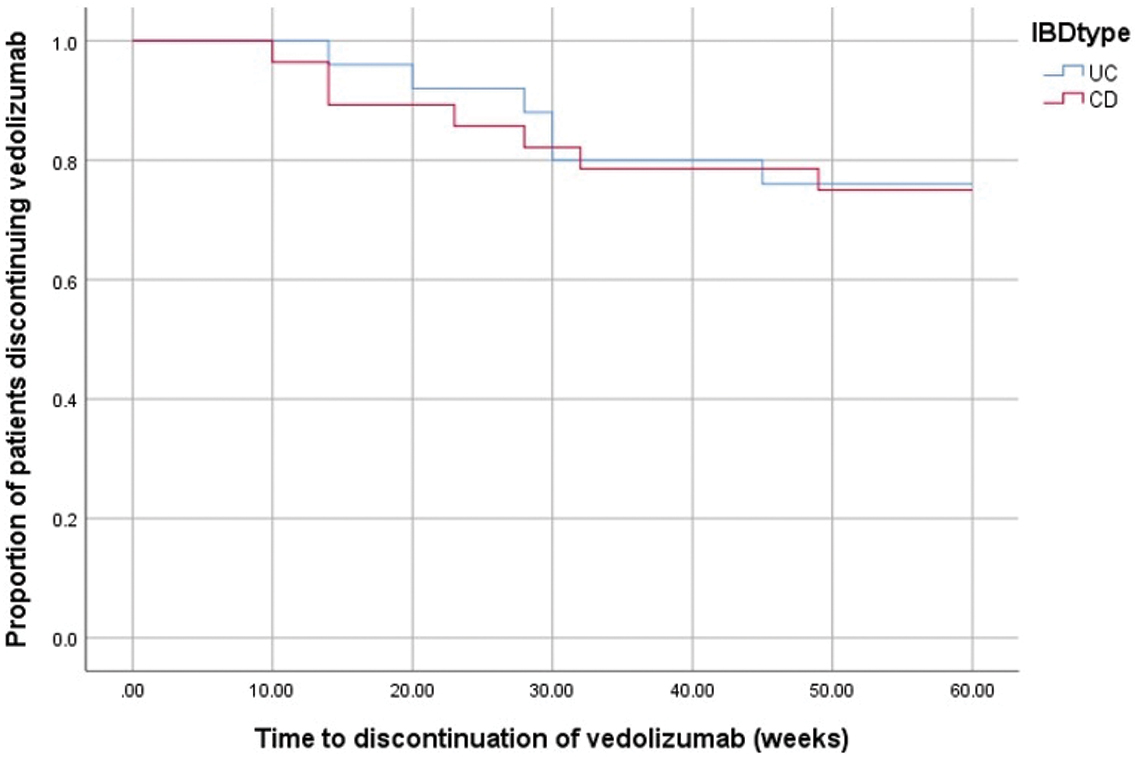 Thirty-one adverse events occurred in 25/53 patients (47.2%); 5 (9.4%) were serious adverse events necessitating hospitalisation. Infections were the most common adverse event (37.7%, 20/53), with the majority being upper respiratory tract infections (24.5%, 13/53). Five patients (9.4%) developed gastrointestinal infections; 2 had Clostridium difficile colitis, 2 Campylobacter jejuni gastroenteritis, and 1 Salmonella gastroenteritis. Two patients (3.8%) experienced self-limiting infusion reactions. No malignancies or deaths occurred in our cohort.
Conclusion
The real-world experience with vedolizumab in Singapore supports its efficacy and safety in the treatment of IBD, especially in patients with UC.