P636 Impact of anti-TNF treatment on extra-intestinal manifestations in patients with inflammatory bowel disease: real-world data in Germany
D. Bettenworth*1, W-J. Lee2, R. S. Clark2, S. Rath3, M. Yang4, A. Bensimon4, S. Vavricka5
1University Hospital Munster, Department of Medicine B - Gastroenterology and Hepatology, Munster, Germany, 2AbbVie Inc., North Chicago, United States, 3AbbVie Deutschland GmbH & Co. KG, Ludwigshafen, Germany, 4Analysis Group, Inc., Boston, USA, 5Triemli Hospital, Zentrum fur Gastroenterologie und Hepatologie, Department of Medicine, Division of Gastroenterology, Zurich, Switzerland
Background
Extra-intestinal manifestations (EIMs), common among patients with inflammatory bowel disease (IBD), can occur as an extension of immune responses from the gastrointestinal tract or as autoimmune diseases independent of IBD. Chronic inflammation is also linked to increased risk of cardiovascular (CV) problems. This study evaluated the real-world EIM rate for patients with IBD in Germany and the rate of EIM resolution after treatment with tumour necrosis factor inhibitors (TNFi), a drug class with systemic anti-inflammatory effect.
Methods
This retrospective study used anonymous healthcare claims data from the InGef database on individuals with statutory health insurance in Germany between 2011 and 2017. Adult patients with ≥2 diagnosis claims for Crohn's disease (CD) or ulcerative colitis (UC), ≥2 claims for a TNFi approved for IBD, and continuous enrolment for at least 12 months before and 15 months after the index treatment of the TNFi were identified. Prevalence rates for all EIMs were assessed for the 12-month baseline period prior to the index TNFi treatment. Subcategories of EIMs in musculoskeletal disorders (MSDs) and in CV events were also assessed. Among patients with any EIMs during baseline, rates of EIM resolution were assessed based on absence of EIM diagnoses over a 1-year period (month 3 to 15) after treatment with TNFi. The first 3 months of observation were not included in the analysis to allow time for treatment effect on EIMs.
Results
A total of 1658 IBD patients with TNFi were identified (CD, 67%; UC, 33%); 50% were female and mean age was 39 years. The majority of patients were treated with systemic corticosteroids (71%) and approximately half were on thiopurines (47%) or 5-aminosalicylic acid (54%) prior to the index TNFi. In the baseline period, over one-third patients (35%) had at least one type of EIM (CD: 34%; UC: 38%), 16% had ≥1 MSD (CD: 15%; UC: 17%) and 4% had ≥1 CV event (CD: 3%; UC: 7%). Among those with EIMs during baseline, resolution of at least one pre-existing EIM was found in 49% patients after TNFi treatment. Resolution rates were 42% for MSDs and 39% for CV events (table).
Table. Resolution of EIMs among patients with any EIM during baseline period (using 3-month buffer period and 12-month follow-up period).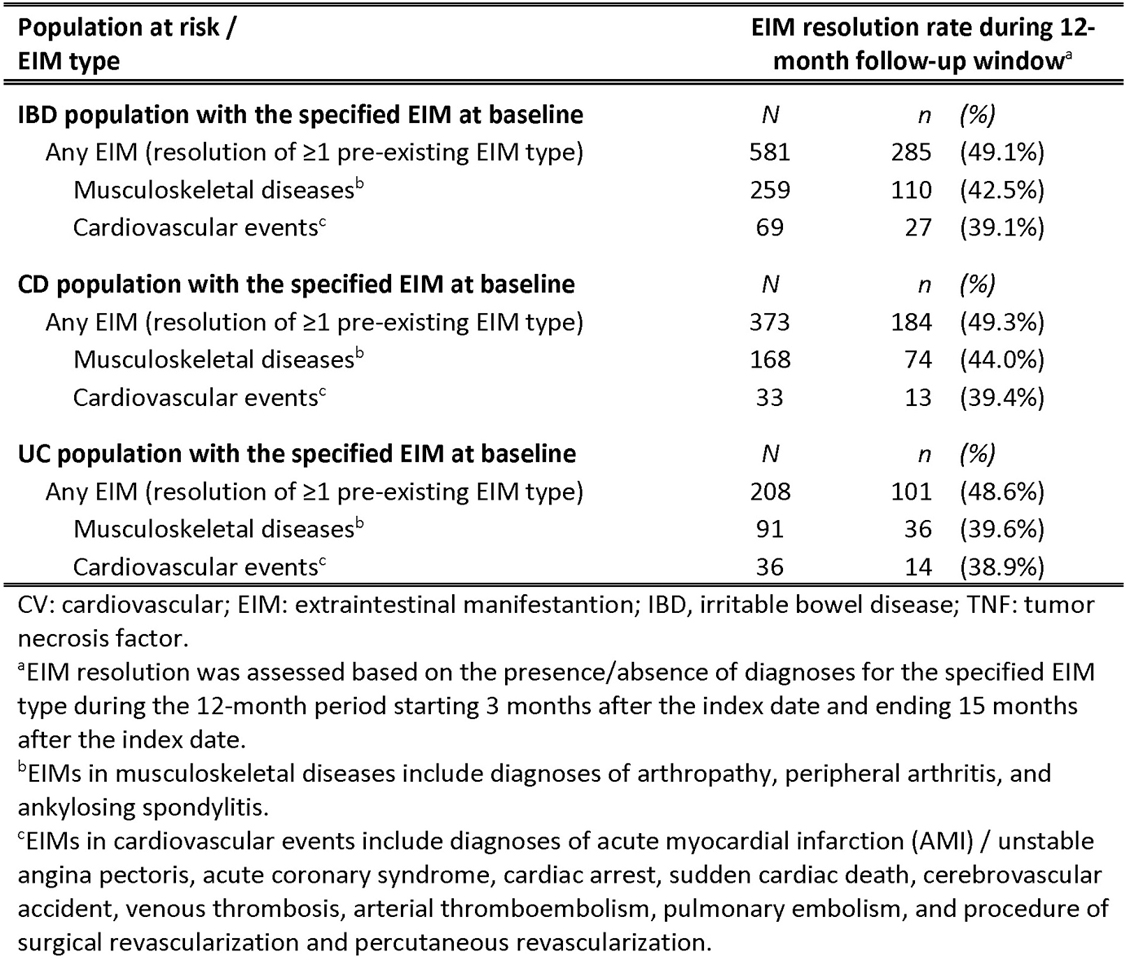 Conclusion
At least one-third of IBD patients experienced one or more EIM prior to a TNFi treatment. With the systemic anti-inflammatory effect, TNFi appear to be effective in resolving EIMs in nearly half of the affected patients, including those impacted by MSDs and CV events.