P665 1-Year clinical and endoscopic follow-up of vedolizumab therapy in refractory PIBD patients
M. M. E. Jongsma*1, M. A. Aardoom1, L. de Ridder1, J. C. Escher1
1Erasmus Medical Center - Sophia Children's Hospital, Paediatric gastroenterology, Rotterdam, The Netherlands
Background
In adult IBD patients vedolizumab has proven to be effective but prospective studies in paediatric IBD (PIBD) patients have not been performed. Available retrospective studies in PIBD are promising regarding corticosteroid-free remission (CFR) rates, especially in refractory ulcerative colitis (UC) patients. Vedolizumab is therefore to be considered in refractory PIBD patients failing anti-TNF. Data on endoscopic findings and long-term follow-up are especially scarce. We investigated the long-term clinical and endoscopic follow-up in PIBD patients.
Methods
For this retrospective per protocol study PIBD patients receiving vedolizumab from 2015–2018 in a tertiary centre were included. Most patients received 300 mg at week 0, 2, 6 and every 8 weeks thereafter, and had oral prednisolone as bridging therapy. At each infusion visit clinical disease activity scores, routine laboratory parameters and serum samples were collected. Endoscopy was performed after at least 3 infusions.
Results
In total, 22 PIBD patients (12 UC, 7 CD and 3 IBDU) with a median age of 15.3 years (IQR 12.3–17.1) received vedolizumab after previous anti-TNF failure (73% pharmacodynamic, 13% immunogenic, 4% pharmacokinetic failure). Median follow-up after start of vedolizumab was 60 weeks (IQR 18–75). 1-year follow-up data were available in 17 patients. Five patients were transferred to adult care within 1 year after starting vedolizumab treatment. Vedolizumab was discontinued in 42% (5/12) of UC/IBDU patients compared with 80% (4/5) of CD patients (77 and 23 weeks of median therapy duration, respectively). Corticosteroid-free remission (CFR) rates, defined as no use of corticosteroids and a PUCAI < 10 or PCDAI < 12.5, were 25% in UC/IBDU and 0% in CD at 14 weeks. After 54 weeks 25% of the UC/IBDU patients were in CFR.
Figure 1.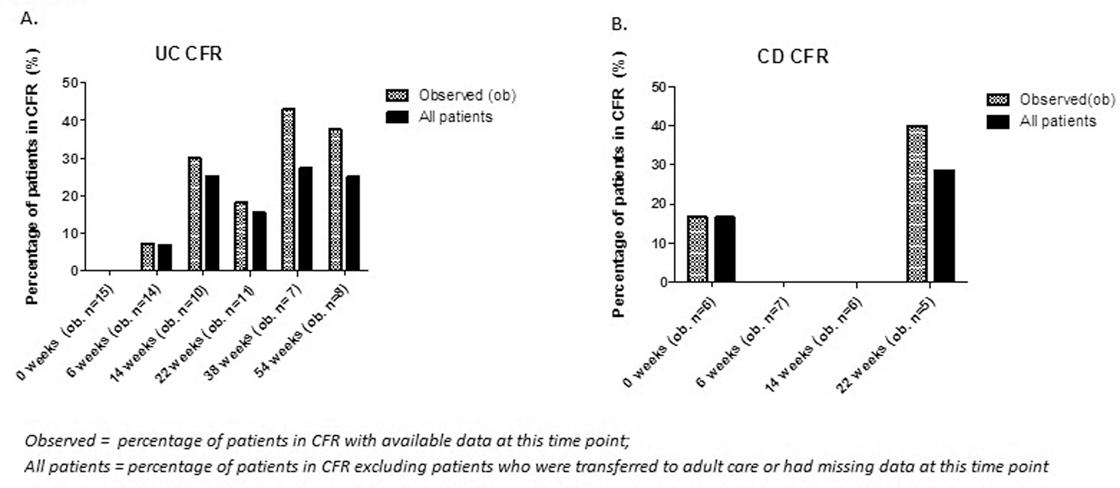 Endoscopy was performed in 12 patients (11 UC/IBDU, 1 CD) after a median follow-up of 23 weeks (IQR 19–29), which showed mucosal healing (Mayo score 0) in 36% of UC/IBDU patients (n = 4) but active disease in the one CD patient. At last follow-up 37% (8/22) of patients needed a surgical resection (2 in CD and 6 colectomies in UC/IBDU) after a median therapy duration of 38 weeks (IQR 23–60). Analysis of trough levels is currently ongoing.
Conclusion
In this group of refractory PIBD patients 25% of UC and none of the CD patients had CFR at 14 weeks. After 54 weeks 25% of UC patients was in CFR. Mucosal healing was shown in 36% of UC/IBDU patients. Future studies including vedolizumab trough levels and subsequent optimal dosing in PIBD are essential.