P680 Long-term efficacy of ustekinumab with and without concomitant immunosuppressants for Crohn's disease: results from IM-UNITI long-term extension through 2 years
S. Ghosh*1, B. C. Kramer2, C. Gasink2, D. Jacobstein3, O. J. Adedokun3, L-L. Gao3, P. Rutgeerts4, B. E. Sands5
1University of Birmingham, Birmingham, UK, 2Janssen Scientific Affairs, LLC, Horsham, USA, 3Janssen Research and Development, LLC, Spring House, USA, 4University Hospital Gasthuisberg, Leuven, Belgium, 5Icahn School of Medicine at Mount Sinai, New York, USA
Background
Ustekinumab (UST) is a fully human immunoglobulin G1 kappa mAB to human IL 12/23p40 approved for the treatment of moderate to severe active Crohn's disease (CD). The continuing IM-UNITI long-term extension (LTE) evaluates the efficacy and safety of subcutaneous (SC) UST through approximately 5 years of treatment. Results through maintenance Week 44 previously demonstrated no apparent benefit of concomitant immunosuppressant (IMM) use on efficacy, drug levels or immunogenicity of UST.1 Results through 2 years are reported herein.
Methods
1281 patients entered the maintenance study, including 397 UST induction responders in the primary population (randomised to placebo (PBO) SC; n = 133, UST 90 mg SC q12w (q12w); n = 132, or UST 90 mg SC q8w (q8w); n = 132). A one-time dose adjustment to UST 90 mg SC q8w occurred in randomised patients who met loss of response (LOR) criteria between Weeks 8 and 32. All patients completing Week 44 were eligible to enter the LTE continuing the treatment they were on at Week 44. This analysis included the 82 patients on UST q8w from the primary population who did not meet LOR criteria for dose adjustment and entered the LTE. Clinical remission at each study visit, serum UST concentrations from maintenance Weeks 44 to 92, and immunogenicity were assessed in patients taking vs. not taking concomitant IMMs.
Results
Baseline use of concomitant IMMs in the randomised UST q8w LTE population was 35.4% (29/82). Patients who were not on IMMs at baseline (64.6%, 53/82), all remained off IMMs through Week 92. Rates of remission in the q8w group were not higher among patients with baseline IMM use and were similar through Week 92 (Table 1). Furthermore, concomitant use of immunomodulators did not appear to have any notable or consistent effect on serum UST concentrations or antidrug- antibody formation at any time point examined (Table 1).
Table 1. Clinical remission and serum concentration through Week 92 based on IMM use at induction baseline: randomised patients who entered LTE in IM-UNITI.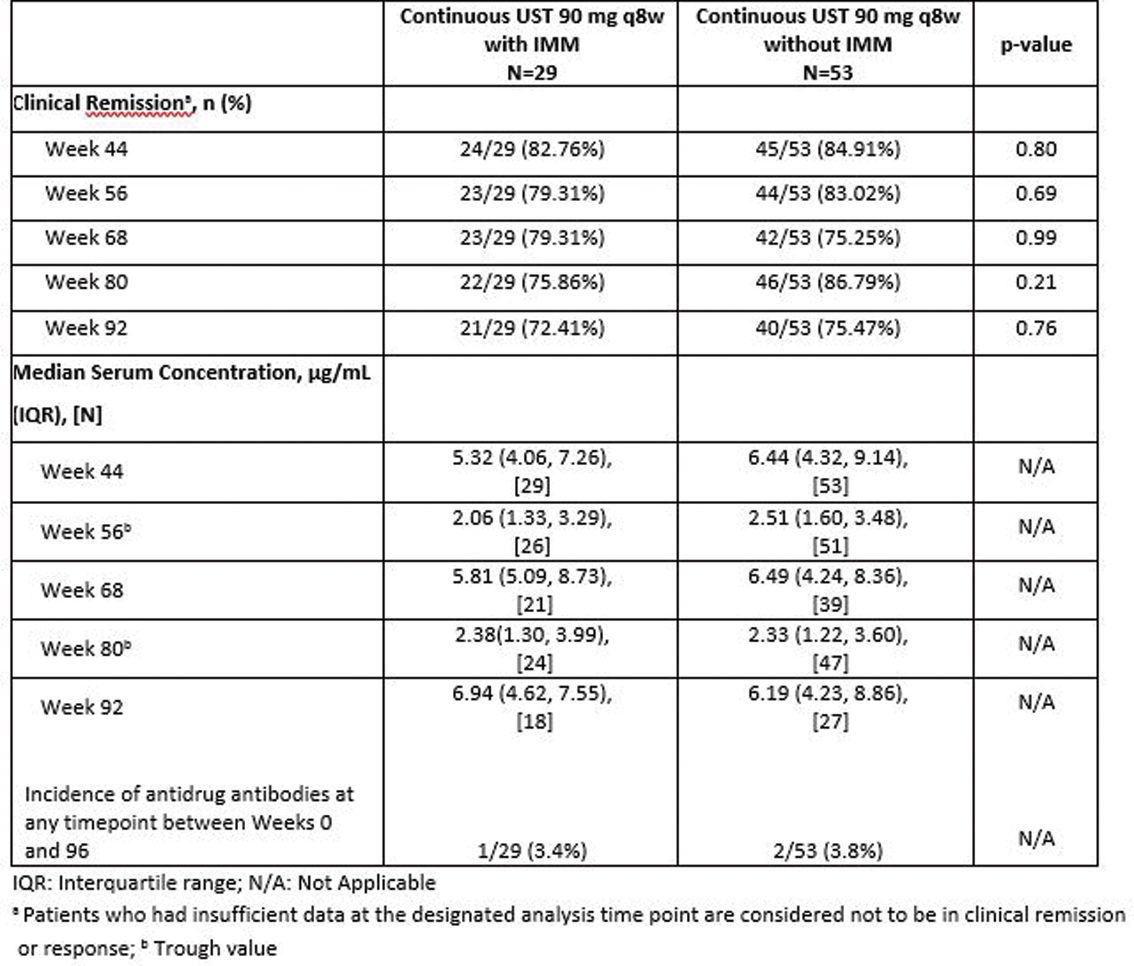 Conclusion
Data through 2 years of UST treatment (90 mg q8w maintenance) in the IM-UNITI LTE study suggest that concurrent use of immunomodulators does not increase remission efficacy. Further supporting the notion that concomitant use of IMM with UST is not necessary, no effect on serum UST concentrations or antidrug antibodies was seen across all time points, in contrast to findings with other biologic agents.
Reference
1. Adedokun OJ, Xu Z, Gasink C, et al. Pharmacokinetics and exposure response relationships. Gastroenterology 2018;154:1660–1671, 154