P687 Clinical remission demonstrated with oral ozanimod in the overall population and across multiple subgroups of patients with moderately to severely active ulcerative colitis in the TOUCHSTONE trial
B. G. Feagan*1, W. J. Sandborn2, G. D'Haens3, S. Hanauer4, D. C. Wolf5, S. Vermeire6, S. Ghosh7, A. Petersen8, S. Y. Hua8, K. Shan8, J. Liu8
1Robarts Clinical Trials, Western University, London, Canada, 2University of California - San Diego, San Diego, USA, 3Academic Medical Center, Amsterdam, The Netherlands, 4Feinberg School of Medicine, Chicago, USA, 5Atlanta Gastroenterology Associates, Atlanta, USA, 6University of Leuven, Leuven, Belgium, 7University of Calgary, Calgary, Canada, 8Celgene Corporation, Summit, USA
Background
Ozanimod is an oral immunomodulator that selectively targets S1P1 and S1P5. TOUCHSTONE, a randomised, double-blind, placebo-controlled phase 2 trial that evaluated patients with moderately to severely active ulcerative colitis (UC) showed significantly higher rates of clinical remission, clinical response, and endoscopic mucosal healing (Mayo endoscopic subscale score of 0/1) at Weeks 8 and 32 in patients assigned to ozanimod 1 mg compared with those who received placebo (Sandborn et al., NEJM, 2016).1 Clinical remission at Week 32 also was assessed across subgroups of interest.
Methods
Patients were randomised 1:1:1 and received ozanimod 1 mg, ozanimod 0.5 mg, or placebo. Mayo score, based on stool frequency, rectal bleeding, mucosal appearance at endoscopy, and physician rating of disease activity was calculated at baseline, end of induction (Week 8), and end of maintenance (Week 32). Clinical remission was defined as total Mayo score ≤2, with no subscore >1. A post hoc sub-group analysis evaluated clinical remission rates at Week 32 according to baseline Mayo score, years since UC diagnosis, and body mass index (BMI).
Results
A total of 197 patients were randomised to ozanimod 1 mg (n = 67), 0.5 mg (n = 65), or placebo (n = 65), with 103 (52.3%) entering a maintenance period based on response criteria and 91 (88.3%) completing the study. Differences in the proportion of patients in clinical remission with ozanimod 1 mg vs. placebo by subgroup illustrate that the treatment effect favoured ozanimod 1 mg in every subgroup analysed (see Figure 1).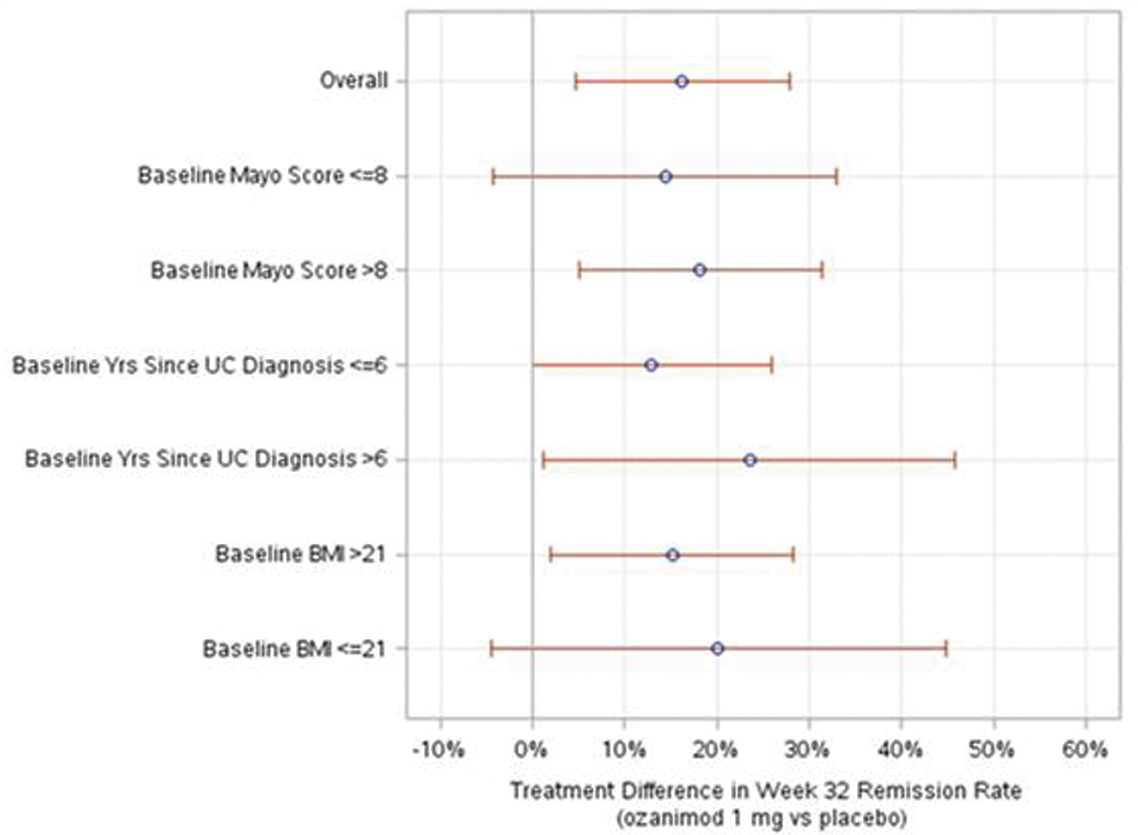 Forest plot of clinical remission at Week 32 in the overall population and by subgroup (ITT population, non-responder imputation) – RPC1063 1 mg vs. placebo.
The 95% confidence intervals for the treatment difference between ozanimod 1 mg and placebo exclude 0 for the overall population and subgroups of baseline Mayo score >8, years since UC diagnosis >6, and BMI >21.
Conclusion
In the TOUCHSTONE trial, ozanimod therapy was consistently more efficacious than placebo for induction of clinical remission across a wide range of patient subtypes including those with relatively long disease duration and high disease activity.
References
1. Sandborn WJ, Feagan BG, Wolf DC, et al. Ozanimod induction and maintenance treatment for ulcerative colitis. N Engl J Med 2016.