P706 Patient knowledge towards biological treatment in inflammatory bowel diseases: a cross-sectional survey
M. Wiśniewska-Jarosińska*1, M. Włodarczyk2, A. Gąsiorowska1, J. Fichna3, A. Sobolewska-Włodarczyk1
1Medical University of Lodz, Department of Gastroenterology, Lodz, Poland, 2Medical University of Lodz, Department of General and Colorectal Surgery, Lodz, Poland, 3Medical University of Lodz, Department of Biochemistry, Lodz, Poland
Background
Previously, it has been demonstrated in many chronic conditions, including inflammatory bowel diseases (IBD), that better patient knowledge about pathology and treatment improves the course and management of the disease. The aim of this study was to assess the actual knowledge of IBD patients' about the risks and benefits associated with biologic therapies, patients experience with therapy, patients awareness about therapy availability, and expectations of ideal biological therapy.
Methods
The study was conducted in collaboration with Polish IBD Patients Association in the period from February 2018 to May 2018. A cross-sectional, internet questionnaire-based study was conducted in 152 IBD patients: 84 patients with Crohn's disease (CD) and 68 patients with ulcerative colitis (UC). The questionnaire covers three domains of IBD, including diagnosis, therapeutic options, and disease course.
Results
51% (n = 78) of enrolled IBD patients reported feeling unwell at the time of the study. In our study in 62% (n = 94) of subjects during the last 12 months exacerbation of the disease requiring medical intervention were observed. Forty-two per cent (n = 64) of patients were hospitalised during this period due to exacerbation of the disease or its complications. The 97% (n = 147) of IBD patients investigated in our study reported that they heard about biological therapy and 54% (n = 79) of them had personally used biological therapy. In our study, the improvement in health as a result of biological therapy in 65% (n = 99) of current and 51% (n = 78) in the past treated patients was observed. In the case of patients treated in the past, 45% (n = 68) of them managed to achieve full clinical remission of the disease. Thirty-seven per cent (n = 65) of respondents as a result of treatment completely discontinued steroid and 32% (n = 49) could reduce their dose. The main reasons for not using biological therapy reporting by investigated patients were: the lack of proposals for treatment (47%), the effectiveness of current therapies (45%), failure to meet the inclusion criteria for the drug program. Seventy-two per cent (n = 109) of respondents reported that they believe that biological therapy should be administrated earlier and 36% (n = 55) of patients believe that the biological therapy is associated with a high risk of side effects.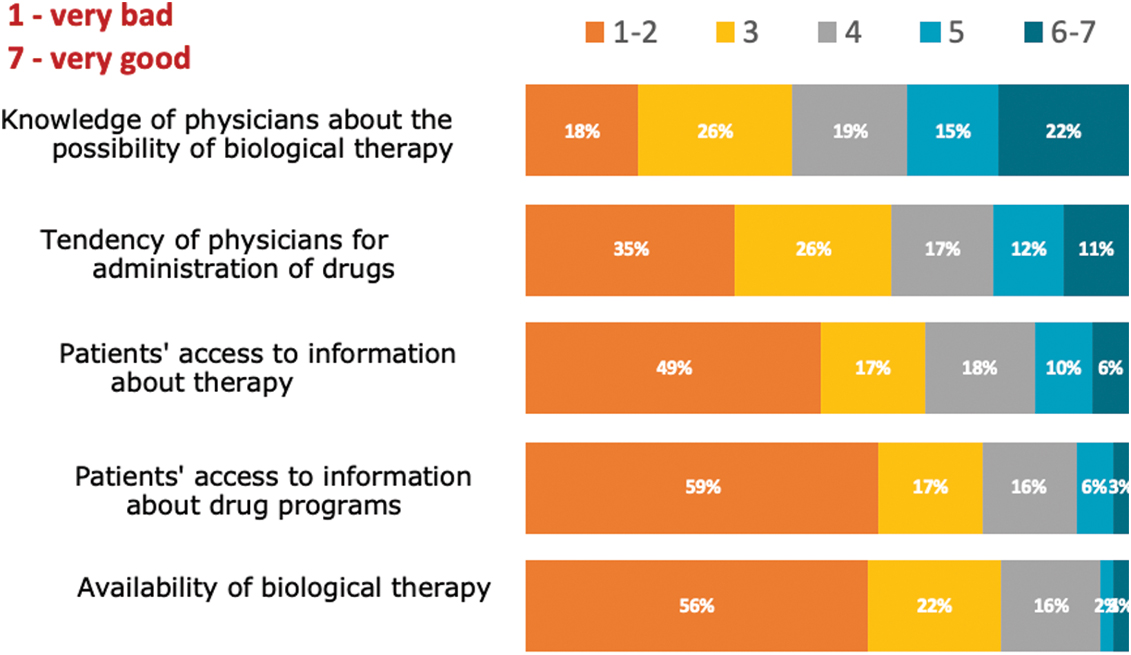 Selected aspects related to the availability of biological therapy in inflammatory bowel disease patients
Conclusion
Knowledge about the use of biologic therapies in IBD patients in Poland is still unsatisfactory. An immediate need exists for patient and physician education about biological therapies and clinical trials to ensure educated and informed decisions are made about biological drug use.