P716 The use of tacrolimus in patients with ulcerative colitis resistant to standard medical therapy
T. Shafi*1, A. Bedir2, L. Medcalf1, G. Chung-Faye1, B. Hope1, P. Dubois1, B. Hayee1, B. Vadamalayan1, A. J. Kent1
1King's College Hospital, London, UK, 2Basildon and Thurrock University Hospital, Essex, UK
Background
ECCO guidelines support the use of tacrolimus in selected adult or paediatric patients with ulcerative colitis (UC) resistant to standard therapy. Despite these guidelines, in our experience tacrolimus is used infrequently. We present the outcomes of 21 UC patients commenced on tacrolimus at Kings College Hospital NHS Trust.
Methods
The King's College Hospital electronic patient records database was searched, including all records from January 2011 to October 2018. The search was performed using the terms, 'ulcerative colitis' and 'tacrolimus'. All records were interrogated to collect retrospective data.
Results
Our search yielded a total of 275 patients. 191 were excluded as they were on tacrolimus for an indication other than UC. A further 59 were discounted as tacrolimus was never commenced. Four were removed where tacrolimus topical ointment was used. Twenty-one UC patients (16 adult, 5 paediatric) treated with tacrolimus were identified. Mean age was 29 years (range 9–62), M:F 13:8, 13 Caucasian, 4 Afro-Caribbean, 2 Asian and 2 unspecified. Eighty-one per cent had pancolitis, 3 left-sided disease and 1 proctitis. Previous therapies are summarised in Figure 1. All patients had previously been treated with 5-aminosalicylates and steroids.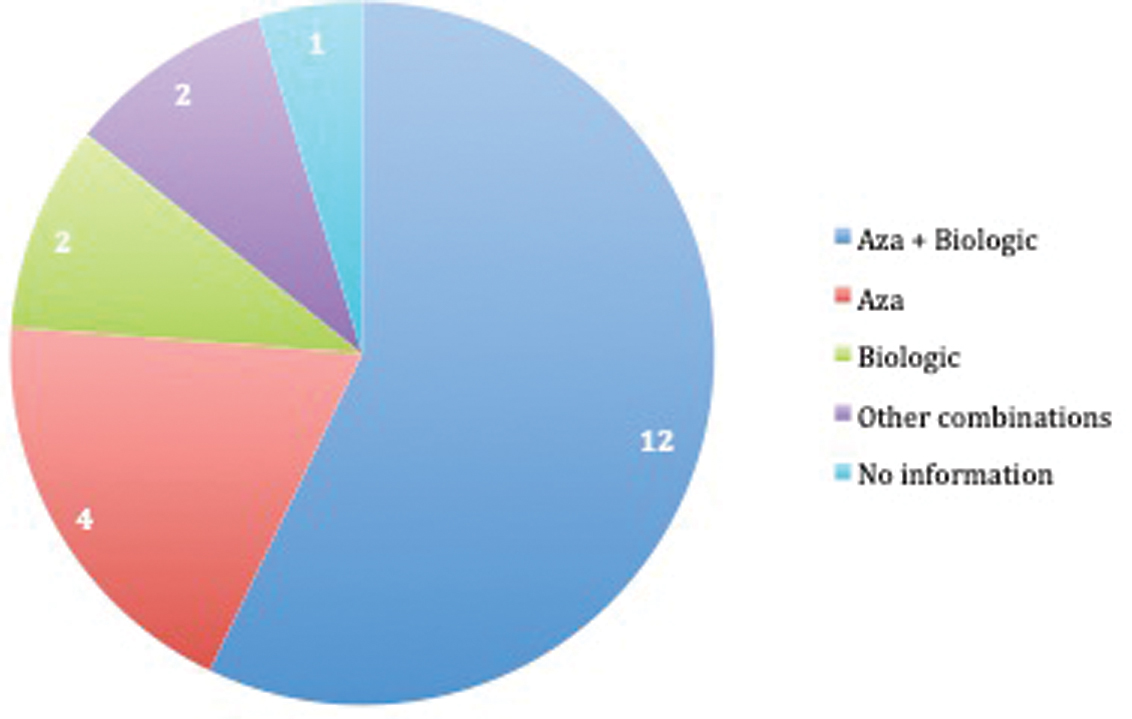 The number in each section of the pie chart indicates the number of patients on each combination. Aza – Azathioprine; Biologic – either: infliximab, adalimumab, vedolizumab or golimumab; Other combinations - mycophenolate mofetil, and mercaptopurine.
Mean duration on tacrolimus was 11 months (median 5; range, 0 – 66). 2 patients were primary non-responders and 9 terminated therapy due to adverse drug effects such as tremor, nausea and renal toxicity. 10 (48%) patients had a sustained clinical response remaining on tacrolimus for a mean of 21 months. 1 remains on tacrolimus currently, but 9 patients have had disease recurrence, with 6 patients requiring a colectomy, at an average of 16 months after starting tacrolimus. Faecal calprotectin (FCP) was used as an objective measure of disease activity. In patients on tacrolimus for a sustained period (n = 10), there was a significant reduction in FCP. Mean FCP levels pre- and during treatment were 2574 and 381, respectively (mean difference 2193, CI 1157 to 3237, p = 0.001) [Figure 2].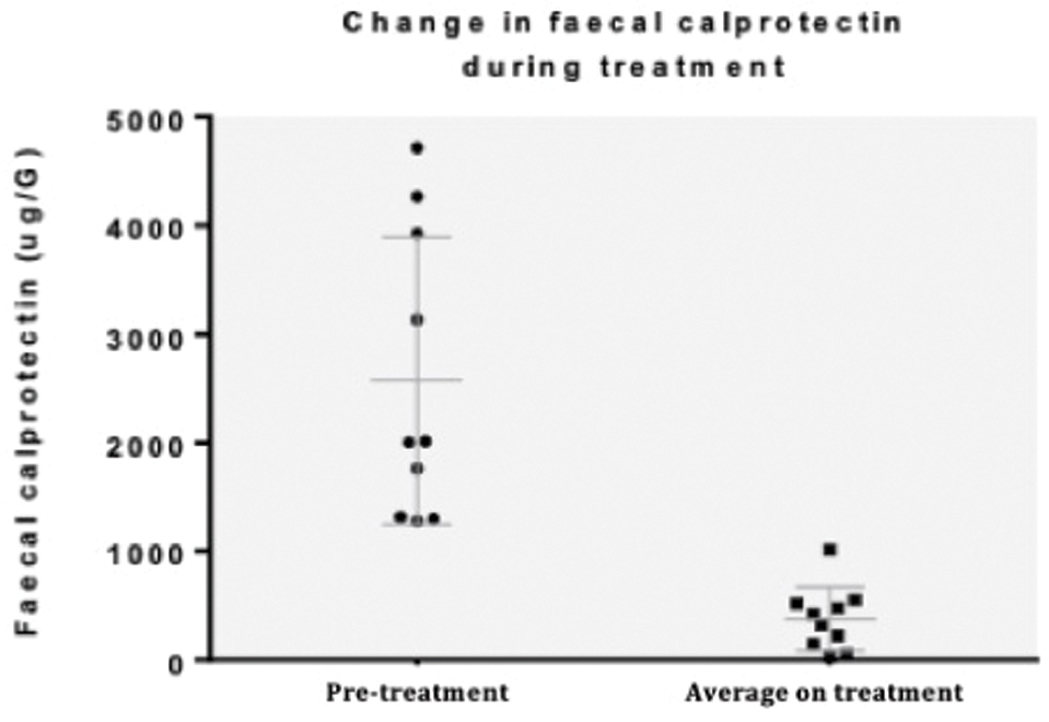 Comparison of patient faecal calprotectin levels before treatment and average levels on tacrolimus treatment.
Conclusion
If tolerated, tacrolimus can be an effective treatment option for patients with ulcerative colitis. This response was maintained for an average of 21 months, with a significant drop in faecal calprotectin levels.