P723 Incidence of hypophosphatemia in patients with inflammatory bowel disease treated with iron isomaltoside or ferric carboxymaltose: results of a prospective cluster randomised cohort study
T. E. Detlie*1,2, J. C. Lindstrøm3, M. E. Jahnsen1, E. Finnes4, H. Zoller5, B. Moum4,6, J. Jahnsen1,2
1Akershus University Hospital, Department of gastroenterology, Lørenskog, Norway, 2University of Oslo, Institute of Clinical Medicine, Oslo, Norway, 3Akershus University Hospital, Health Services Research Unit, Lørenskog, Norway, 4Oslo University Hospital, Department of Gastroenterology, Oslo, Norway, 5Medical University of Innsbruck, Department of Medicine II, Gastroenterology and Hepatology, Innsbruck, Austria, 6Univeristy of Oslo, Institute of Clinical Medicine, Oslo, Norway
Background
Iron deficiency (ID) and iron deficiency anaemia (IDA) are common complications in inflammatory bowel disease (IBD). ECCO guidelines states that high-dose IV iron is the treatment of choice. Ferric carboxymaltose (FCM; Ferinject®) and iron isomaltoside (IIM; Monofer®) are the high-dose iron preparations used in Europe. Hypophosphatemia is a reported side effect of both preparations and may give symptoms similar to clinical manifestations of IBD and ID/IDA. Previous publications suggest a higher risk of hypophosphatemia after FCM than IIM, but this has not yet been explored in prospective head to head studies. In this trial we investigate the occurrence of hypophosphatemia in an adult IBD population treated with either FCM or IIM.
Methods
A prospective cluster-randomised comparative two-centre study was conducted at Akershus university hospital (AHUS) and Oslo university hospital Ullevål (OUS Ullevål) over 1.5-years involving adult IBD patients with ID or IDA. Patients presenting at AHUS were treated with 1000 mg IIM and at OUS Ullevål they received 1000 mg FCM. At baseline, after 2- and 6-weeks clinical assessment of muscle function, quality of life, faecal, blood and urine tests were collected.
Results
130 patients were recruited. Fifty-two patients at OUS Ullevål and 54 patients at AHUS were included in the per protocol analysis. Demographic data are shown in Table 1, the results on blood tests and faecal calprotectin are shown in Table 2. The incidence of hypophosphatemia at Week 2 and 6 were 72.5% and 21.6% in the FCM treatment arm compared with 11.3% and 3.7% in the IIM treatment arm (p < 0.001 and p = 0.01). The prevalence of moderate and severe hypophosphatemia in the FCM group was 56.9% and 13.7% compared with 5.7% and 1.9% in the IIM group, respectively. (p < 0.001 and p = 0.05). Details are presented in Table 3.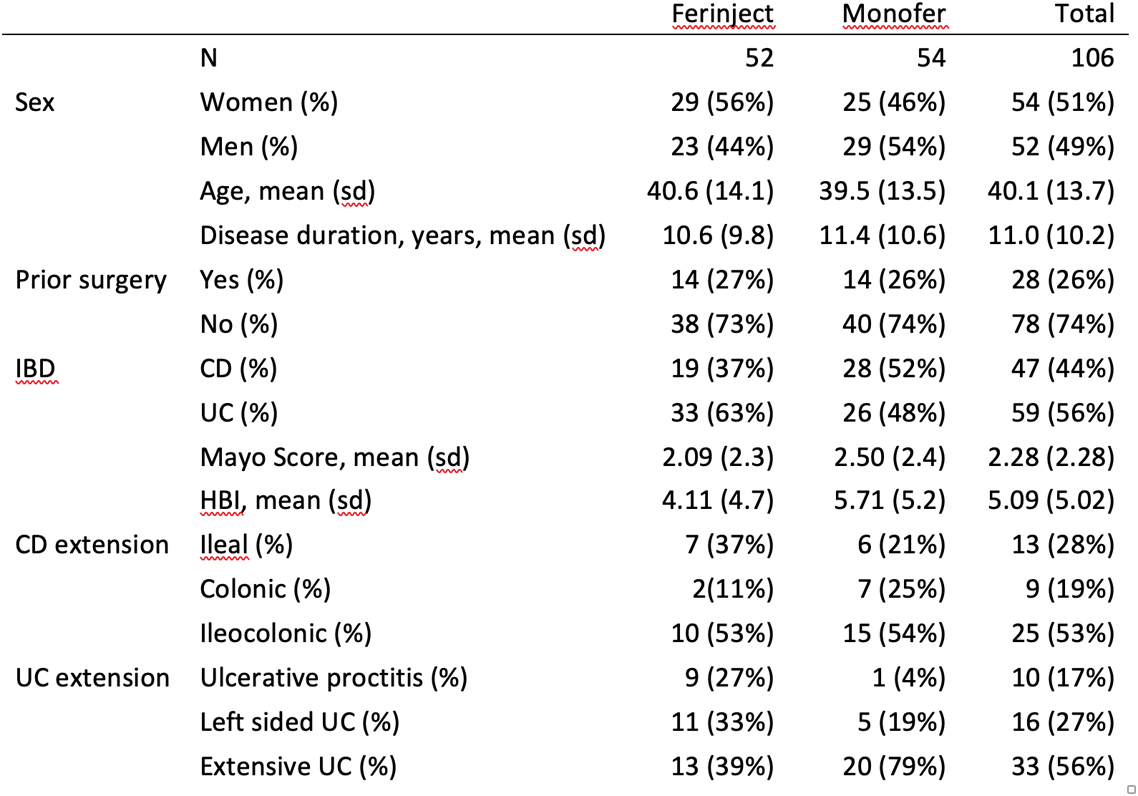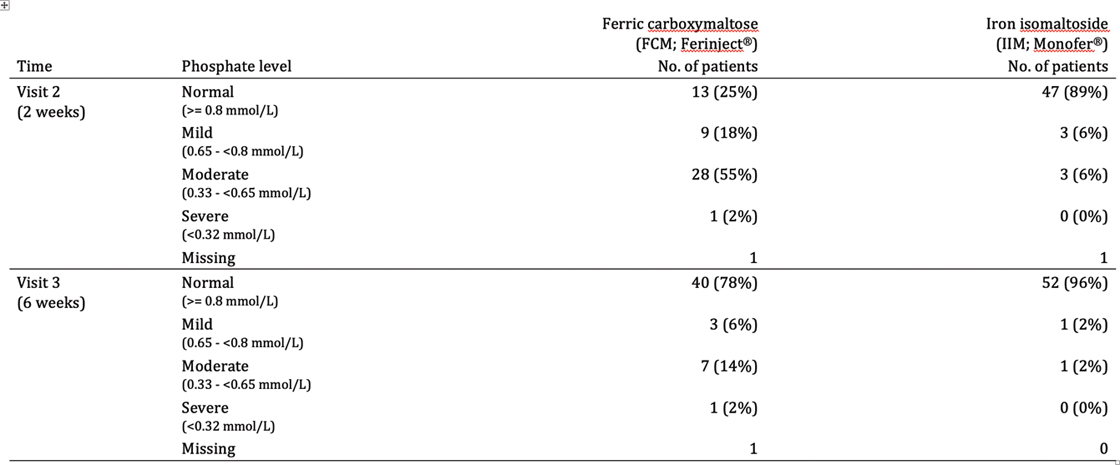 Conclusion
This study shows a high incidence, severity and duration of hypophosphatemia in a real life IBD patient cohort after administration of a single IV dose of 1000 mg FCM. The presence of moderate to severe hypophosphatemia beyond 6 weeks is a clinical concern that needs further investigation. The results were significant compared with IIM.