P761 Healthcare quality assessment in inflammatory bowel disease Units in Spain under patient's perspective. IQCARO project
X. Calvet1, D. Carpio2, M. Minguez3, I. Vera4, L. Marin5, R. Saldaña6, B. Juliá*7, L. Cea7, F. Casellas8
1Institut Universitari Parc Taulí, Digestive Unit, Sabadell, Spain, 2Complejo Hospitalario de Pontevedra, Gastroenterology Unit, Pontevedra, Spain, 3Hospital Clínico Universitario, Unidad de Gastroenterología, Valencia, Spain, 4Hospital Universitario Puerta de Hierro, Servicio de Gastroenterologia, Madrid, Spain, 5Hospital Universitari Germans Trias i Pujol, Gastroenterology Unit, Badalona, Spain, 6Spanish Association of patients with Crohn′s disease and Ulcerative colitis, Madrid, Spain, 7Medical Department, MSD, Madrid, Spain, 8Hospital Vall d′Hebron, Gastroenterology Department, Barcelona, Spain
Background
Measuring quality of care (QoC) received in inflammatory bowel disease (IBD) units from patient's perspective is becoming increasingly important. The aim of the IQCARO project was to assess the QoC of IBD units from Spain, by measuring the completion of a validated predefined decalogue of indicators by patients themselves.
Methods
A survey including patient's sociodemographic and clinical characteristics, as well as the previously validated Decalogue with the top 10 most relevant indicators of QoC selected by patients themselves, was developed. The survey was distributed online through the Confederation of Spanish Associations of Patients with Crohn's disease and ulcerative colitis (ACCU) webpage and on paper in 52 IBD units from all over Spain.
Results
Surveys from 940 patients were received (792 online, 148 on paper), of which 778 were valid for the current analysis. The population included patients from the 17 Spanish autonomous communities, and 183 sites. Mean age of patients was 43.4 years, and mean disease duration 13 years. 62.8% were women and 58.1% were diagnosed with Crohn's disease. Patients referred an average of 1.3 (0–21) flares, 1.1 (0–25) unplanned visits to the doctor and 0.4 (0–15) hospitalisations in the last year. The assessment of the QoC indicators that the patients perceived was 8.1 points out of 10, with a median of 9. The least fulfilled indicator was the one related to the recommendations for daily life management and the most fulfilled was the knowledge of the doctor in charge.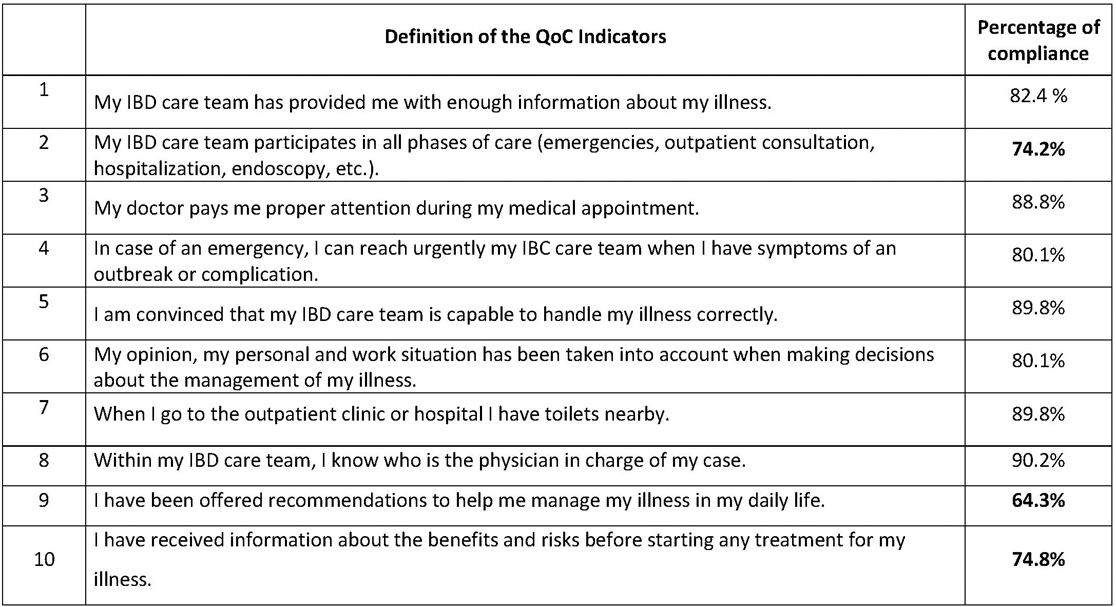 Decalogue of the indicators selected by patients and the percentage of compliance.
Conclusion
The evaluation by the IBD patients revealed good fulfilment with the quality of care indicators in the IBD units from Spain. Despite the good general assessment, there are still some aspects that could be improved in the healthcare provided, mainly related to patient`s continuity of care and personal life.