P765 A description of inflammatory bowel disease patients' beliefs in their medications, in comparison with patients with other chronic conditions
I. Marín-Jiménez*1, D. Orozco-Beltrán2, J. Toro3, M. J. Galindo4, B. Juliá5, L. Cea-Calvo6
1Hospital Universitario Gregorio Marañón, Gastroenterology, Madrid, Spain, 2Miguel Hernández University, Medicine, Sant Joan, Alicante, Spain, 3Hospital Universitario A Coruña, Universidade da Coruña, INIBIC, Rheumatology, A Coruña, Spain, 4Clinic University Hospital, Internal Medicine, Valencia, Spain, 5Medical Affairs, Merck Sharp & Dohme, Madrid, Spain, 6Medical Affairs, Merck Sharp & Dohme, Spain, Madrid, Spain
Background
Patients' beliefs in their medications can influence intentional non-adherence. The objective of this work was to describe inflammatory bowel disease (IBD) patients' beliefs in their medicines, identify their main concerns and compare their beliefs with those of patients with other chronic conditions.
Methods
A survey was handed to consecutive patients with IBD, rheumatic diseases, Human Immunodeficiency Virus (HIV) infection or diabetes mellitus (DM). As part of it, patients completed the Beliefs About Medicines Questionnaire (BMQ), obtaining their agreement with each statement through a Liker scale from 1 (strongly disagree) to 5 (strongly agree). Two partial scores (Necessity score and Concerns score, range 5 to 25) and an overall BMQ score (Necessity score minus Concerns score, range −20 to +20) were calculated.
Results
Of 2474 patients handed the survey, 1618 (65.4%) returned it (359 with rheumatic diseases, 341 with IBD, 467 with HIV infection, 451 with DM, mean age 56 years, 41% women). In general, the percentages of patients that 'agreed' or 'strongly agreed' with the Necessity statements were high (>70%) and were higher in patients with HIV infection and lower in patients with IBD (table). A meaningful percentage of patients 'agreed' or 'strongly agreed' with the Concerns statements: for example, 45% and 61% 'agreed' or 'strongly agreed' with the statements 'Having to take my medicines worries me' and 'I sometimes worry about the long-term effects of my medicines', percentages that were even higher in IBD and rheumatic patients. Patients with HIV infection showed higher Necessity and lower Concerns scores (table). The mean (SD) BMQ score was higher in patients with HIV infection (8.9 [6.4]) compared with patients with DM (6.4 [5.9]), IBD (5.4 [6.3]) or rheumatic diseases (5.2 [6.0], p < 0.001).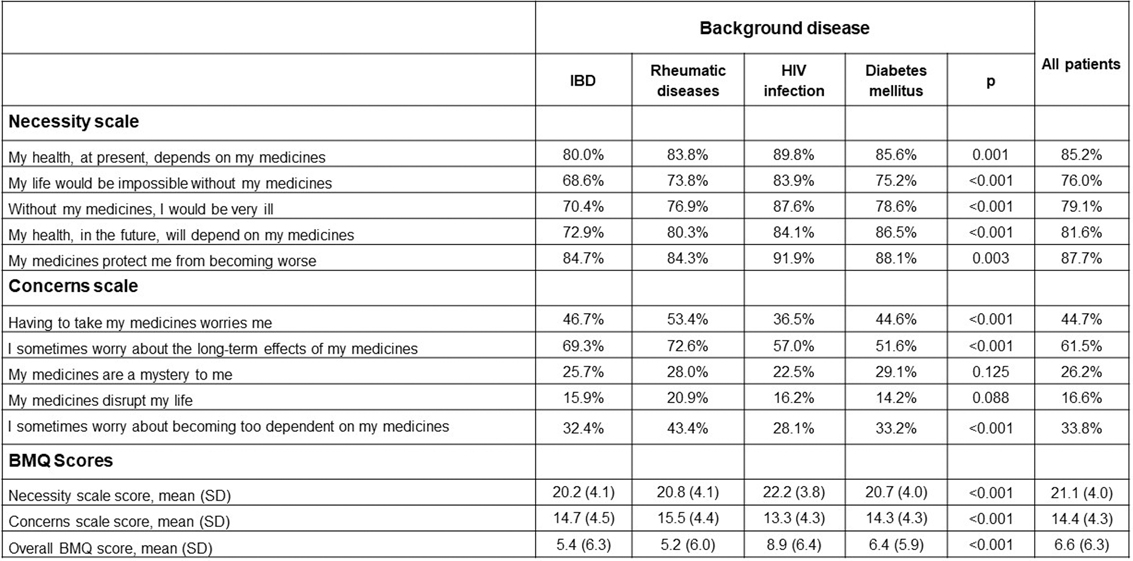 Responses to the Beliefs About Medicines Questionnaire (percentage of patients who 'agreed' or 'strongly agreed' with the statements), and mean scores
Conclusion
Patients with chronic conditions describe strong beliefs in the necessity of their medications. However, they also express concerns. Patients with IBD or rheumatic diseases scored lower in the BMQ; this merits attention and implementation of actions aimed, especially, to reduce patients' concerns. The study was funded by Merck Sharp & Dohme of Spain and endorsed by 4 patients associations (ACCU: patients with Crohn's disease and ulcerative colitis; CONARTRITIS: patients with arthritis; SEISIDA: AIDS multi-discipline group, FEDE: patients with diabetes mellitus).