P783 Long-term colectomy rate in acute severe ulcerative colitis. An observational multi-centre study on behalf of IG-IBD (Italian group for the study of inflammatory bowel disease)
S. Festa*1, M. L. Scribano2, D. Pugliese3, E. Sarli4, C. Bezzio5, M. B. Principi6, D. G. Ribaldone7, M. Allocca8, G. Mocci9, G. Bodini10, R. Spagnuolo11, P. Vernia12, S. Mazzuoli13, G. Laino14, B. Barberio15, G. Zerboni16, A. Aratari16, C. Papi16
1Ospedale San Filippo Neri, IBD Unit, Roma, Italy, 2UOC Gastroenterologia ed Endoscopia Digestiva Diagnostica e Operativa A.O. San Camillo-Forlanini, Roma, Italy, 3IBD Unit, Presidio Columbus Fondazione Policlinico Universitario A. Gemelli IRCCS Università Cattolica, Rome, Italy, 4Statistician - Italian Group for the study of Inflammatory Bowel Disease, Firenze, Italy, 5U.O. Gastroenterologia, Ospedale di Rho, ASST Rhodense, Rho (Milano), Italy, 6Sezione di Gastroenterologia, Azienda Policlinico Universitaria Bari, Bari, Italy, 7Department of Surgical Sciences, University of Turin, Torino, Italy, 8IBD Centre, Humanitas Clinical and Research Centre; *Department of Biomedical Sciences, Humanitas University, Rozzano (Milano), Italy, 9SC Gastroenterologia Ospedale Brotzu, Cagliari, Italy, 10University of Genoa, Policlinico San Martino Department of internal medicine, Genova, Italy, 11UOC Gastroenterologia AOU Mater Domini, Catanzaro, Italy, 12Divisione di Gastroenterologia, Dipartimento di Medicina Interna e Specialità Mediche, Sapienza Università di Roma, Roma, Italy, 13UOC Gastroenterologia Ospedale San Nicola Pellegrino, Trani, Italy, 14Department of New Technologies and Translational Research in Medicine and Surgery, University of Pisa, Pisa, Italy, 15Dipartimento di scienze chirurgiche, oncologiche e gastroenterologiche Università di Padova, Padova, Italy, 16Ospedale S. Filippo Neri, IBD Unit, Roma, Italy
Background
Acute severe ulcerative colitis (ASUC) is a potentially life-threatening event affecting up to 25% of patients during disease course. Intensive intravenous glucocorticoid treatment (IIVT) and early colectomy have reduced mortality to less than 2% in the last four decades. Rescue therapies -Infliximab (IFX) or Cyclosporin (CyA)- may reduce early colectomy in IIVT refractory patients but their impact in the long-term is unclear. Aim of the present study was to evaluate the long-term colectomy rate in patients escaping early colectomy after a severe attack
Methods
From 2005 to 2016 all patients with ASUC meeting Truelove and Witts criteria modified by Chapman et al. referring to 14 Italian IBD referral centres were retrospectively reviewed. All patients received IIVT. IFX or CyA were used as rescue therapies. Primary outcome was long-term colectomy rate in patients escaping early colectomy (within 3 months). Secondary outcomes were overall need of escalation therapy (defined as need of anti-TNF agents or immunomodulators or steroids) or hospitalisation. Kaplan–Meier survival method was used to estimate the cumulative probability of a colectomy-free course and log-rank test to compare colectomy-free survival distributions in different subgroups. A stepwise regression model was used to look for predictive factors of long-term colectomy
Results
In total, 361 patients were enrolled. Of them, 15 (4.2%) underwent early colectomy and 346 avoided colectomy: due to of IIVT response (n = 223,64.5%) or rescue therapy response with IFX (n = 103, 29.7%) or CyA (n = 20, 5.8%).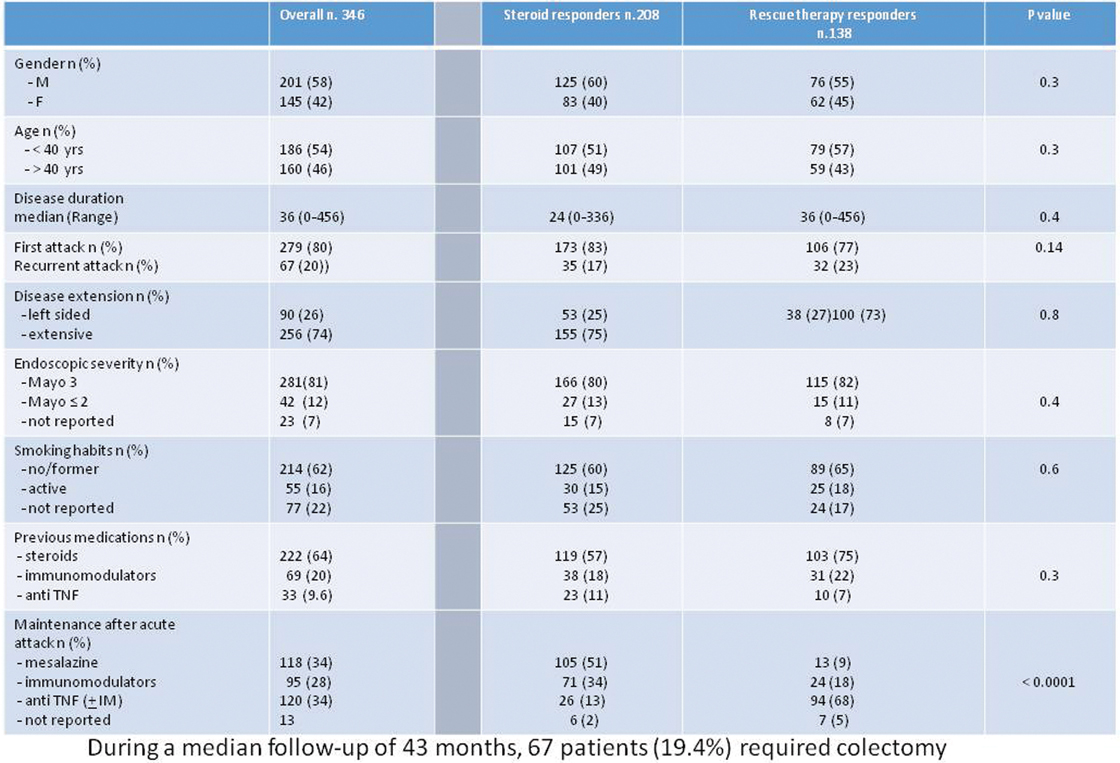 Clinical characteristics of patients.
During a median follow-up of 43 months (range 1–156),67 patients (19.4%) required colectomy. The cumulative probability of a colectomy-free course was 92.7, 87, 81.9 and 79.7% after 12, 24, 36 and 60 months, respectively. Colectomy risk was similar in IIVT responders and in rescue therapy responders. During follow-up, 135 (39%) and 109 (31.5%) patients required at least one escalation of therapy and hospitalisation, respectively. At multi-variate analysis none of the covariates considered (age, gender, first or recurrent attack, disease extension, C-Reactive Protein levels, endoscopic severity, steroid/rescue therapy responsiveness, maintenance treatment) was associated to long-term colectomy risk
Conclusion
The long-term colectomy risk after an acute severe attack is still relevant and do not seem to be influenced by the severity of the attack, resulting similar both in IIVT responders and in IIVT refractory patients responding to rescue therapies.