P827 Up-regulation of IL17-related pathways in affected colon from ulcerative colitis compared with Crohn's disease
S. Verstockt*1, F. Ver Donck1, B. Verstockt2,3, E. Glorieus4, M. De Decker5, V. Ballet3, G. Van Assche2,3, D. Laukens4, M. Ferrante2,3, F. Mana5, M. De Vos4, S. Vermeire2,3, I. Cleynen1
1KU Leuven, Department of Human Genetics, Leuven, Belgium, 2KU Leuven, Department of Chronic Diseases, Metabolism and Ageing (CHROMETA), Leuven, Belgium, 3University Hospitals Leuven, Department of Gastroenterology and Hepatology, Leuven, Belgium, 4University Hospital of Ghent, Department of Gastroenterology, Ghent, Belgium, 5University Hospitals Brussels, Department of Gastroenterology, Brussels, Belgium
Background
Crohn's disease (CD) and ulcerative colitis (UC) can both affect the large intestine but harbour key differences in the type of inflammation. The underlying molecular differences might be important for guidance of therapeutic decisions. We aimed to elucidate the molecular networks in inflamed colonic biopsies from newly diagnosed CD and UC patients.
Methods
Patients naïve for biologicals and immunosuppressives, and without previous IBD-related surgery were prospectively included within 6 months after diagnosis, across three Belgian IBD centres (PANTHER study B322201627472/S57662). We collected serum and inflamed colonic biopsies from 52 patients: 31 CD (median age 25 (16–63) years; 65% male) and 21 UC (age 29 (17–77) years; 43% male). All biopsies underwent single-end RNA sequencing. Differential gene expression (fold change>2, adj. p < 0.05) and co-expression networks (adj. p ≤ 0.1) were analysed using DESeq2 and WGCNA (R). A panel of 91 serological inflammatory proteins (OLINK) was tested for correlation with co-expression clusters.
Results
We found 336 (223 up, 113 down) differentially expressed genes between UC and CD, and 21 co-expression clusters. Four clusters were up-regulated in UC, 3 in CD, the others did not show a difference between CD and UC (Figure 1).
Figure 1: Co-expression cluster - trait correlations: Weighted Gene Co-expression Network Analysis (WGCNA) was performed on inflamed colonic biopsies of newly diagnosed CD and UC patients. First, an unsupervised approach clustered similarly expressed genes into groups (termed 'clusters), which were then tested for correlation with trails of interest (CO/UC, normalised protein values of serological inflammatory markers having passed QC (n = 85)). Only significant (adjusted p = 50. i) or borderline significant correlations are represented (correlation strengths r with adjusted p-values in brackets). CO, Crohn's disease; UC, ulcerative colitis.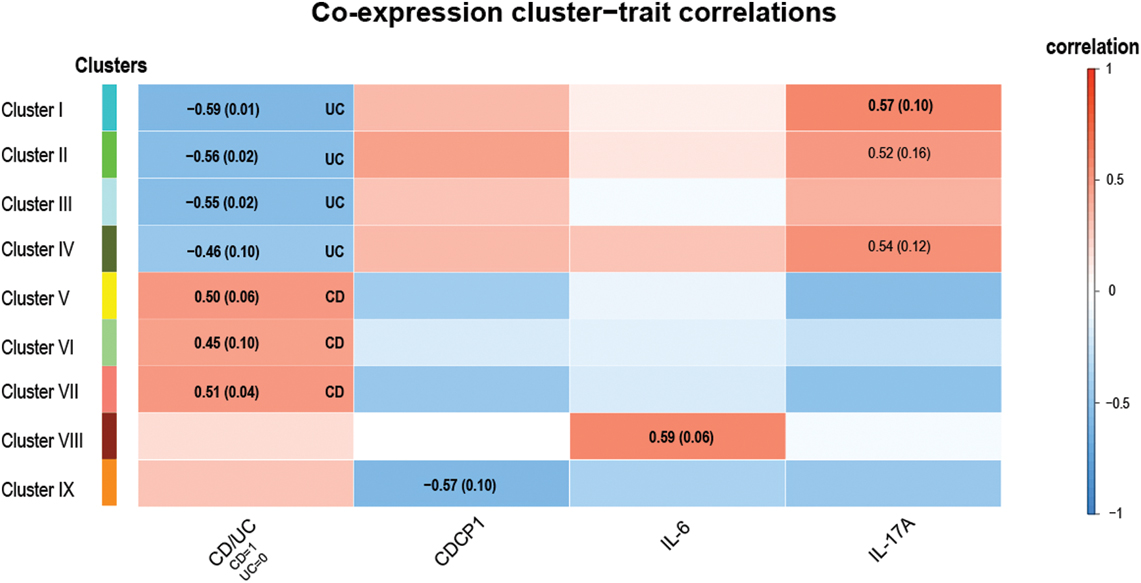 Genes within UC-up-regulated clusters (I to IV) were mainly involved in (a)granulocyte adhesion/diapedesis, and in the role of IL-17 in psoriasis. CD-up-regulated clusters were enriched for mitochondrial dysfunction and sirtuin signalling. Three clusters significantly correlated with serological marker levels: IL-6 with CD/UC cluster VIII, CDCP1 with CD/UC cluster IX, and IL-17A with UC cluster I (Figure 1). The latter cluster was enriched for protein ubiquitination, known to be regulated by IL-17A. Of note, IL-17A serum levels were higher in UC than in CD (p < 0.001), while IL-6 and CDCP1 were similar. Moreover, IL-17A tended to positively correlate with UC clusters II and III (Figure 1), of which cluster II contained IL-17A and IL-23A, both significantly increased in UC compared with CD.
Conclusion
In treatment-naïve newly diagnosed CD and UC patients, we found both common and distinct gene expression profiles, such as an up-regulation of IL-17-related pathways specifically in UC. Higher expression of these IL-17 pathways at mucosal level correlated with higher serological IL-17A. These differences potentially affect novel drug target identification and therapeutic decision-making, and emphasise the need for additional studies on the role and potential blockade of IL-23/IL-17 pathways in UC.