P861 Differences in bacteroidal genotypes between newly diagnosed ulcerative colitis patients and healthy controls
I. Baston*1, R. Sueiro2, C. Calviño1, D. De la Iglesia1, R. Ferreiro-Iglesias1, J. M. Leiro2, J. E. Dominguez-Munoz1, M. Barreiro-de Acosta1
1University Hospital, Gastroenterology, Santiago de Compostela, Spain, 2Department of Microbiology and Parasitology, University of Santiago de Compostela, Santiago de Compostela, Spain
Background
Dysbiotic conditions and changes in the gut immune system can disturb the mutualistic relationship between the host and the gut microbiota, leading to inflammatory bowel disease. The aim of this study was to analyse the differences in a major type of intestinal commensal bacteria belonging to Bacteroidetes phylum in both newly diagnosed patients with ulcerative colitis (UC) and in healthy controls (HC).
Methods
A prospective case–control study of the Bacteroidetes phylum composition in the intestinal bacteria obtained from faeces and biopsies of UC patients and from faeces of HC was performed. All newly diagnosed patients older than 18 years, who underwent colonoscopy in our IBD unit between July 2017 and July 2018 were consecutively included. Exclusion criteria were previous IBD treatment, antibiotics or probiotics in the last month, current malignancy tumours and any inmunomediate disease. A polymerase chain reaction designed to detect human-specific markers targeting Bacteroidetes-like 16S rRNA genes in DNA samples was used. The disease extension, Mayo endoscopic score (Mayo ES), faecal calprotectin and C reactive protein (CRP) were also recorded at the moment of diagnosis. Bacteroidal genotypes were compared between patients with UC and HC using the Mann–Whitney U test. A linear regression was performed to evaluate the relationship between calprotectin, CRP and bacteroidal genotype. A Spearman test was performed to analyse the relationship between clinical features and bacteroidal genotype.
Results
11 UC patients (mean age 52, 58% male) and 22 HC (mean age 45.5, 60% male) were consecutively included. Seventy-five per cent had a Mayo ES of 2. 39% were E1, 36% E2 and 25% E3. A total of 5 bacterial genotypes of the genus Bacteroides: N1, C1, C2, C3 and C4 were found. The C4 genotype was identified in all UC patients (100%) whereas it only appeared in 4 of 22 HC (18.1%).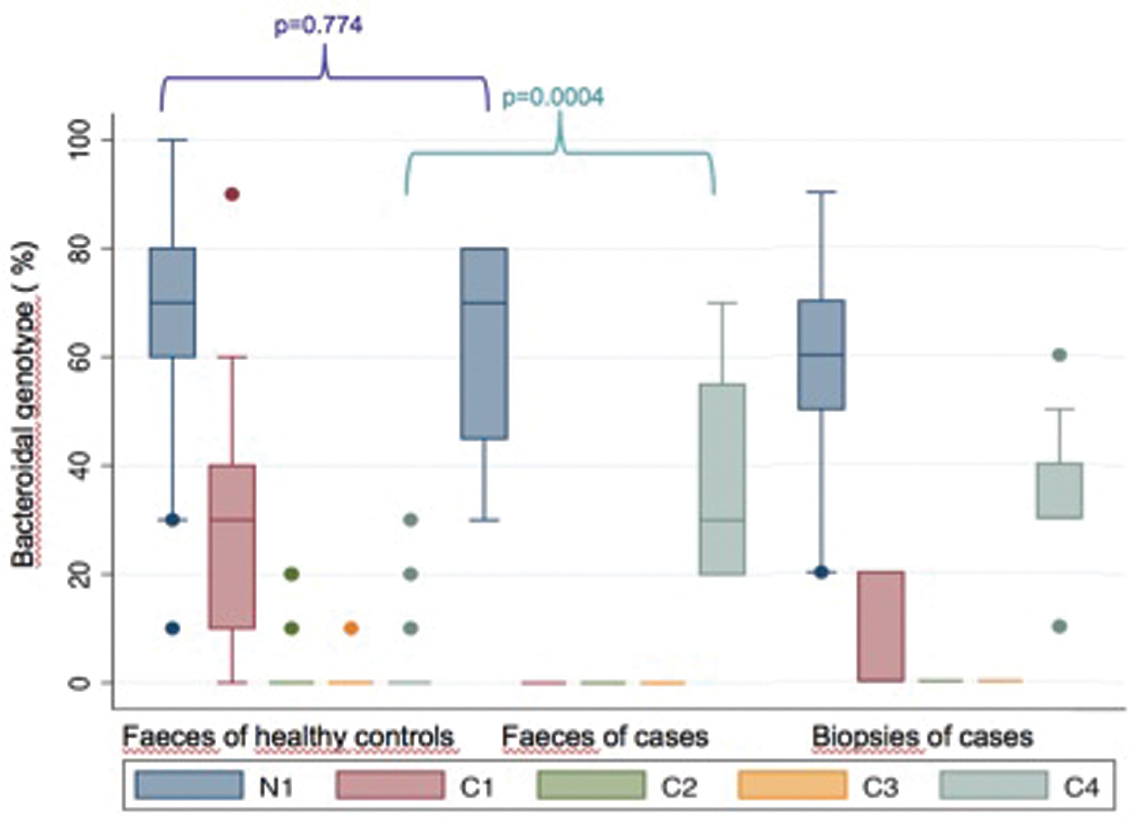 Bacteroidal genotypes in biopsies and faeces of UC patients and faeces of HC.
There were no differences between the genotypes found in faeces and biopsies of cases. The median of calprotectin was 498 µg/g when the percentage of C4 was < 25% and 708 µg/g when C4 were >25% (p = 0.458). No differences were found between CRP value and level of C4. No association was found between C4 percentage and either the disease extension or the Mayo ES.
Conclusion
C4 bacteroidal genotype is present in all newly diagnosed UC patients whereas it was only identified in a small number of healthy controls. No association was found between clinical, biomarkers or endoscopic features and percentage of C4 genotype.