DOP002 Trends in small bowel resections for Crohn's disease with and without short bowel syndrome in the era of biologics
Limketkai B.1, Parian A.2, Colombel J.-F.*3
1Stanford University School of Medicine, Gastroenterology & Hepatology, Stanford, California, United States 2Johns Hopkins University School of Medicine, Gastroenterology & Hepatology, Baltimore, Maryland, United States 3Icahn School of Medicine at Mount Sinai, Division of Gastroenterology, New York, New York, United States
Background
The advent of monoclonal antibody therapies has markedly improved the treatment of Crohn's disease (CD) and reduced the need for resection surgery. However, the impact of these therapies on the development of short bowel syndrome and/or intestinal failure (SBS-IF), a severe complication of CD, is yet unknown. This study evaluated temporal trends in hospitalizations and small bowel resections among CD patients with and without SBS-IF.
Methods
The Nationwide Inpatient Sample was analyzed for all CD hospitalizations in the United States between 1998 and 2011. A diagnosis of SBS-IF was determined using ICD-9-CM codes in all diagnosis positions. The incidence of hospitalizations and small bowel resections were estimated for CD patients with and without SBS-IF. Poisson regression was used to evaluate trends of these hospitalizations and surgeries across the years. The role of patient and hospital factors (ie, age, sex, race, payer, teaching hospital status, and hospital size) in small bowel resections was also evaluated. Statistical analyses accounted for the complex sampling design of the national database.
Results
Between 1998 and 2011, there were 533,708,517 overall hospitalizations with 2,049,733 for CD. The annual rate of CD hospitalizations increased from 2.7 to 5.3 per 1000 overall hospitalizations (ptrend<0.01). Those for SBS-IF similarly increased from 16.5 to 17.4 per 1000 CD hospitalizations (ptrend<0.01). The rate of small bowel resections had a 33.6% reduction from 98.9 to 65.7 per 1000 CD hospitalizations (ptrend<0.01); this trend was consistent across age groups, sexes, payers, teaching and non-teaching hospitals, and hospital sizes.
Figure 1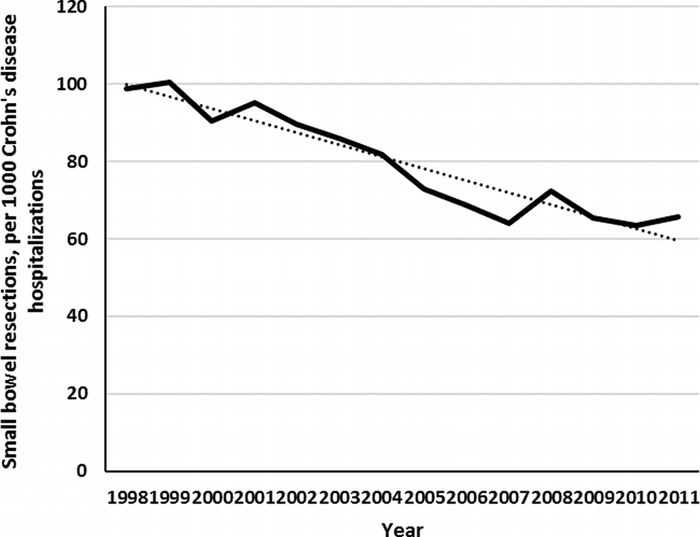 However, small bowel resections for SBS-IF remained unchanged from 0.56 to 0.64 per 1000 CD hospitalizations (ptrend=0.39).
Figure 2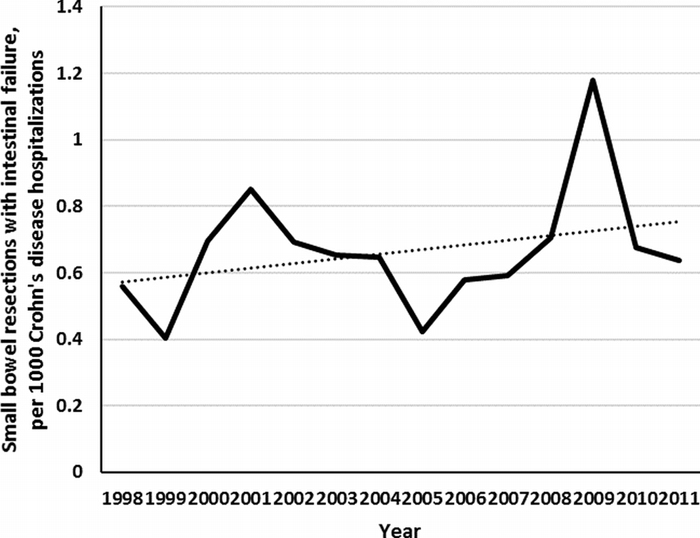 Conclusion
An overall reduction in the risk of small bowel resection has occurred over the past decade, but not enough to stem those for SBS-IF. These findings suggest that although monoclonal antibody therapies may modify the natural history of CD and risk of surgery, there may be subpopulations, such as those with long-term accumulated bowel damage, that do not respond as well. These data further underscore the need for early intervention in CD.