DOP010 ECCO topical review on transitional care in inflammatory bowel disease
van Rheenen P. ECCO Transition Topical Review Consensus Group
University Medical Center Groningen, Pediatric Gastroenterology, Groningen, Netherlands
Background
This topical review of the European Crohn's and Colitis Organisation (ECCO) focuses on the transition of adolescents with IBD from child-centered to adult-oriented care. The objective was to achieve evidence-supported, expert consensus that provides guidance for health professionals taking or wanting to take part in transition.
Methods
Initially by means of an online survey we determined which ideas on transition were most important to health professionals involved in the care of adolescents with IBD. Thereafter an expert panel of 9 paediatric and 5 adult gastroenterologists was formed to identify critical elements for the transition programme and to prepare core messages as "current practice points".
Results
Because there is limited literature about transition, the review was mainly based on expert opinion and consensus, rather than on specific evidence. We generated 21 practice points for an online voting round. Practice points that reached >80% agreement were considered as final. Those that did not reach 80% agreement were refined during a face-to-face consensus meeting and put to a vote again. Ten practice points were selected for this abstract.
1. IBD patients taking part in a transition programme are likely to have better compliance and less adverse outcomes after transfer to adult care compared to those that do not take part.
2. Transition in IBD is a continuous process involving the patient, parents, paediatric and adult healthcare providers.
3. Patients, parents, paediatric and adult healthcare providers may have different attitudes towards transition. It is important to identify and harmonise these attitudes in advance.
4. The skills for successful transition comprise disease relevant knowledge, self-efficacy and decision making.
5. The education of patients should be age-appropriate and addressed from at least 1 year before transfer.
6. Validated assessment of a patient's progress through transition, and the impact of targeted interventions, should occur throughout transition and be reassessed as required.
7. Education of parents to devolve responsibility for disease management to their child is desired.
8. A joint paediatric-adult clinic as part of a transition programme is considered the ideal model.
9. Transfer to adult services requires a handover letter written by the pediatric team.
10. Patients, parents and healthcare providers should all be involved in the evaluation of the transition programme.
Figure 1. Conceptual model of transition from child-centred to adult-oriented care.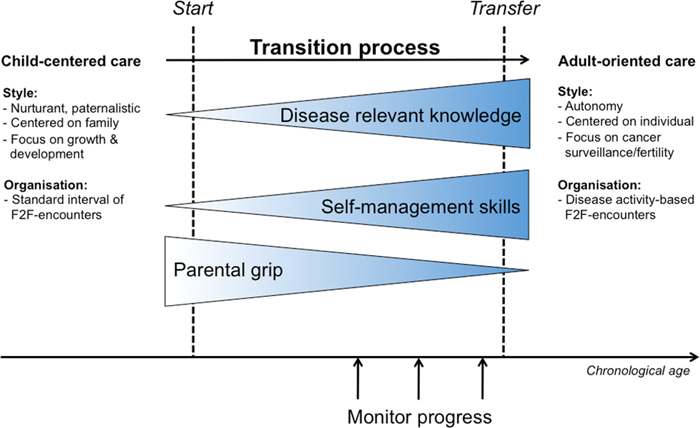 Conclusion
We present a consensus-based framework of transitional care in IBD that provides guidance for clinical practice.