DOP012 Impact on clinical practice of Epstein-Barr virus infection in patients with inflammatory bowel disease
de Francisco R.*1, Riestra S.1, Pérez-Martínez I.1, Castaño A.1, Martínez-González S.1, Jiménez S.2, González A.J.3, Morais L.R.3, Suárez A.1
1Hospital Universitario Central de Asturias, Gastroenterology, Oviedo, Spain 2Hospital Universitario Central de Asturias, Pediatrics, Oviedo, Spain 3Hospital Universitario Central de Asturias, Hematology, Oviedo, Spain
Background
Under immunosuppression, Epstein-Barr virus (EBV) infection has been associated with severe complications. The real-life impact of EBV infection in patients with IBD is not well known. The present study was designed to know the prevalence of past EBV infection in patients with IBD; to analyze the percentage of seroconversion according to age; and, to describe the complications associated with acute and latent EBV infection.
Methods
All IBD patients attended between 2007 and 2016 in a tertiary hospital underwent a baseline determination (at diagnosis or at the first visit in the IBD unit) of IgG antibodies against the viral capsid antigen of EBV (VCA-IgG). In seronegative patients, this determination was repeated, at least at the last visit. The presentation of acute infection (mononucleosis, hemophagocytic syndrome) and complications associated with latent infection (lymphomas) by EBV are described.
Results
1516 patients were included in the study (44% ulcerative colitis, 52% Crohn's disease, and 4% unclassified colitis; 50% female, median age at IBD diagnosis 37±16 years, 847 previous or current treatment with thiopurines). 1463 patients (96.5%) were VCA-IgG positive. Figure 1 shows seroprevalence by age intervals.
Figure 1. Seroprevalence of EBV infection by age intervals.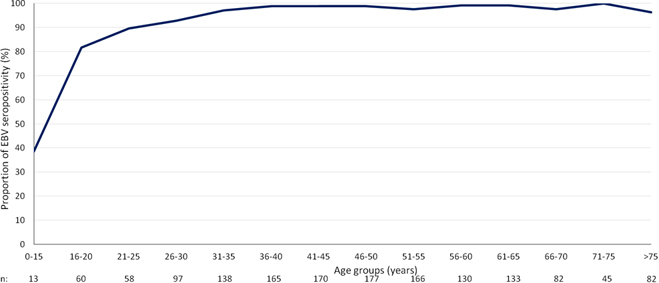 Sex (97.5% in women vs. 95.5% in men, p=0.036) and age (98.5% in >35 years vs 90.2% in ≤35 years, p<0.0001) were associated with IgG-VCA seropositivity. In 51 of 53 seronegative patients the determination was repeated after an average of 3.5±2.4 years; 11 of 35 (31%) patients ≤35 years in the first determination presented seroconversion (2 mononucleosis, 6 pharyngitis and 3 asymptomatic); 9 of them were receiving thiopurines and 8 antiTNF. 5 of 16 (31%) patients >35 years of age also presented seroconversion (1 pharyngitis, 1 hemophagocytic syndrome plus diffuse large B-cell lymphoma with fatal evolution, and 3 asymptomatic); 4 of 5 (one of them the case of lymphoma) were receiving thiopurines in that period. During the prospective follow-up, 8 patients with lymphoma (7 with past infection and 1 with acute EBV infection) were diagnosed in a total of 1.22 cases/1000 patient-years; 6 of them had been treated with thiopurines, and another one received immunosuppressive treatment for liver transplantation by primary sclerosing cholangitis.
Conclusion
The prevalence of past EBV infection is high. The risk of complications associated with primoinfection by EBV persists in patients older than 35 years. The risk of lymphomas in a population of IBD with a high rate of EBV infection and widespread use of thiopurines is high.