DOP026 Sustained remission with vedolizumab in patients with moderately to severely active ulcerative colitis: a GEMINI 1 post hoc analysis of week 14 remitters
Stallmach A.*1, Bokemeyer B.2, Axler J.3, Curtis R.4, Ehehalt R.5, Feagan B.6, Geransar P.7, James A.8, Kaviya A.9, Khalid J.M.10, Wolf D.11, Schreiber S.12
1University hospital Jena, Department of Internal Medicine IV, Jena, Germany 2Gastroenterology Practice, Private practice, Minden, Germany 3TDDA (Toronto Digestive Disease Associates Inc.), Toronto, Canada 4Takeda Development Centre Europe Ltd, Global Medical Affairs, London, United Kingdom 5Praxis für Gastroenterologie, Gastroenterology, Heidelberg, Germany 6Robarts Research Institute, University of Western Ontario, Robarts Clinical Trials, London, Canada 7Takeda Pharmaceuticals International AG, Global Medical Affairs, Zurich, Switzerland 8Takeda Development Centre Europe Ltd, Global Statistics and Statistical Programming, London, United Kingdom 9Takeda Development Centre Europe Ltd, Clinical Development, London, United Kingdom 10Takeda Development Centre Europe Ltd, Evidence and Value Generation, London, United Kingdom 11Atlanta Gastroenterology Associates, Emory Saint Joseph's, Atlanta, United States 12University Hospital Schleswig-Holstein, Institute for Clinical Molecular Biology, Kiel, Germany
Background
Sustained remission is a key therapeutic goal in ulcerative colitis (UC). Vedolizumab (VDZ) was more effective than placebo as induction and maintenance therapy in patients (pts) with moderately to severely active UC in the GEMINI 1 study (NCT00783718). This post hoc analysis assessed sustained remission during the maintenance phase of GEMINI 1.
Methods
Analyses included pts enrolled in GEMINI 1, who received 6 weeks (wks) of induction with placebo or VDZ and entered 46 wks of maintenance continuing placebo or VDZ, respectively; eligible pts could then enrol into an open-label extension (OLE) to receive VDZ every 4 wks. The primary aim was to assess sustained remission (remission at Wks 26, 38 and 52) in pts who achieved remission at Wk 14. Remission was defined as 1) clinical remission (partial Mayo Score [PMS] ≤2 points with no individual subscore >1 point) or 2) rectal bleeding subscore =0. For the analyses, pts who received VDZ maintenance, discontinued before Wk 52 and then entered the OLE had missing maintenance data imputed using OLE data.
Results
In total, 620 pts received VDZ (Wk 6 responders and non-responders) and 149 received placebo throughout GEMINI 1. Patient characteristics were broadly similar between treatment groups. From Wk 4 onwards, a significantly higher proportion of pts receiving VDZ were in clinical remission versus placebo in the overall and anti-TNF-naïve populations; significance was achieved at Wk 26 in the anti-TNF failure population. At Wk 14, 203 (33%) pts receiving VDZ and 30 (20%) pts receiving placebo were in clinical remission based on PMS, and 293 (47%) pts receiving VDZ and 43 (29%) pts receiving placebo were in remission based on rectal bleeding subscore. Of pts in remission at Wk 14, the VDZ group had a higher proportion of pts with sustained remission versus placebo according to both PMS and rectal bleeding definitions (Table); significance was reached in both the overall and anti-TNF-naïve populations, and a similar nominal trend was observed in the anti-TNF failure population.
Table 1. Patients with remission at Week 14 that was sustained for all visits at Weeks 26, 38 and 52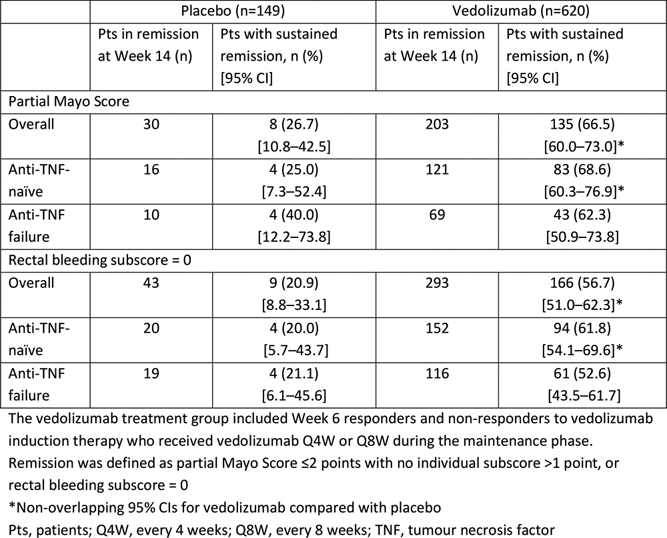 Conclusion
Wk 6 is most likely too early to ascertain the full clinical benefit of VDZ. VDZ showed a significant difference versus placebo in the proportion of pts achieving clinical remission as early as Wk 4 for the overall and anti-TNF naïve populations. However, as per label, assessment of the clinical benefit should be made after 10–14 wks. In pts with remission at Wk 14 in GEMINI 1, continued VDZ treatment resulted in ∼60% of pts maintaining sustained remission based on PMS and rectal bleeding subscore.