DOP050 Serum proteomic analysis defines novel circulating inflammatory markers for Crohn's disease and response to anti-TNF therapy
Korf H.*1,2, Sabino J.1, Ballet V.3, de Bruyn M.1,4, Van Assche G.3, Ferrante M.3, Vermeire S.3
1KULeuven, Translational Research in Gastrointestinal Disorders (TARGID), Clinical and Experimental Medicine, Leuven, Belgium 2KULeuven, Laboratory of Hepatology, Clinical and Experimental Medicine, Leuven, Belgium 3UZLeuven, Department of Gastroenterology and Hepatology, Leuven, Belgium 4KULeuven, Rega Institute for Medical Research, Department of Microbiology and Immunology, Leuven, Belgium
Background
A major challenge in understanding and managing inflammatory bowel disease (IBD) is the tremendous heterogeneity of the disease. Most therapeutic strategies are nevertheless aiming at reducing proinflammatory cytokines such as tumor necrosis factor (TNF). Anti-TNF agents are effective for IBD, but clinical remission and mucosal healing are observed in only 30–50% of patients. This calls for more tailored diagnostic and/or management practices implementing biomarkers of disease activity and predictors of response to therapy.
Methods
Using the Proximity Extension Assay (PEA) technology, proteomic analysis was performed on paired serum samples from 18 patients with Crohn's disease (CD) before (week 0) and after (week 14) initiation of anti-TNF therapy (infliximab and adalimumab), as well as 20 healthy controls. A total of 90 parameters were analyzed with the Proseek Inflammation Panel (OLINK). Patients featuring endoscopic response (evaluated within a median of 41 days after the last sampling date) were grouped as responders. Wilcoxon rank-sum and Mann-Whitney tests (GraphPad Prism) were used and p<0.05 were considered significant.
Results
A biomarker signature was observed for active CD with increased baseline levels of IL-8 (p=0.006), MCP3 (p=0.012), MCP4 (p=0.048), CXCL1 (p=0.012), TNFSF14 (p=0.025), CASP-8 (p=0.01), EN-RAGE (p=0.02), PDL-1 (p=0.003), TGFbeta1 (p=0.031), IL10RB (p=0.038), and decreased levels of 4E-BP1 (p=0.034) and FGF19 (p=0.03) compared to healthy controls. Three markers (IL-8 (p=0.005), MCP3 (p=0.032) and EN-RAGE (p=0.042)) decreased significantly in patients responding to therapy (Figure 1). Decreased levels of additional markers following response to anti-TNF therapy was observed (VEGFA (p=0.009), CDCP (p=0.032), IL-6 (p=0.011), MCP1 (0.027), IL17A (p=0.024), OSM (p=0.014), TGFA (p=0.042), CCL11 (p=0.019) and CCL3 (p=0.032). Finally, patients responding to treatment showed higher levels of IL-8 (p=0.037), SCF (0.033) and DNER (0.026) compared to their non-responder counterparts.
Figure 1. Circulating biomarkers in CD patients compared to controls and in responders/non-responders following anti-TNF therapy.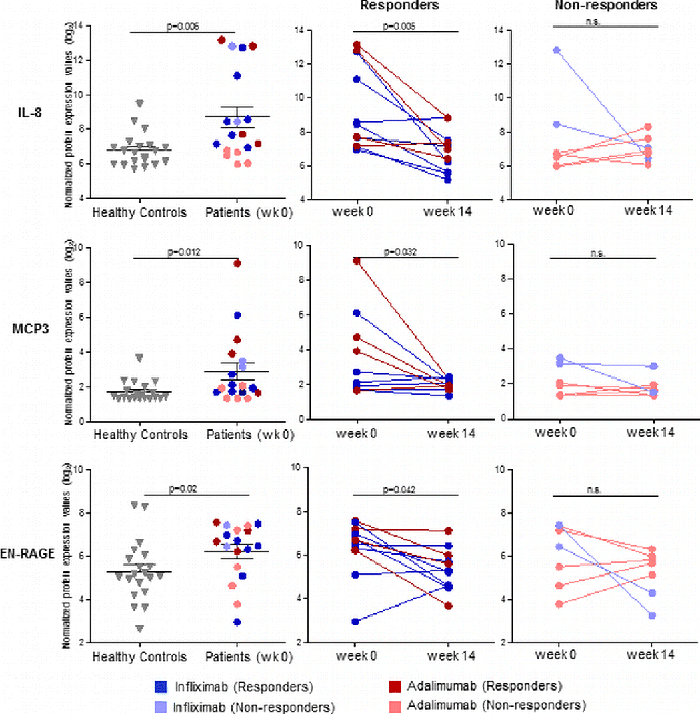 Conclusion
Utilizing the novel PEA technology, we identified a panel of inflammatory markers associated with CD activity. A combination of markers of IL-8, MCP3 and EN-RAGE was associated with response to therapy. Our results show the potential for serum proteomics to identify response following anti-TNF therapy, but validation in an independent cohort is required.