P043 Ulcerative colitis is characterised by an exaggerated onset of acute inflammation with delayed resolution
Marks D.*1,2, Wysoczanski R.1, Kendall A.3, Motwani M.4, Vega R.2, Rahman F.2, McCartney S.2, Bloom S.2, Nicolaou A.3, Gilroy D.4, Segal A.1
1University College London, Molecular Medicine, London, United Kingdom 2University College London Hospital, Gastroenterology, London, United Kingdom 3University of Manchester, Division of Pharmacy and Optometry, Manchester, United Kingdom 4University College London, Clinical Pharmacology, London, United Kingdom
Background
The early inflammatory response in ulcerative colitis (UC) has been shown to be protracted. We used an in vivo bacterial challenge model to determine the cellular and molecular determinants and consequences of this perturbed acute inflammatory response in patients with UC.
Methods
Acute inflammation was provoked in 26 UC patients off treatment or on 5-aminosalicylates, and 17 healthy controls (HC), by intradermal injection with UV-killed E. coli or S. pneumoniae. The local vascular reaction was quantified using laser Doppler imaging. The early and resolving inflammatory exudates were sampled by raising suction blisters over inoculation sites after 4h or 48h. Cells were characterised by polychromatic flow cytometry; cytokines by multiplex array; and lipid mediators by mass spectrometry. In vivo findings were confirmed by in vitro stimulation experiments on cultured peripheral blood-derived neutrophils and macrophages.
Results
UC patients off treatment demonstrated enhanced local blood flow within 24h of bacterial exposure, with impaired resolution, to both Gram-negative and Gram-positive bacteria (p=0.01).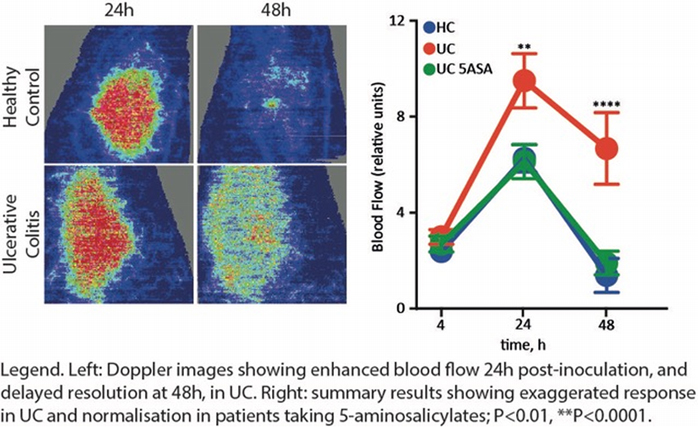 Neutrophil accumulation within 4h of inoculation was almost double that of HC (115,217 vs 67,760 cells/blister, p=0.04). This was associated with elevated PGE2 production (p=0.02), and did not appear to be a cytokine-driven phenomenon. At 48h, the excess of neutrophils in UC persisted (5,402 vs 494 cells, p=0.001), accompanied by T lymphocytes (7,713 vs 3,670 cells, p=0.03) of an effector memory phenotype. The exaggerated onset was normalised in UC patients taking 5-aminosalicylates; these individuals had greater numbers of macrophages present at 48h (5,044 vs 1875 cells, p=0.03), consistent with their role in inflammation resolution and tissue healing. Excess PGE2 production and normal cytokine secretion were replicated in cultured UC macrophages stimulated with E. coli in vitro, supporting the primary impact of these abnormalities in the generation of the excessive acute inflammatory response.
Conclusion
The acute inflammatory response to bacteria in UC is exaggerated, and slow to resolve, with immunological findings mirroring those seen in acute disease flares. This phenomenon was not restricted to Gram-negative bacterial stimuli, and is associated with abnormalities in inflammatory lipid mediators. 5-aminosalicylates normalise this process, likely through harnessing novel pro-resolution mechanisms. This method also provides a platform to investigate disturbed inflammation in UC, and the impact of novel therapies on this.