P049 Lewis score: a useful tool for the diagnosis but not for the definition of prognosis in suspected Crohn's disease
Silva M., Cardoso H., Peixoto A., Marques M., Rodrigues-Pinto E., Nunes A.C.-R., Lopes S., Magro F., Macedo G.
Centro Hospitalar São João, Department of Gastroenterology, Porto, Portugal
Background
Small bowel capsule endoscopy (SBCE) is currently the most sensitive diagnostic technique to detect early small bowel inflammation. Previous reports showed that the application of Lewis Score (LS) ≥135 as the cutoff value for the presence of significant inflammatory activity in patients undergoing SBCE for suspected Crohn's disease (CD) may be useful to establish the diagnosis of CD. Our aim was to evaluate the diagnostic and prognostic accuracy of the LS in patients with suspected CD undergoing SBCE.
Methods
Retrospective single-center study including patients who underwent SBCE for suspected CD between January 2010 and June 2015. Inflammatory activity was assessed with the LS. Patients were grouped according to the criteria of the International Conference on Capsule Endoscopy (ICCE) for the definition of suspected CD (Group 1: patients not fulfilling ICCE; Group 2: patients with ≥2 ICCE criteria). Subsequent diagnosis of CD was established according to international guidelines. All patients were followed for at least 12 months.
Results
193 patients (61% women, mean age 39±13 years) were included. SBCE detected significant inflammatory activity (LS ≥135) in 82 patients (43%): 24 patients from Group 1 (32%) and 58 patients from Group 2 (50%) (p=0.012). During follow-up, a CD diagnosis was established in 61 patients (32%): 56 patients with LS ≥135 (68%) and 5 patients with LS <135 (5%) (p<0.001.
Figure 1. Receiver operating characteristic curve for LS for the diagnosis of CD.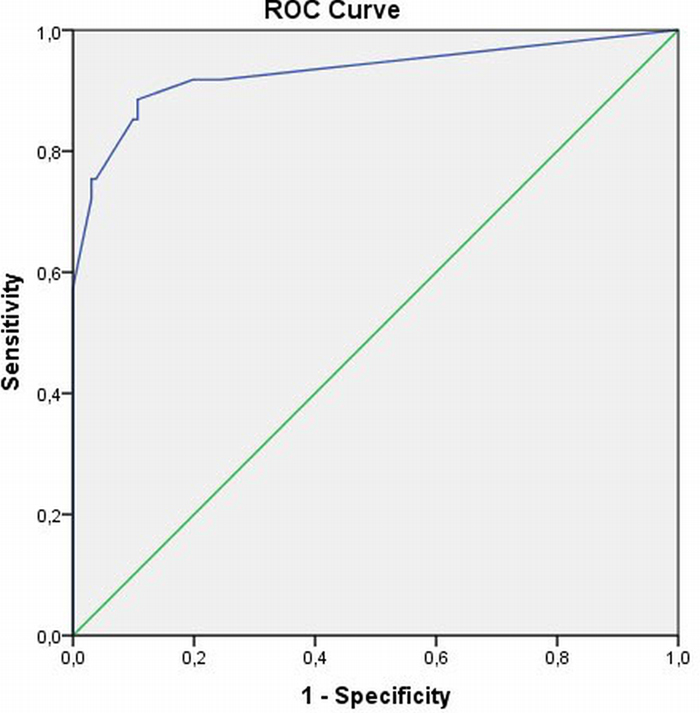 The LS showed good diagnostic accuracy with AUROC of 0.93 (p<0.001) (Fig. 1). Considering a cutoff of 135, this score had a sensitivity, specificity, positive predictive value, and negative predictive value for the diagnosis of CD of 92%, 80%, 68%, and 96%, respectively. Two (4%) patients from Group 1 with a LS <135 and 44 (76%) patients from Group 2 with LS ≥135 had CD diagnosis on the follow-up (p<0.001). During the first year after diagnosis there was no significant association of LS with the need of immunomodulatory therapy, biological therapy, bowel resection surgery or hospital admission due to CD flair.
Conclusion
The LS (cutoff ≥135) is very useful in the diagnosis of CD in patients undergoing SBCE, with a very high negative predictive value. Applying the ICCE criteria for the definition of suspected CD may improve the diagnostic accuracy of LS. However, this score was not associated with prognostic variables.